Ice Cream Flavors Word Search
Download free printable Ice Cream Flavors Word Search. For more similar Word Search templates, browse our free printable library. Simply download and print them at home or office.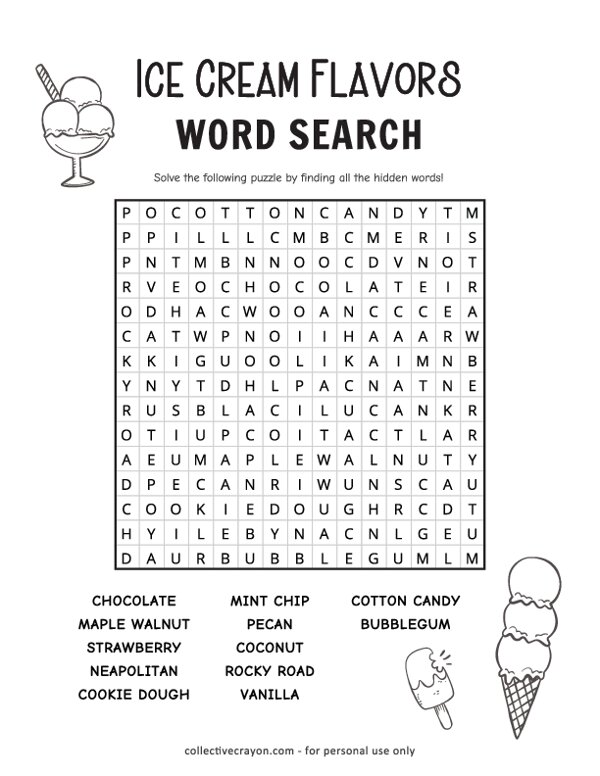 Scroll down for print and download options
Ice cream is one of the most beloved desserts all around the world. This delicious and creamy treat has something for everyone, from classics like vanilla and chocolate to more exotic flavors like green tea and passion fruit.
Celebrate ice cream flavors with a fun and educational activity like ice cream flavors word search. This game is not just fun but also a great learning tool. For instance, kids can learn new words and improve their vocabulary while they enjoy the activity.
Sometimes, having no screen-time activities can be challenging, especially when your child is home all day. That's why a game like word search is a perfect tool to have in your parenting toolbox, as it's a fun way to encourage screen-free time with the kids.
It helps boost their cognitive development and is an excellent opportunity for bonding while sharing the joys of ice cream.
Words List: Bubblegum, Chocolate, Coconut, Cookie Dough, Cotton Candy, Maple Walnut, Mint Chip, Neapolitan, Pecan, Rocky Road, Strawberry, Vanilla
Ice Cream Flavors Word Search