The free printable spring backyard scavenger hunt is a fun activity where you and your kids can finally get outside and enjoy all that nature has to offer. Just print it out, put on some sunscreen, pick up your magnifying glass, and head outside for some fun in the sun.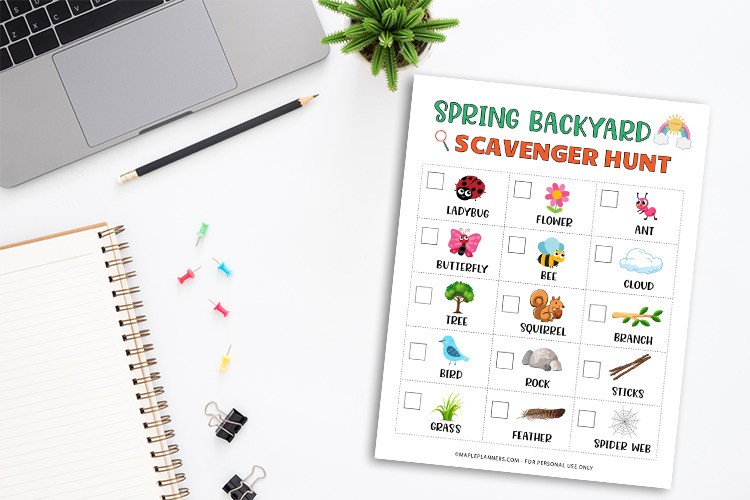 This post contains affiliate links and we will earn commission if you buy the products through those links. For more information, please read our disclosures here
Spring is the perfect time to get elementary age kids excited about the great outdoors. One way to do this is to host a spring backyard scavenger hunt.
Free Printable Spring Backyard Scavenger Hunt
Here's a fun printable sheet that you can download and print. This will keep them busy and entertained for hours. Kids will really enjoy watching nature up close and looking for a bee, ladybug, or squirrel.
With the games like Scavenger Hunt for Kids, you will be glad to see them working on their observation skills as well as problem solving skills. All this while they having tons of fun.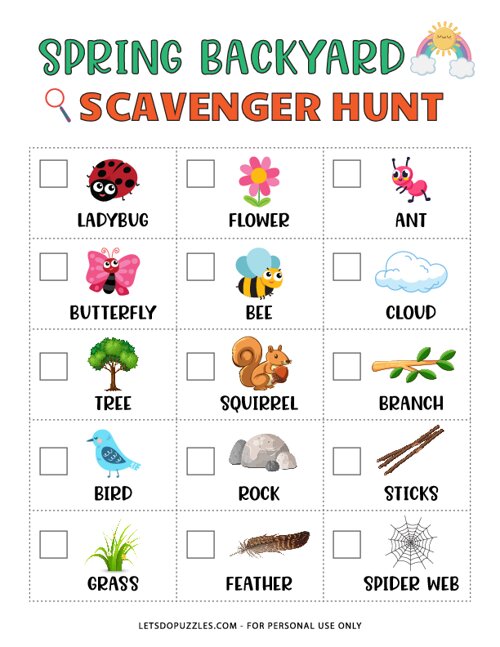 Download Spring Backyard Scavenger Hunt
Download the Spring Backyard Scavenger Hunt Printable;
Open the PDF files in Adobe Reader (download it from here for free)
Using the Print command, print on thick card stock paper. Use heavy card stock paper so that it looks professionally done.
If you plan to use these over and over, laminate the cards for durability.
Use the dry erasing marker to check off the items that kids have been able to locate.
How to play the Spring Backyard Scavenger Hunt Game?
This no mess and no prep game is easy to put together and simple to play.
What You'll Need.
Here's what you'll need to put together a successful hunt:
Printable Spring Backyard Scavenger Hunt Sheets.
A timer or stopwatch.
Magnifying glass.
Prizes for the winners. (These can be simple things like candy or stickers, but they'll help motivate kids to stay focused and have fun.)
With these supplies, you're ready to play!
To play,
Send the kids off into the backyard with their lists and magnifying glasses. See who can find the most items in the allotted time.
You can even divide kids into different groups, and have them hunt for items collectively.
The team that finds the most items gets to choose a prize from the prize pile.
Everyone gets to enjoy a fun afternoon of outdoor play.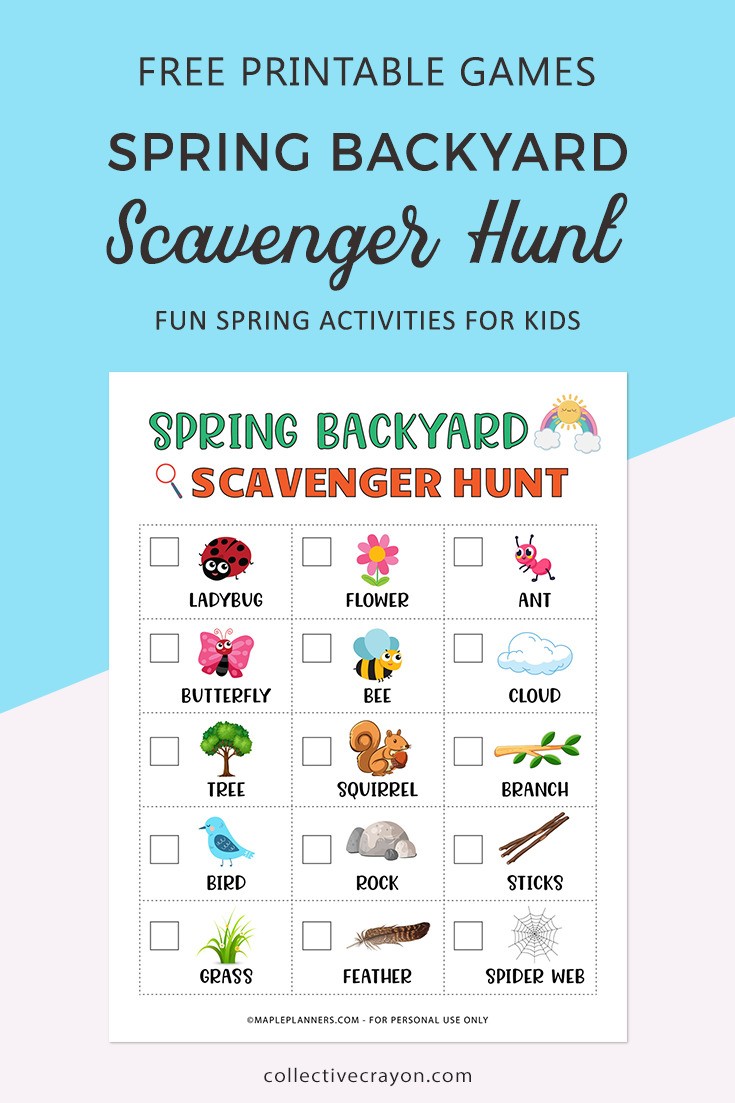 Besides scavenger hunt games, there are so many other spring activities that little ones can enjoy.
Fun Activities to do in the Springtime
When the warmer weather of spring arrives, it's a great time to get outside and enjoy some quality family time. There are numerous activities that are perfect for kids of all ages, and nature study is a great way to teach them about the world around them. Here are some ideas for fun springtime activities:
Explore nature: Spring is a great time to hike and explore nature. Take a hike and look for signs of new life, such as flowers blooming and baby animals.
Visit a farm: Many farms offer tours or other activities in the springtime. This is a great way to learn about where food comes from and how farmers take care of their animals. You can even take along a farm word search puzzle. Kids will enjoy associating words on the puzzle with real-life animals.
Go on a picnic: Warmer weather means it's finally time to pack a picnic lunch and head to the park. Don't forget to bring some games or toys to keep the kids entertained.
Look for bugs: Kids are fascinated by bugs, and spring is a great time to go on a bug hunt. Download the fun printable bug activities and enjoy.
Fly a kite: Take advantage of the warmer weather and breezy days by flying a kite.
Plant a garden: Get your hands dirty and plant a garden. You can teach kids about the process of growing food.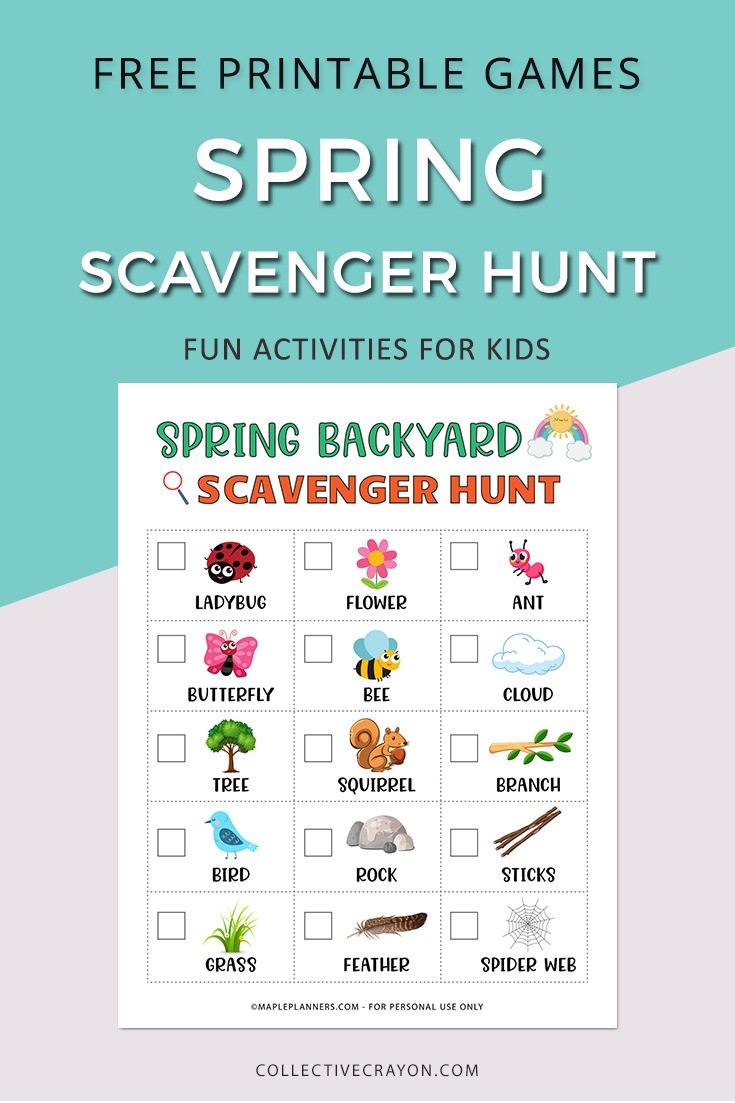 Download Spring Backyard Scavenger Hunt Printable
Spring Backyard Scavenger Hunt is a great way to spend an afternoon outside during the warmer weather. These scavenger hunt ideas are educational and fun – enough to keep them excited for a camping trip, summer picnic, hiking trip, backyard activity or nature themed birthday party.