Free Printable Thanksgiving Word Search for kids is perfect to keep little ones occupied for hours. They will enjoy searching for words associated with Thanksgiving.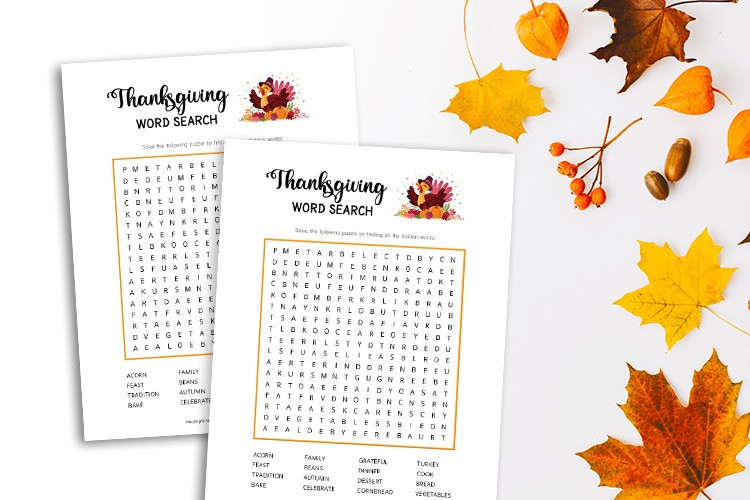 This post contains affiliate links and we will earn commission if you buy the products through those links. For more information, please read our disclosures here
Thanksgiving word search pdf is a fun and educational activity that will keep the kids busy during Thanksgiving break. This activity is perfect for all ages and can be enjoyed by the whole family.
The word search features words associated with Thanksgiving, such as "feast," "turkey," and "cornbread." So grab a pen and get started!
As the festival season starts, everyone gears up to prepare for special holidays. Thanksgiving is one of the most popular events where families from near and far get together.
This fun filled holiday is something everyone enjoys in anticipation of the holiday season to be followed. If you are hosting the dinner this year and looking for ways to keep little ones occupied with something engaging, this Thanksgiving word search is just what you may need!
Thanksgiving Word Search
Words included in this word search are associated with Thanksgiving. When kids solve such puzzles, they expand their vocabulary and are able to explore this holiday further.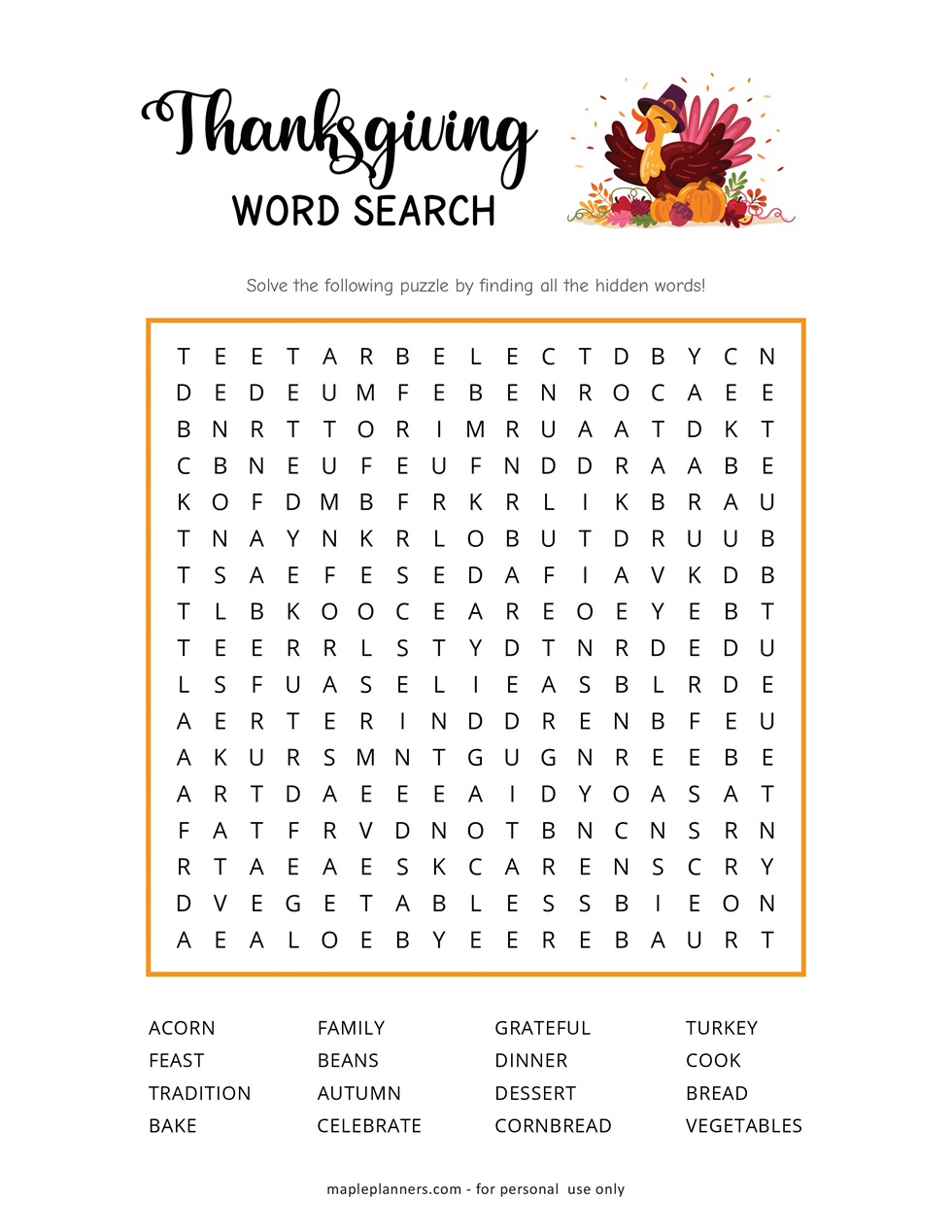 Perfect activity to keep kids busy when adults need to prepare for a Thanksgiving party or cook dinner for the family.
This word search is entertaining not just for kids but grown-ups as well.
Different words included on these printable sheets are associated with Thanksgiving and Fall.
Thanksgiving Word Search Free Printable
Although anyone can play these Thanksgiving Word Search puzzle, this is a perfect fun activity for kids.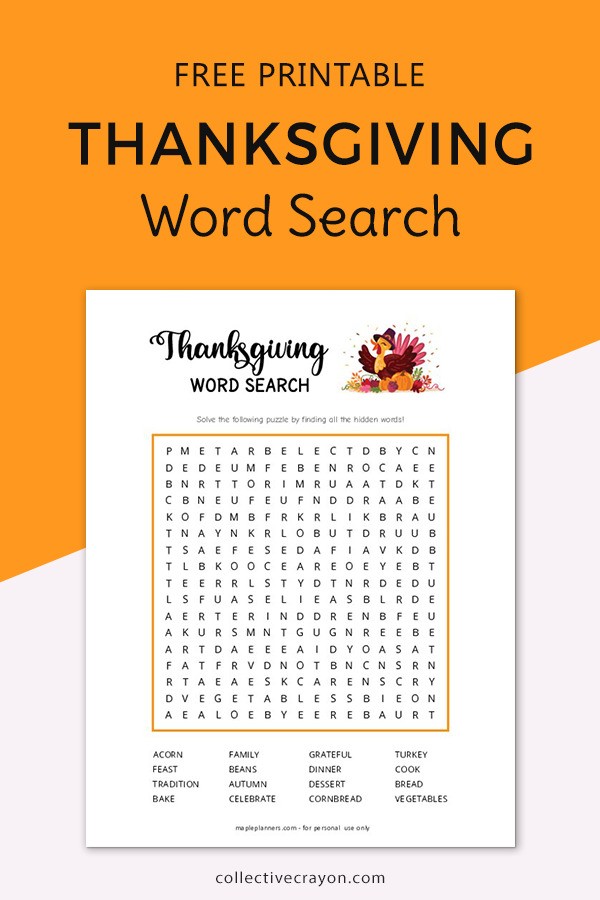 Benefits of Thanksgiving Word Search for Kids
The Thanksgiving Word Search is an excellent way for kids to learn about the holiday while having fun. It can help them;
Learn new vocabulary words;
Improve their spelling skills;
Think critically about the history of the holiday;
In addition, it's a great way to get the whole family involved in the festivities.
With so many benefits, there's no reason not to try the Thanksgiving Word Search with your kids this year.
Set of 30 Thanksgiving Bingo Game Cards
If you have more than 8 people, you can make groups of people with 8 or less people, or go for this set of 30 Thanksgiving bingo cards.
Each of these cards comes with different characters associated with Thanksgiving, Autumn or Fall.
These premium Thanksgiving Bingo Cards come in Full Size and Half Size. You have the option of printing one card per page or two cards per page on a letter size paper.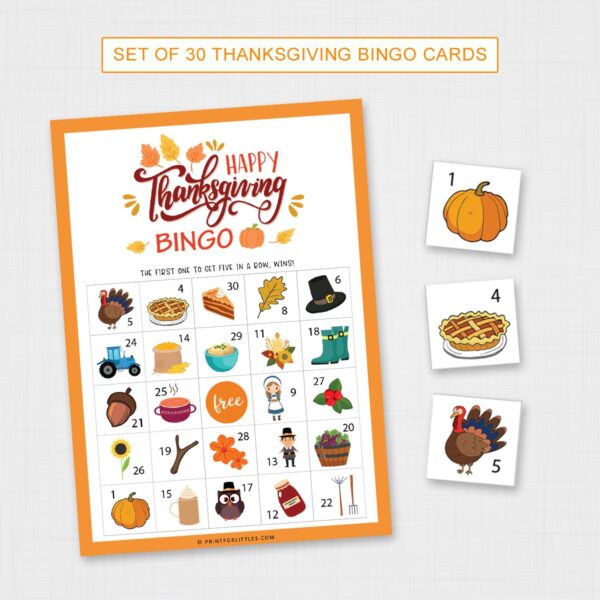 Looking for more Thanksgiving Printable Activities for Kids? Make sure to check these out …
Thanksgiving I Spy
This free printable Thanksgiving I Spy game is the perfect way to keep the little ones busy while the adults chat. Simply print out the sheet and hand it to the kids, then let them go to work finding all the items on the list.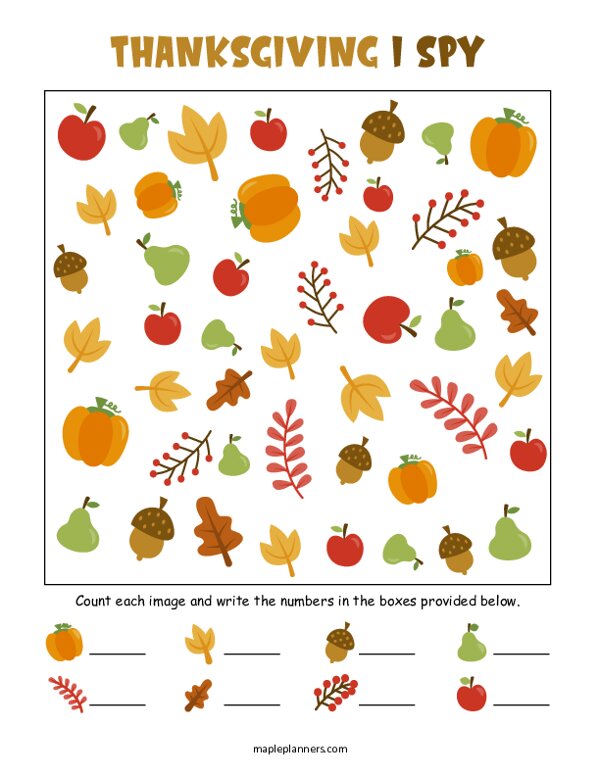 You can even make it a competition by timing them to see who can find everything the fastest. With this Thanksgiving I Spy game, everyone will have something to enjoy while spending time together.
Download and print these Thanksgiving I Spy printables. Kids will enjoy counting different objects of a similar kind.
Thanksgiving Sudoku
This Thanksgiving themed Sudoku is the perfect brain game for kids to solve while having some educational fun.
Download these printable puzzles with four sudokus per page. Kids will have fun trying to figure out the correct pattern of unique numbers in each grid.
Thanksgiving Word Search is no prep no-mess fun game that kids will love to play over and over!
How are you planning to keep kids occupied this Thanksgiving? Please share in the comments below!