Valentine's Day word search is a great way to get kids thinking about all the different words associated with the holiday, from "love" to "heart" to "chocolate." To get started, just print out the word search and see how many words your kids can find. Happy hunting!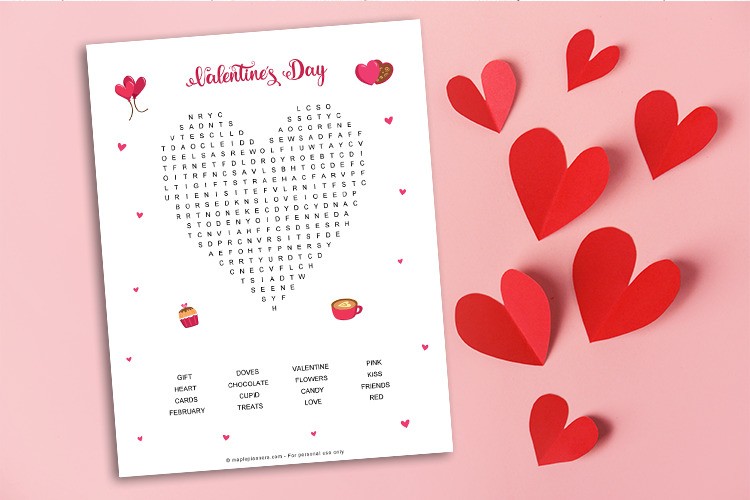 This post contains affiliate links and we will earn commission if you buy the products through those links. For more information, please read our disclosures here
Valentine's Day Word Search Puzzles are fun and educational ways to help your kids learn all about this special occasion. Not only do they learn new words associated with Valentine's Day, they also develop their problem solving, concentration, and fine motor skills.
PRINTABLE VALENTINE'S DAY WORD SEARCH PUZZLES
Little ones will have a good time searching for the words written at the bottom of the sheet. These printable puzzles are perfect for teachers and parents to use in their classroom, a school party, or a homeschool class.
These are also great for rainy days, kids' birthdays, and family gatherings where you need to keep the kids busy while having fun.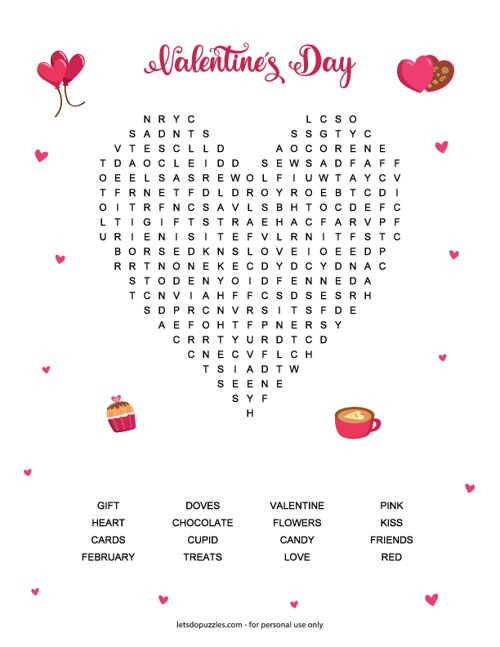 Printable Games and puzzles offer a friendly challenge for kids while you get the chance of talking about the topics covered in such games.
When you download these word search puzzles, kids will need to find words listed at the bottom of each puzzle. Each puzzles comes with a solution that you can refer to later on to see how many they got correct.
PRINTABLE VALENTINE'S DAY MAZES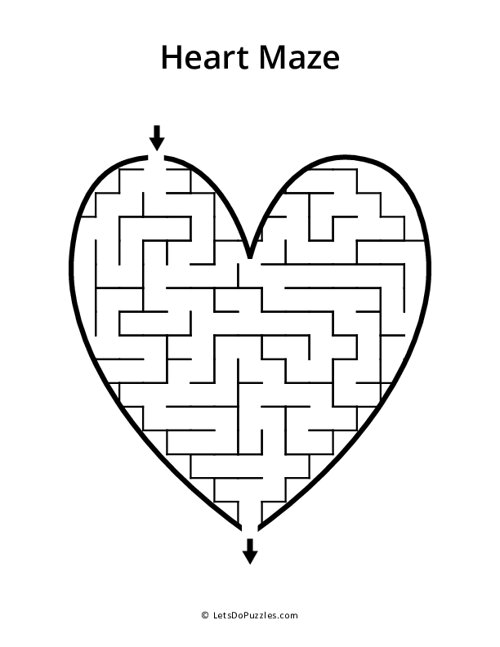 Valentines Day Mazes are lots of fun for kids when they try to find their way through these mazes. In addition to developing problem-solving skills, they also practice their concentration and fine motor skills.
How to print free printable Valentine's Day Word Search?
Since these are printable pdf files, you will need Adobe Reader to open the files. If you don't already have it installed on your computer, visit Adobe Reader and download the free version.
To start,
Download and save Valentine's Day Word Search on your computer.
Using Adobe Reader, open the pdf files.
Print on letter-size paper.
These sheets can be used as is, or you can laminate them for durability. If you decide to laminate them, you can use these over and over.
Kids can use a dry erase marker or washable markers that can be erased once done.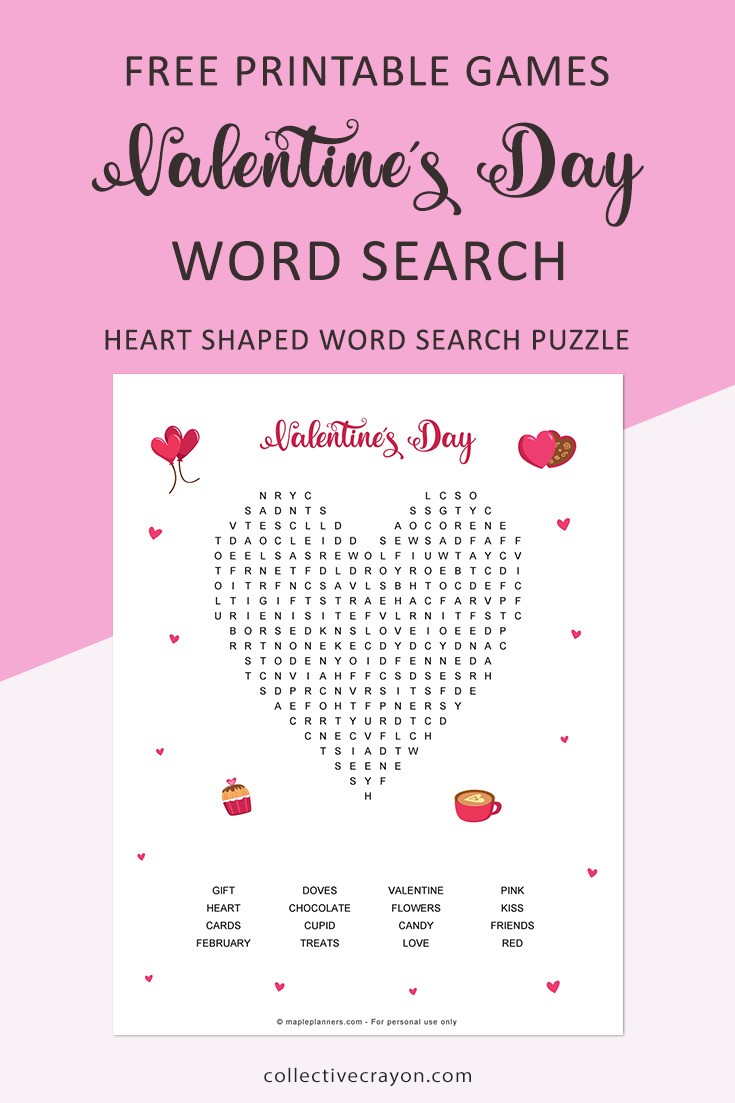 Benefits of playing Valentine's Day Word Search for Kids
Word search puzzles are a great way for kids to learn new vocabulary words and practice spelling.
Valentine's Day Word Search for Kids is a fun, holiday-themed puzzle that can help children learn about the celebration traditions associated with Valentine's Day.
Children can practice their problem-solving skills as they try to find all of the hidden words in the puzzle.
Such puzzles can be an excellent way for parents and caregivers to bond with their children as they work together to solve the puzzle.
So whether you're looking for a way to teach your child about Valentine's Day or simply want to spend some quality time together, make sure to download the Valentine's Day Word Search puzzle.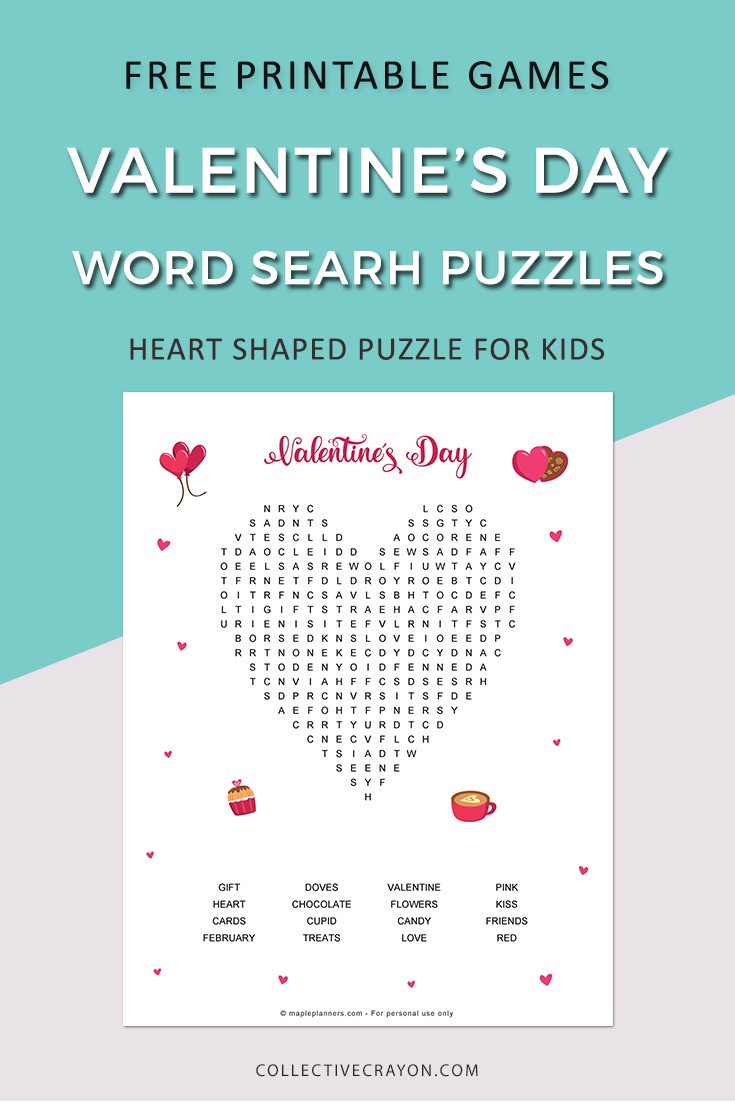 Tips to solve Valentine's Day Word Search for kids
Valentine's Day word search puzzles may seem simple, but they can be quite challenging, especially for children. Here are a few tips to help kids solve Valentine's Day word search puzzles:
Start by looking for the longest words first. These will usually be near the edges of the puzzle.
Check for words that are spelled backward or diagonally.
Don't forget to look for hidden words! Sometimes words will be hidden inside other words.
If you're stuck, try asking a friend or family member for help. Two heads are better than one!
With a little practice, anyone can become a word search champion. So get out there and start solving!
How are you going to celebrate Valentine's Day with kiddos? Please share in the comments below!