Memory Games for Kids
Download and print free printable memory games for kids. Each game is designed to be fun and educational – perfect for keeping little ones entertained while helping them develop important cognitive skills.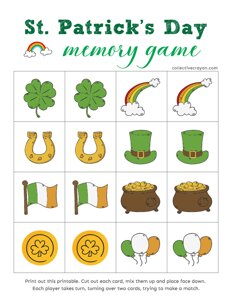 Celebrate St. Patrick's Day holidays with our free printable Memory Matching Game! Perfect for kids, this fun and interactive game require players to find matching pairs from a series of cards.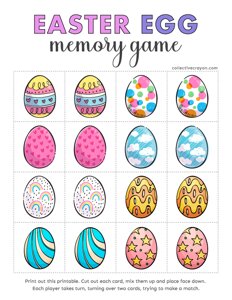 This Easter season, keep your kids entertained with our free printable Easter Egg Memory Matching Game. Download and print!
Kids of all ages love the thrill of a challenge, so why not give them something fun, challenging, and brain-boosting at the same time?
What are Memory Games?
Memory Games are a great way for kids to improve their memory skills. They involve memorizing patterns or words and then recalling them later.
This can help boost a child's ability to remember things quickly and accurately, which is an important skill in school and life in general. Memory Games are an awesome way for kids to have fun while boosting their brainpower!
How Can I Download Them?
Downloading our Memory Games is easy! Just head to our website and browse through our selection of available games. Then select the ones you want to download and click "Download" – it's that simple! You can even print out multiple copies if you want multiple players to join in on the fun.