Halloween Activities and Games
Halloween is a great time to get your family together and have some spooky fun. Our free printable Halloween games and activities are easy-to-download and print at home, so you'll be able to enjoy a fun time with family and friends.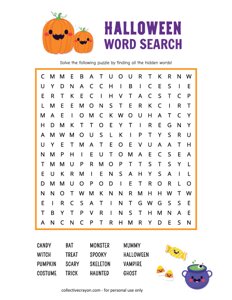 Halloween word searches are an excellent activity as they allow players to enjoy a game together, and kids can learn useful Halloween vocabulary as they do! Simply download and print!
Halloween games are always add to the fun. They help keep kids busy, and you can include them in your Halloween party or family get together. Here are some of the games and activities you will find when you browse through our Halloween section.
Halloween Bingo
Our free printable Halloween Bingo game is perfect for kids of all ages – from toddlers to teens. Set up your board with markers or candy, then let the players draw cards from the stack. Each card contains a different item related to the spooky season, such as pumpkins, bats, and witches. The first person who fills their board with matching items wins!
Halloween Word Search
This classic word search game has been given a ghoulish twist! Halloween Word Search contains words related to ghosts, ghouls, goblins, witches – all sorts of things! This game is great for older children looking for something stimulating their brains while still being festive.
Halloween Mad Libs
A classic favorite activity of ours – Mad Libs! Our free printable Halloween Mad Libs page includes plenty of nouns, verbs, adjectives, and adverbs that will help create silly stories about monsters and more! All you need is paper and pencils so everyone can participate in this one-of-a-kind storytelling adventure.
No matter what age your kids are – we guarantee they'll love these fun Halloween games and activities! Get creative by using our free printables; download them today so you can spend less time preparing games and more time having fun with your family this Halloween season. Have a happy (and safe!) holiday!