Printable Spring Activities and Games
Whether you're planning a family outing or looking for something to do inside on a rainy day, we have some free printable spring games and activities that will keep your kids entertained and learning throughout this season.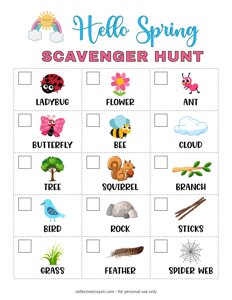 Download our free printable Spring Scavenger Hunt. Little ones will enjoy hunting for all items Spring has to offer. Simply download, print and start playing!
As the weather gets warmer and the days get longer, it's a great time to turn off the screens and take advantage of all the fun activities that are available in nature.
Printable Nature Scavenger Hunt
A scavenger hunt is a great way to get your kids exploring and learning about their natural environment. This free printable nature scavenger hunt includes a list of items to find like flowers, leaves, feathers, rocks, trees, and more. You can even customize the list with some of your own ideas if you'd like!
Outdoor Math Games
Math doesn't always have to be done indoors! Take your math lessons outside by using real-world examples found in nature. You can use this free printable outdoor math game to practice counting, addition, subtraction, multiplication or division. All you need is paper and pencils (or chalk!) and you're ready to go.
Spring Bingo Game
Spring bingo is a great activity for kids of all ages – not only do they learn about different elements of Spring, they also enjoy playing this fun and interactive game. All you need are markers or crayons!
Springtime is full of possibilities for outdoor fun with your kids! With these free printable spring games and activities, you can help them explore their natural environment while also having fun together as a family.
From scavenger hunts to outdoor math games or Garden Bingo – there are plenty of ways to keep your children entertained while teaching them valuable lessons at the same time. So grab those markers or crayons, head outdoors (or stay inside if it's raining), and let the good times roll!