Thanksgiving Activities and Games
Thanksgiving is a time to celebrate, be with family and friends, and be thankful for the special moments in life. To make sure everyone stays entertained during this festive season, try out some free printable Thanksgiving activities and games. From scavenger hunts to coloring pages, there are plenty of fun things adults and kids can do together to create lasting memories.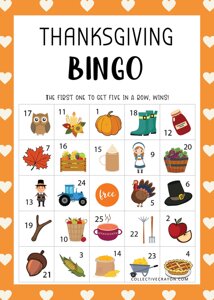 Our free printable Thanksgiving Bingo Cards are packed with adorable pictures of turkeys, pilgrims, and all things Thanksgiving. All you have to do is download, print, and start playing!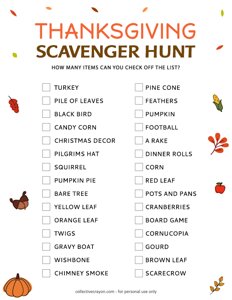 Our free printable Thanksgiving Scavenger Hunt template is a perfect way to get everyone up and moving around. Just download the template and start the fun!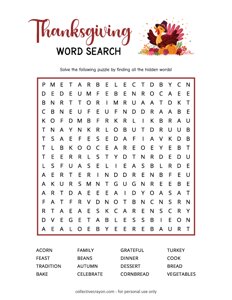 Thanksgiving Word Search Puzzle for Kids
Here are some of the fun printable activities and games that are Thanksgiving themed.
Thanksgiving Scavenger Hunt
Keep kids busy during the holidays with our free printable Thanksgiving-themed Scavenger Hunt. The premise is simple: print out a list of items or tasks that need to be completed throughout the day and let the little ones loose! To make it more interesting, divide into teams or even create prizes for completing certain tasks.
For example, if you are hosting a virtual Thanksgiving gathering with extended family members from around the country, why not make it into an online scavenger hunt? Each person can take turns finding items from their own homes and posting them on video chat! It will be fun for all ages – especially if you add in funny challenges like "find something red" or "show us your silliest hat".
Thanksgiving Coloring Pages
Coloring isn't just for kids anymore – adults love it too! Print out some themed coloring pages – like turkeys, pumpkins, and leaves – and get creative. You can also find mandalas that are perfect for getting into a peaceful meditative space while you color away your worries.
Thanksgiving Word Puzzles
For older kids and adults who enjoy word puzzles, you can find lots of free printable crosswords with themes related to the holiday season. They're great for keeping minds active while still having fun. You can also turn it into a competition by setting a timer or offering prizes - like whoever finishes first wins an extra slice of pie!
There are plenty of fun activities that will keep both adults and children entertained this Thanksgiving holiday season. With these free printable games and activities, you can create lasting memories with your family without breaking the bank! Get printing today…and happy holidays!