Making Halloween ghosts with tissue paper is a fun way to get into the Halloween spirit. This tissue paper ghosts craft is a quick and easy DIY project that can be done in minutes and will add festive decor to your home.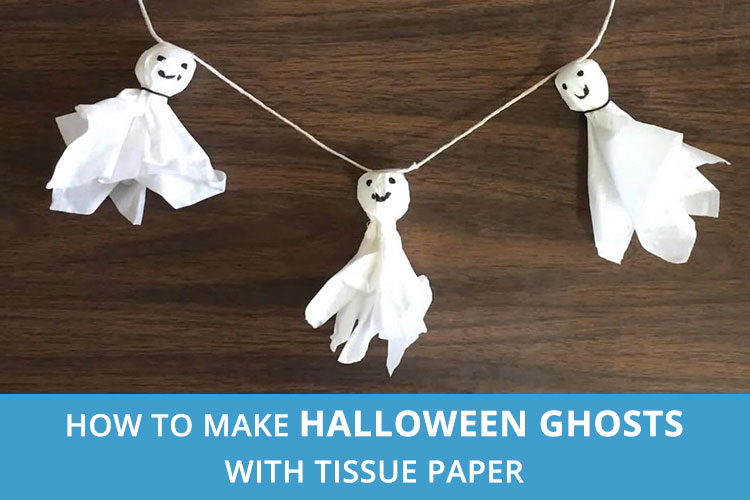 This post contains affiliate links and we will earn commission if you buy the products through those links. For more information, please read our disclosures here
They are simple enough for younger children to make. Hang them in windows or doorways to welcome trick-or-treaters on Halloween night!
Tissue Paper Ghosts: Great Halloween decorations
Tissue paper ghost crafts are perfect for adding extra spookiness to your Halloween night decorations or Halloween parties. Supplies needed to make this fun craft can be easily found at a dollar store. They're easy to make, and kids of all ages will enjoy putting them together.
Materials needed to make tissue paper ghosts:
White Tissue Paper
Cotton Ball
Rubber Band or white yarn
Black Marker
How to make Halloween Ghosts with Tissue Paper?
Easy to follow step-by-step directions on how to make Halloween Ghosts with tissue paper:
Take tissue paper and a cotton ball.
Place the cotton ball in the center of the tissue paper and wrap the tissue paper around it.
Put a rubber band on the tissue paper covering the cotton ball to make the ghost's head.
Add some features, like eyes and a mouth with a marker, and make a ghost's mouth.
Make a few of these little ghosts, stick them on a string and make a ghost garland.
Hang several ghosts around your home for a truly haunting effect!
Tissue Ghosts are fun crafts to do with kids and add a festive decoration for your Halloween party. You can hand these tissue ghosts in windows or doorways with a string.
They are perfect for making for young children to make with just a little help from adults.
Happy Crafting!
More Halloween Activities for Kids
Halloween Bingo
Halloween Word Search
Halloween Sudoku
Halloween Cryptogram
Halloween Mazes
Halloween Crossword
These are fun and spooky Halloween activities that your kids are sure to enjoy. These printable activity sheets will keep them entertained all day long. Just print them out and let the fun begin!