Printable Mazes for kids are perfect to keep them entertained and busy! Mazes are a great way to improve fine motor skills and can be fun. Here are some of the fun, free and easy mazes for kids. Simply download and print!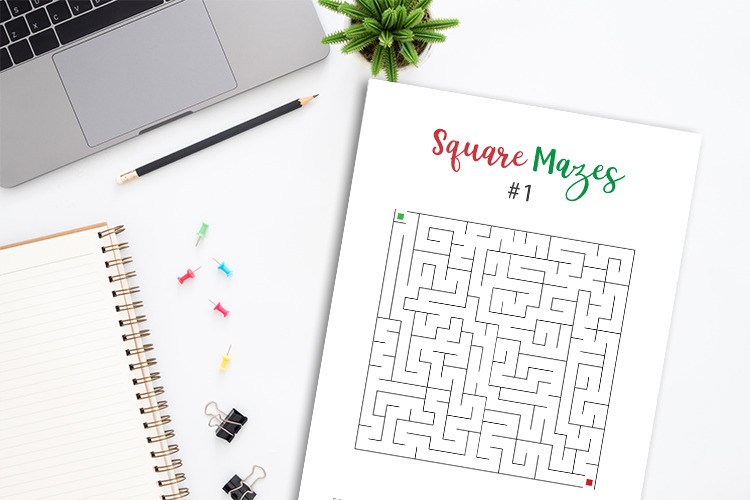 This post contains affiliate links and we will earn commission if you buy the products through those links. For more information, please read our disclosures here
Free Printable Mazes for Kids
Mazes are a great way to challenge kids and help them develop problem-solving skills. They can be a lot of fun! Depending on the child's age and ability, you can give them an easy or difficult maze.
Simple mazes are perfect for younger children, while more hard mazes can provide a challenge for older kids.
You can also find maze worksheets that focus on particular topics, like numbers, shapes, or alphabet maze. Young children would love to solve seasonal mazes like Thanksgiving or Christmas Maze.
Why Mazes are a Great Activity for Kids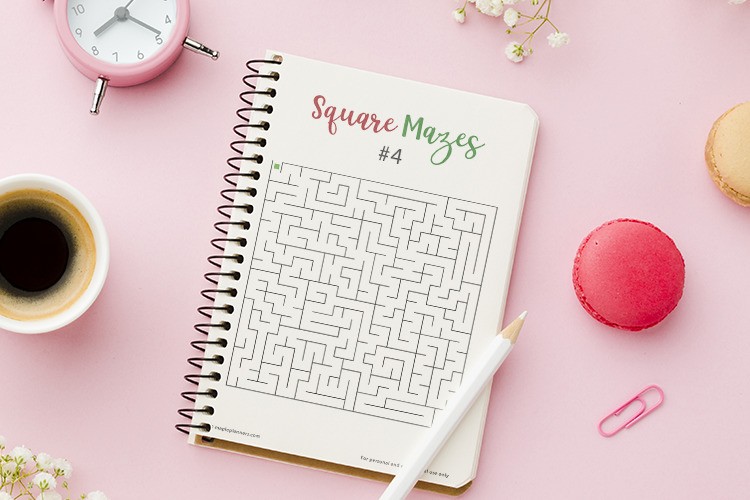 Simple mazes are a great activity for young children because they are fun and challenging.
They help to develop hand-eye coordination as children navigate their way through the correct path.
Kids learn to problem solve as they try to figure out the best way to get from point A to point B.
The challenging maze can be a great confidence booster for children as they see themselves successfully navigating through the right path.
Mazes are also a fun way for families to spend some time together. They can work together to find the correct path and help each other if they get stuck.
Kids of all ages develop critical thinking and analytical skills with advanced mazes.
Difficult mazes can challenge older children and help them develop perseverance.
Easy maze puzzles can also be used in classrooms by teachers to promote their students' healthy mindset.
These free printables for kids are perfect brain activity to help improve memory, focus, and concentration skills. Such fun worksheets are good for building problem-solving skills at an early age.
Mazes: A Fun Activity for Kids
Mazes are a classic activity that kids of all ages can enjoy. You can find them in an activity book, magazine, newspaper, and even online.
These are themed mazes, from animals to sports to animal mazes. Many popular ones are themed around holidays like Christmas, Easter, or Halloween.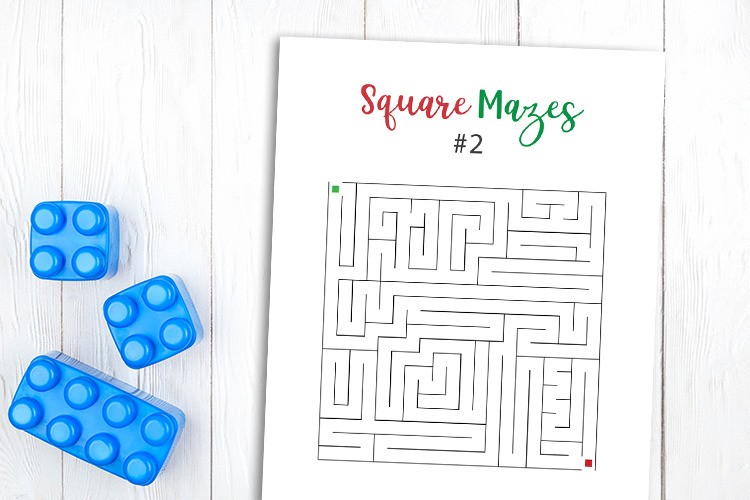 Mazes can offer lots of fun and are an excellent way to keep kids busy and entertained on road trips or rainy days.
They can also be a fun activity to do together as a family. So next time you're looking for an engaging activity for your kids, print out a maze or two and let them have some fun!
What are the different Types of Mazes?
Different mazes come with varied difficulty levels. There are easy, medium, and challenging mazes.
Challenging or hard mazes are designed to be challenging and often have multiple paths or dead ends.
Medium mazes are perfect for a middle schooler where they may find them somewhat challenging.
Easy or beginner mazes are a great tool for little ones to give them the taste of problem-solving.
Letter mazes are popular for school-aged children, as they help with letter recognition and hand-eye coordination. These mazes typically consist of straight paths that wind through a grid of letter-shaped openings.
The number maze is similar to the letter maze but uses numbers instead of letters. They help with number recognition and promote problem-solving skills among young learners.
Colorful mazes are also popular with kids, as they can be fun and visually stimulating.
Download Printable Mazes for Kids
If you're looking to keep your young learner occupied, you have come to the right place.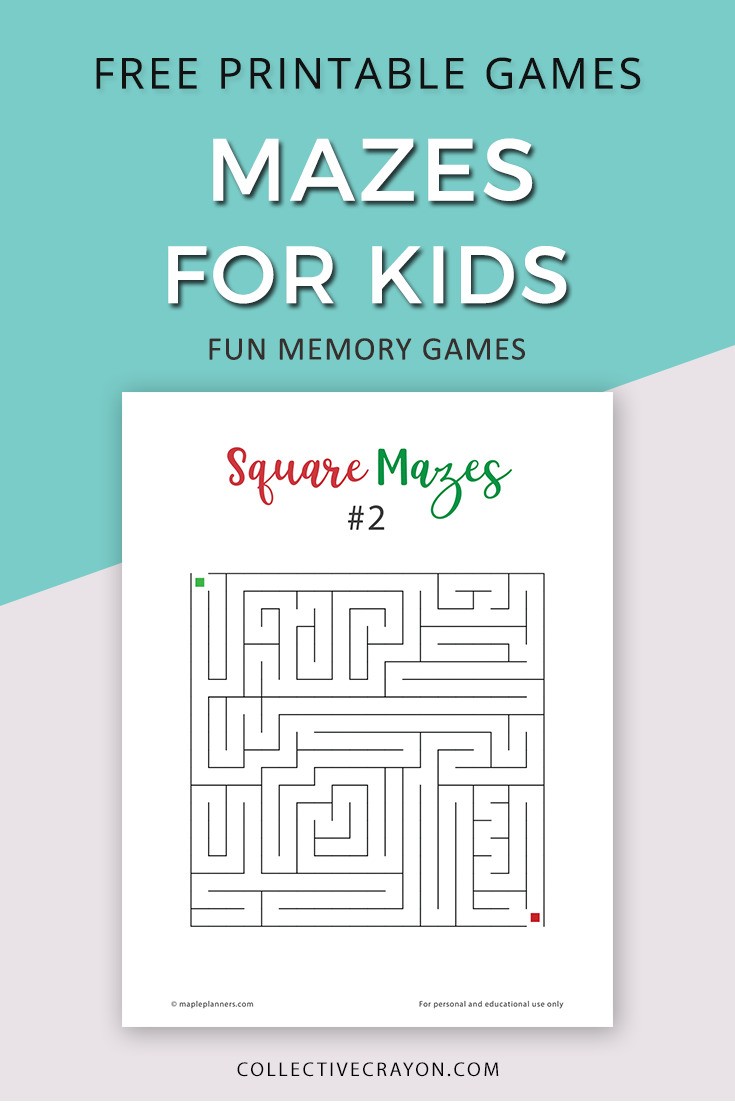 Since these printable game puzzles come as a pdf file, you will need Adobe Reader to open the files.
To start,
 Click on the "Download Free Mazes for Kids" button;
 Download and save on your computer.
 Using Adobe Reader, open the pdf files.
 Print on letter-size paper.
These sheets can be used as is, or you can laminate them for durability.
If you decide to laminate them, you can use these over and over. You can use a dry erase marker or washable markers that can be erased once done.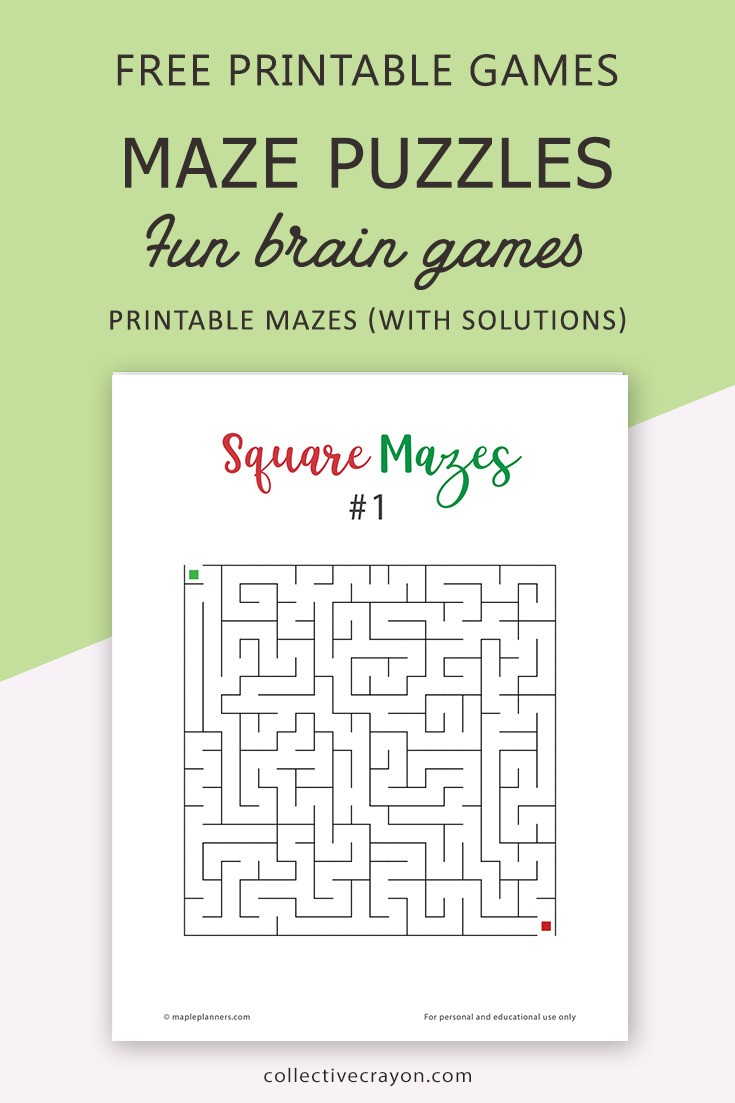 Create your own Mazes
Want more challenging games? Or easier ones? You can create your own Mazes!
Free Maze Generator (For Personal Use)
Mazes for Fun (For Personal Use)
Maze Puzzle Maker (For Commercial Use)
You will find mazes with random levels of difficulty, so there will be some easy puzzles and some difficult ones.
You can play these every day and see how it helps with your concentration and focus skills. Such games offer a healthy environment for your physical and mental well-being.