Celebrate St. Patrick's Day with this cute St. Patrick's Day Bingo game. It's a great way to get into the spirit of the holidays and a fun way to keep kids entertained. There are ten bingo game boards and calling cards. Just download the cards, print and get ready to have some fun!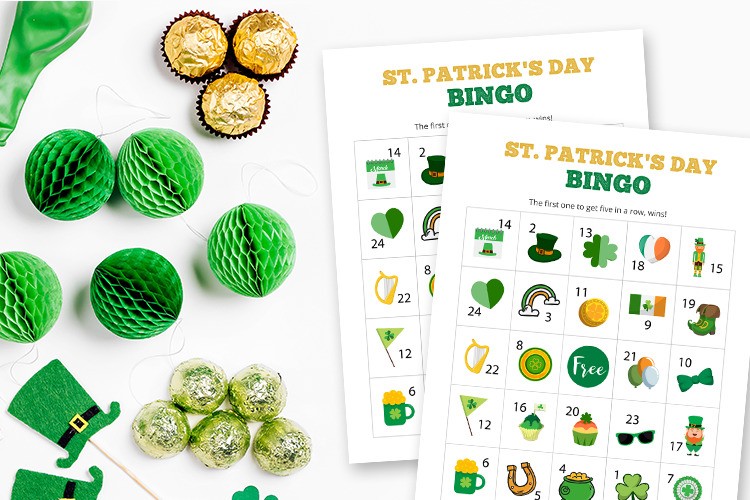 This post contains affiliate links and we will earn commission if you buy the products through those links. For more information, please read our disclosures here
This bingo game is perfect for class parties, family game night, or any festive gathering. So break out the green shamrocks and prepare to have Irish-themed fun!
How to Play St. Patrick's Day Bingo
There are ten bingo boards and a calling mat. The finished size of the bingo boards and the calling mat is letter size, so you can conveniently print on letter-size paper.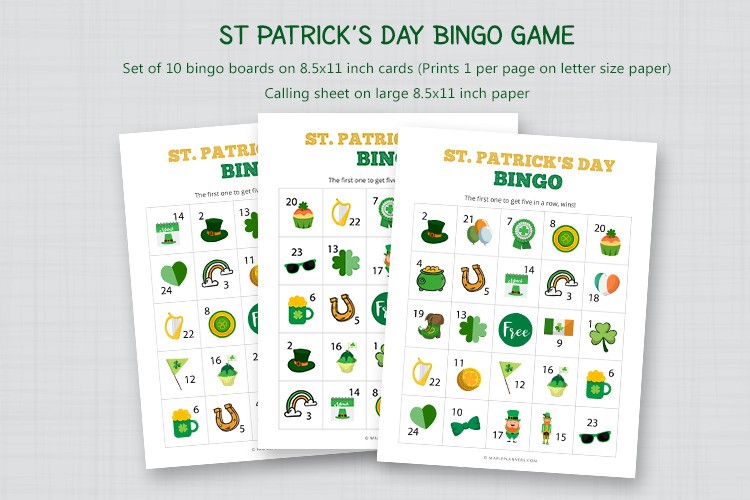 Laminate them for durability and keep using them time and again.
You will need the following supplies:
A printer
White card stock paper
Pair of scissors
Bingo markers, game pieces, or chips (You can use pennies, buttons, candies, etc.)
St. Patrick's Day Bingo game boards and calling cards (You can print as many as you need)
How to play:
This bingo game is easy to play.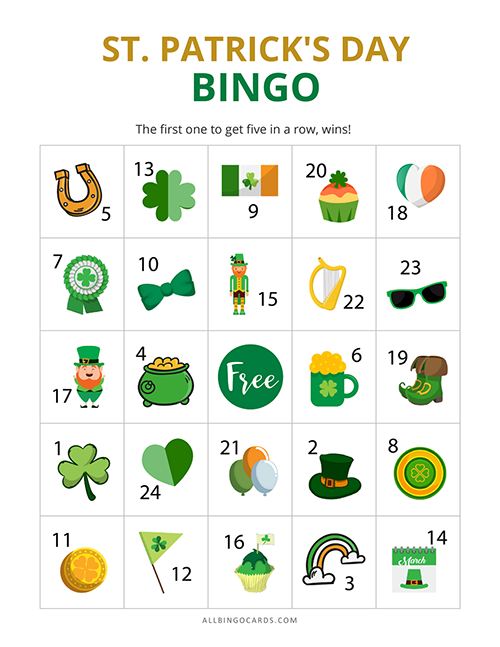 Start by downloading the Bingo cards printable.
Print the bingo game cards and the calling cards. Cut out all the images from the calling mat. Place them in a bowl, facing down.
Hand over a bingo card to each player and pencils. They can use a dry erase marker (if you're using the laminated version)
When ready to play, simply pull the card from the bowl. Call out the number or display the object.
Whoever gets five in a row wins the game! Space in the center is Free Space.
Picture bingos are perfect for playing with toddlers, preschoolers, and young children if they can't read any words yet.
They will love matching the cute leprechauns, pots of gold, leaf clovers, green hats, and gold coins on the cards. They will have lots of fun playing this interactive and engaging game.
Gather family and friends for some St. Patrick's Day fun. This free printable bingo game is the perfect way to do just that! So print out some cards and get ready for some fun!
St. Patrick's Day Scavenger Hunt
You can also play Scavenger This festive twist on the classic game is perfect for getting everyone in the holiday spirit. To play, simply print out a Bingo card for each player.
Download free printable St. Patrick's Day Bingo Cards
Set the timer for two (or more) minutes and have each player fill their card with items they think they will see during the scavenger hunt portion of the game (e.g., four-leaf clover, shamrock, green clothing, etc.).
Once the timer runs out, players start searching for objects on their list. The first person to find all of the items on their card wins! It's a perfect way to get everyone up and moving.
Why is St. Patrick's Day celebrated?
Also called St. Patty's Day, this annual event celebrates St. Patrick, the patron saint of Ireland, who was captured by Irish raiders as a young boy.
He was brought to Ireland as a slave, but he escaped and returned to his family. He later became a Christian missionary and is credited with bringing Christianity to Ireland.
The holiday, celebrated on March 17th every year, has been associated with parades where people dress up in green clothing to remind themselves of this historical figure from Ireland's past and their own identity!
St. Patrick's Day Games and Activities for Kids
Looking for more St. Patrick's Day Games and Activities for Kids? Try these:
I Spy Printable Game.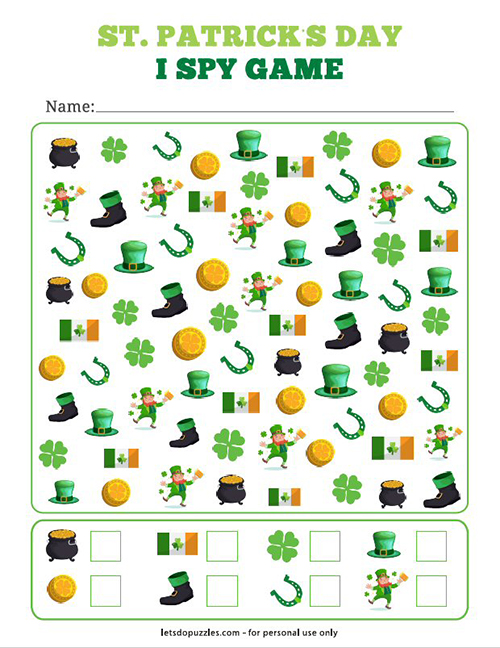 This fun game is perfect for kids of all ages and can be played repeatedly. Kids will enjoy counting each object associated with St. Patrick's Day. This is a great way to develop counting and object recognition skills.
Word Scramble.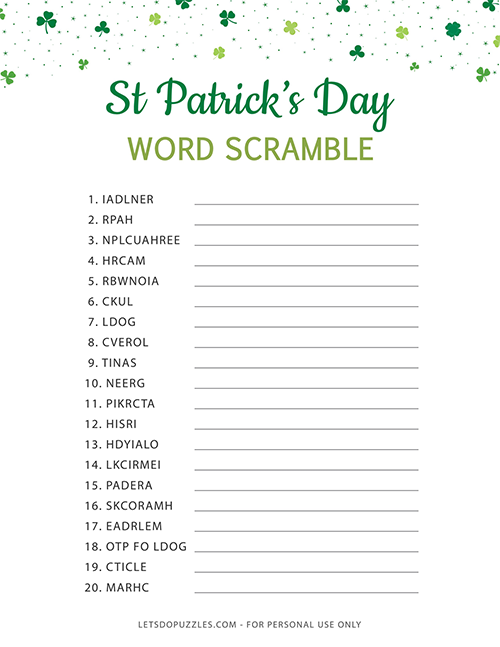 This printable game is perfect for kids who are beginning to read. They must unscramble the words and match them to the correct picture.
St. Patrick's Day Memory Game.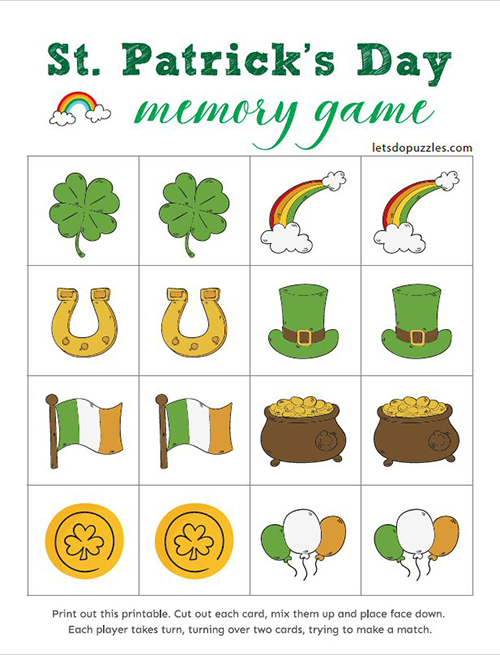 The object of this memory game is to find all the matching pairs of St. Patrick's Day pictures. This game helps improve memory and concentration skills.
St Patrick's Day Math Games.
This simple activity is perfect for kids who are just learning to count. They will enjoy counting the number of shamrocks in this worksheet.
Word Search Puzzle.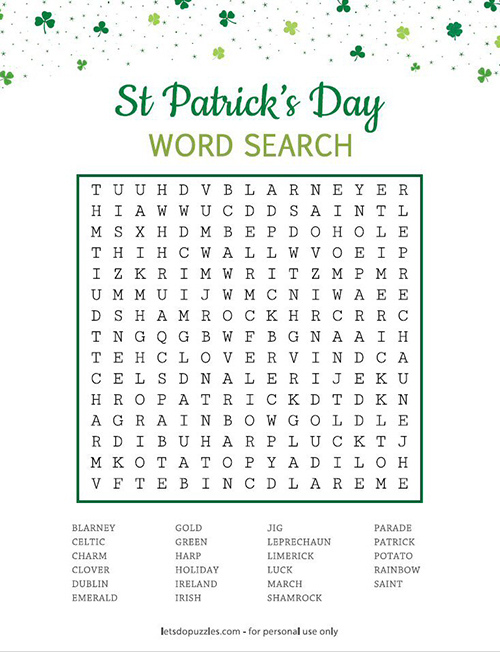 Download and print this Word Search Puzzle for Kids. It is perfect for kids who are beginning to read. Such games help develop word recognition and problem-solving skills. They must find all the St. Patrick's Day words hidden in the puzzle.
Clover Maze Printable Game.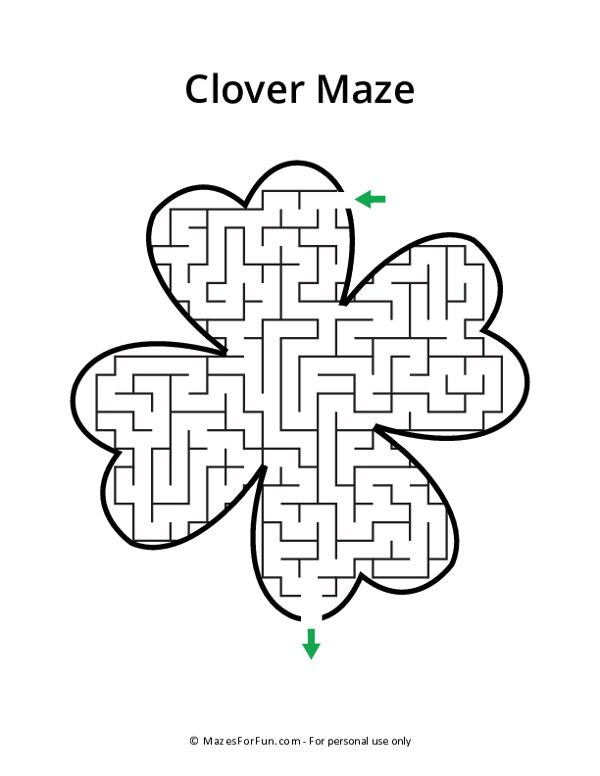 Kids will enjoy finding their way through this cover maze.
Coloring Pages.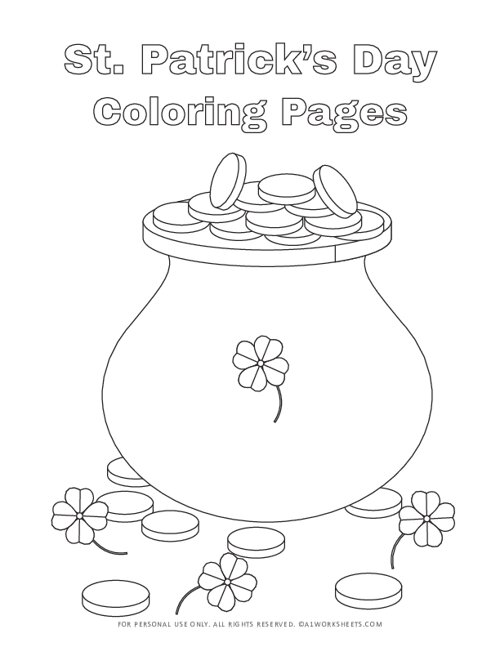 Do your kids enjoy coloring? Download these free printable coloring pages. Let them get creative and fill out these images with the crayons of their choice. They will enjoy adding their own personal touch to each page.
So there you have it! What a festive way to celebrate this fun holiday with the whole family.
Happy St. Patrick's Day!