The Ocean Memory Game is a fun way to learn about the different creatures that live in the ocean. The game is played by flipping cards and matching them with the corresponding pictures.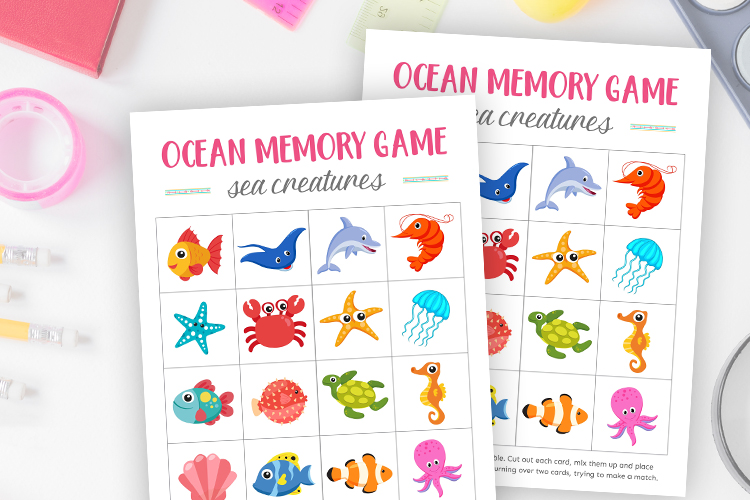 This post contains affiliate links and we will earn commission if you buy the products through those links. For more information, please read our disclosures here
The object of the game is to remember where the different cards are so that you can make more matches. This educational and fun activity is a great way to learn about ocean life and its creatures while having fun at the same time! Simply download the pdf file and print.
This printable memory game is perfect for home or classroom use. It includes 16 cards with pictures of different ocean animals on them.
Benefits of Memory Matching Games for Preschool Children
Memory matching games are a great way for preschool children to develop concentration, visual discrimination, and memory skills.
Concentration Skills.
Memory games require children to pay attention to detail to find matching pairs of cards. The act of concentrating on finding matching pairs also helps to improve your focus and attention span.
And because the games are usually timed, they can also help to increase your speed and accuracy in solving problems.
Visual Discrimination Skills.
To succeed at memory games, children must first carefully look at each card to identify the pictures and determine if they are the same or different.
This helps develop their visual discrimination skills.
Memory Skills.
Memory games are an excellent way for children to practice their memory skills. Children learn to remember where objects are located and what they look like by playing memory games.
Once they have found a match, they must then remember where the two cards are located in order to make the match.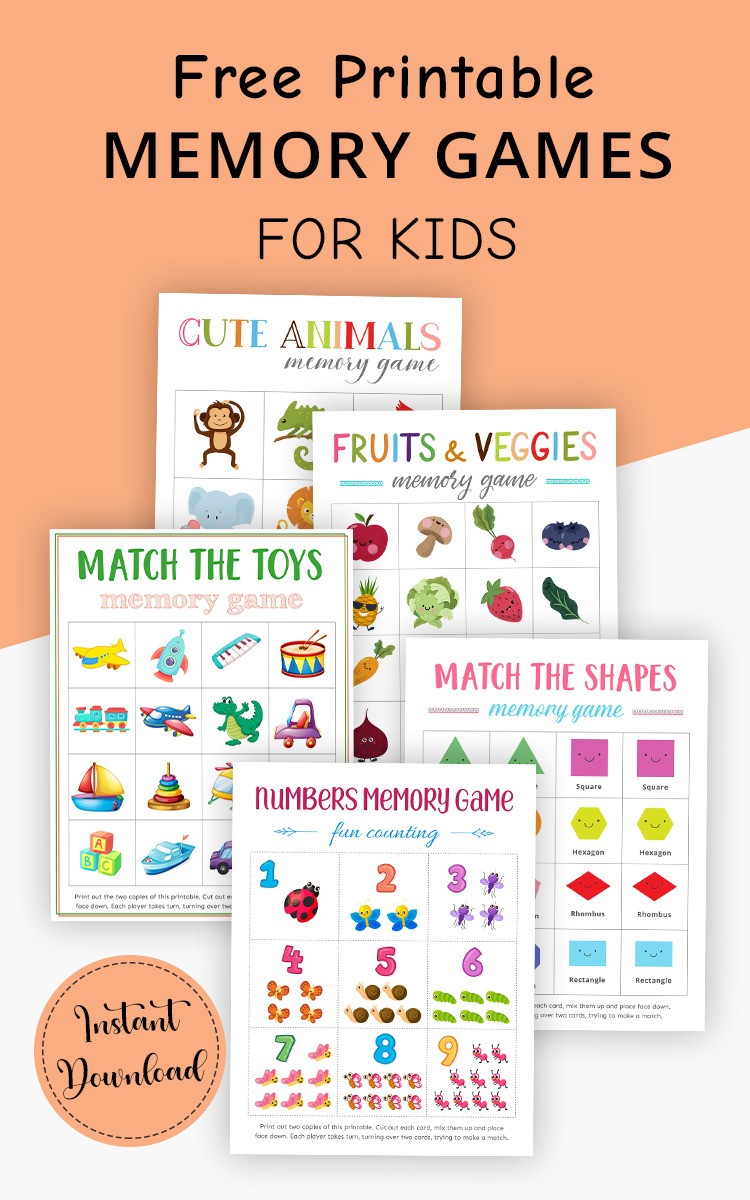 Memory matching games are an excellent way for preschoolers to develop these important cognitive skills. They are a fun and challenging way to exercise the brain, which can help to improve your overall mental health.
Printable Memory Games for kids are educational and a great companion for outdoor activities. Take these memory games if you plan a road trip, take a plane ride, or dine out. Kids will be busy and engaged while playing these games.
Thanks to such games, parents will be spared a constant "Are we there yet?" repeats. Check out these Mazes for Kids, Word Searches, Crossword Puzzles, and Sudoku for Kids for more printable games.
Ocean Memory Games: Perfect for Ocean Lovers
The ocean is home to many different sea creatures, from the smallest plankton to the mightiest whale. One great way to teach kids about sea animals is to play the Ocean Memory Game.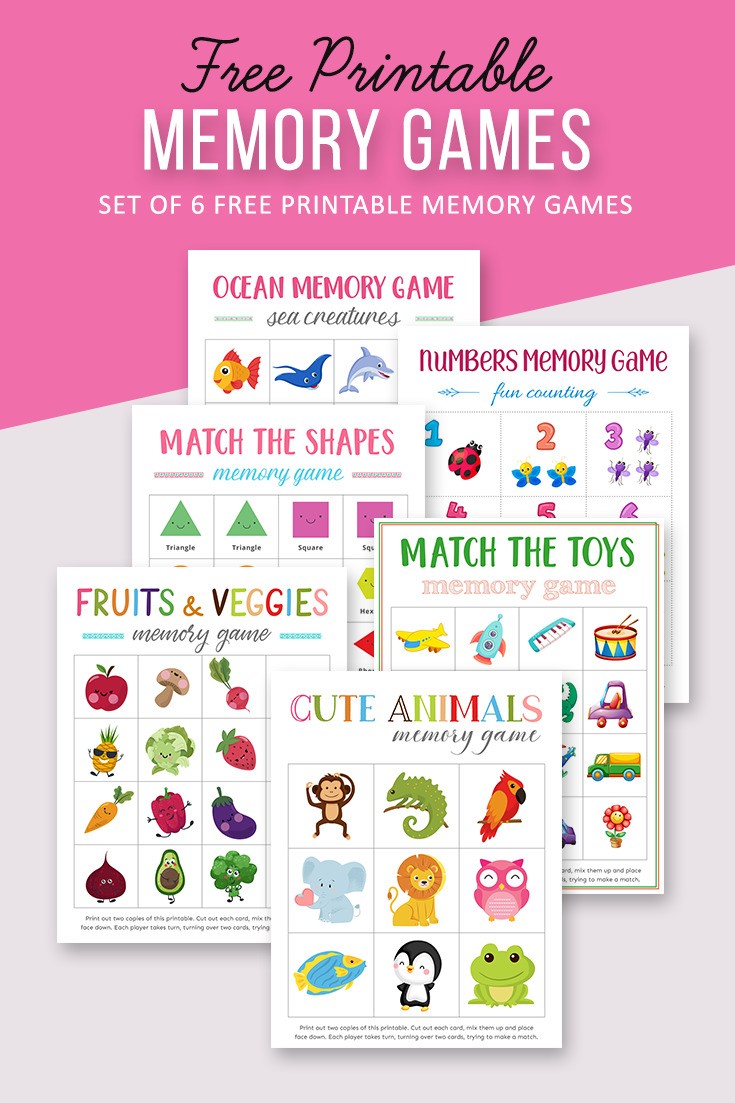 This fun and educational game challenges players to match pairs of cards, each of which features a different ocean animal. As they play, kids will learn about the different types of animals that live in the sea and their unique behaviors and habitats.
Kids of all ages can enjoy this ocean activities game. What an excellent way to introduce them to the wonders of the ocean.
Make Memories with Kids
Playing such printable games is a great way to spend quality time with family and friends. Kids will not only make beautiful memories with such games but also develop concentration and focus skills while they learn image recognition.
These printable memory games for kids are perfect for taking along anywhere kids might feel bored. There's a variety of elements you will find with each game.
These games are perfect for young children up to first graders. If you find your kids interested in animals, you can have them play with animal memory games. They will be able to recognize the images on these cards while having fun.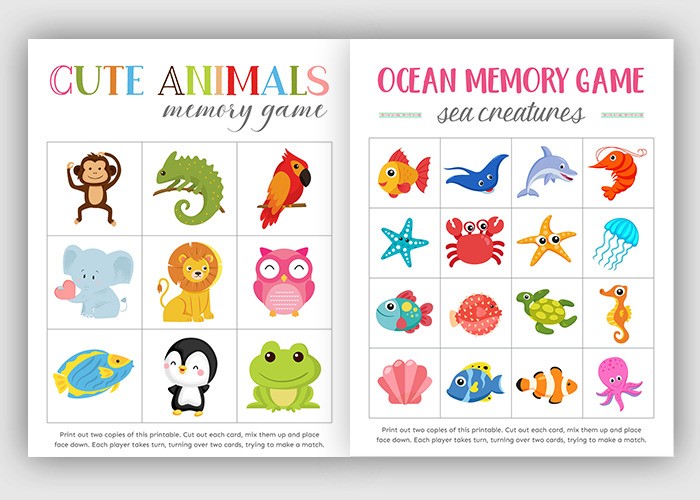 If they love Farm Animals, they can play this Farm Animal Word Search.
Get them interested in fruits and veggies by having them play these fruits and veggies memory games for kids. This might be a good time to educate them about healthy eating.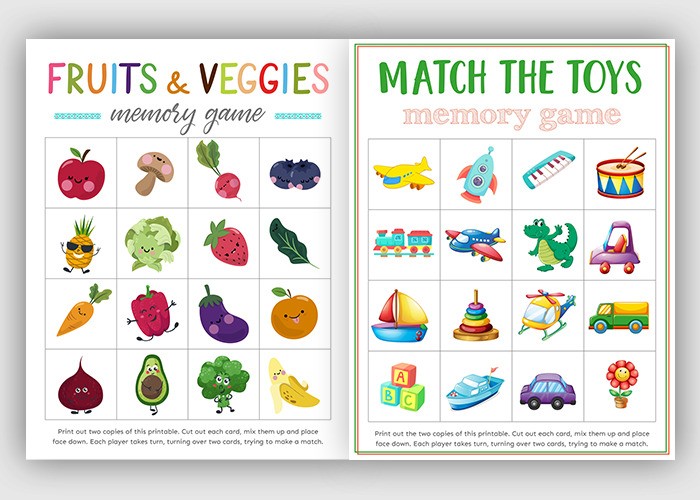 They can also play Vegetable Bingo and Food Bingo.
Have them count the numbers with number memory games. They can match and learn about different shapes with the match the shapes memory games.
If your little ones love numbers and math, download and print these Addition Worksheets or Addition Flash Cards for Kindergarten students.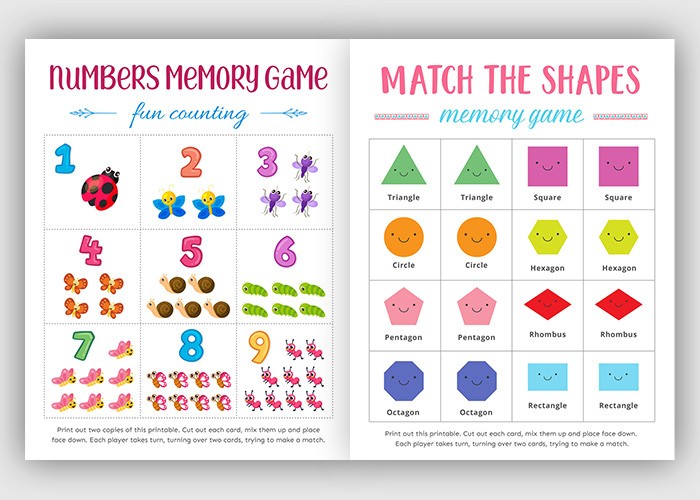 How to play Ocean Memory Game?
This ocean-themed memory game is perfect for rainy days, long car rides, or anytime your little ones need a break from screens.
Supplies you'll need:
Memory Matching Game Printable;
Letter Size Paper;
Scissors;
Printer.
Download and Print:
Download the pdf file;
Open the files in Adobe Reader;
Using the Print command, print on letter-size paper. Print on thick card stock paper for best results.
Laminate the cards for durability to use them over and over.
To play:
Print an even number of copies of each game. 2 or 4, or something like that to ensure that you have at least one match of each image.
Cut them along the lines.
Mix up the small cards.
Lay the cards face-down on the table or floor.
Players take turns turning the two cards. If they match, the player gets to keep them. If not, turn them back over.
Players need to remember what was on each card and where it was.
Once all the cards have been turned over and matched, the game is over.

The player with the most matching cards wins the game.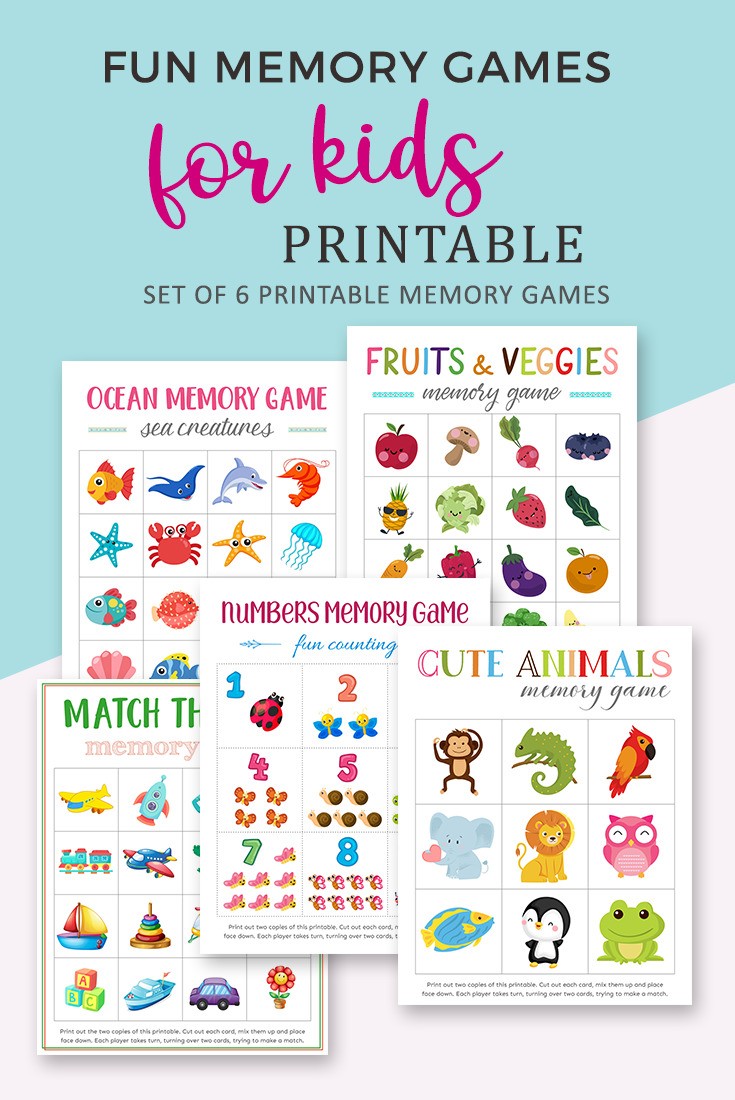 Ocean memory free printable game is a fun memory game for kids to learn about ocean animals while spending quality time together as a family. This great educational activity is simple to play with and can be enjoyed by kids of all ages.