This free Alphabet Bingo Game printable is perfect for kids of all ages. It's a fun way to help your child learn their ABCs. Just download and print the ABC bingo game cards, cut them out, and you're ready to go.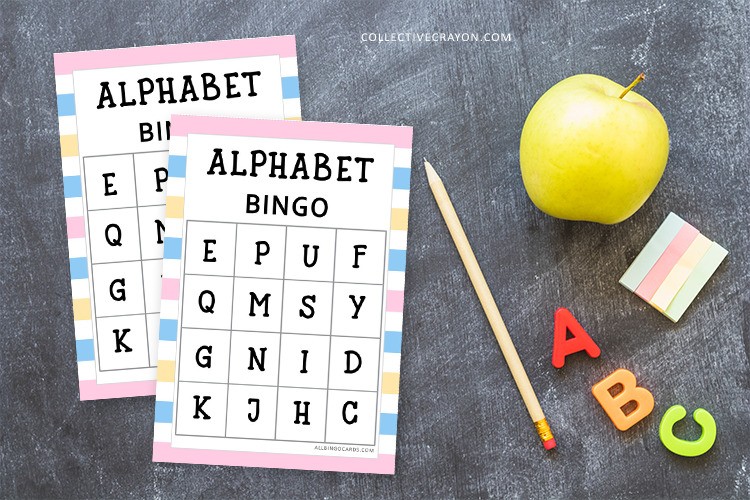 This post contains affiliate links and we will earn commission if you buy the products through those links. For more information, please read our disclosures here
Kids can learn early literacy skills with letter recognition games. Alphabet Bingo is one such free printable game that is a great learning tool.
Bingo boards with capital letters help kids to recognize letters of the alphabet and letter sounds. Young and older children can learn their ABCs with these alphabet cards.
Download Free Printable Alphabet Bingo for Kids
Alphabet Bingo is a fun game that kids can play to learn the alphabet. Make sure to download and print your copy of the free printable alphabet bingo game cards at the bottom of the post.
There is a total of 10 different bingo cards in the package. A calling card is included with the letters from A to Z.
They can practice letter recognition, which is also a lot of fun. Free printables for alphabets make it easy for parents to get started.
The game can be played with small groups of kids or one-on-one. It's a great way to reinforce letter recognition and help kids develop important early literacy skills.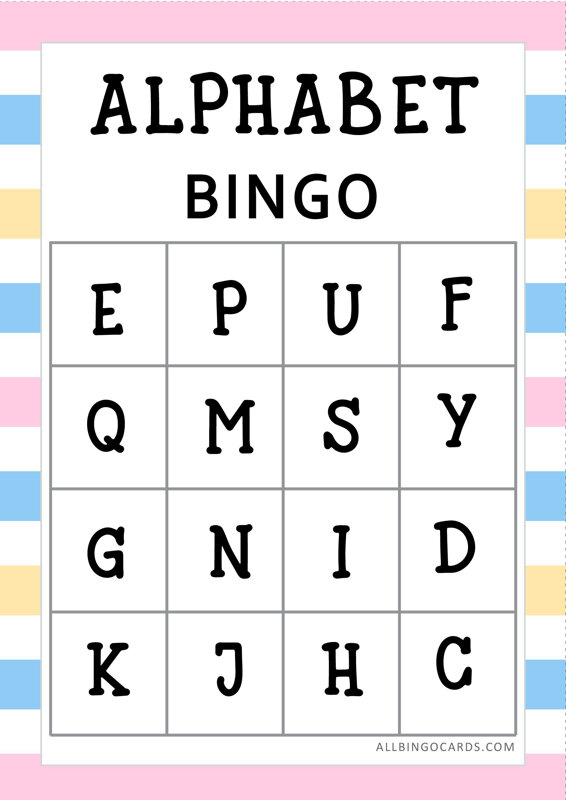 The game is played by calling out letters from the calling card. The players mark the corresponding letter on their own bingo card as each letter is called.
When a player has marked all the letters in a row, they call out "Bingo!" and are declared the winner.
This easy and fun alphabet bingo game can be played with any size group, making it a great choice for classroom parties or family gatherings.
Benefits of playing Alphabet Bingo
There are many benefits to playing Alphabet Bingo with young learners. It is a fun way to spend quality time with family and friends.
It's also an excellent way to help kids learn the alphabet – upper case and lower case letters.
Playing Alphabet Bingo can help kids in many ways. It can;
Help them develop important literacy skills such as letter recognition and sound association.
Improve their memory and concentration levels.
Help them develop fine motor skills.
Encourage kids to interact with others and take turns.
Build kids' confidence as they see themselves progressing and succeeding at the game.
How to play Alphabet Bingo for Kids?
Here are the supplies needed and directions to play this fun game.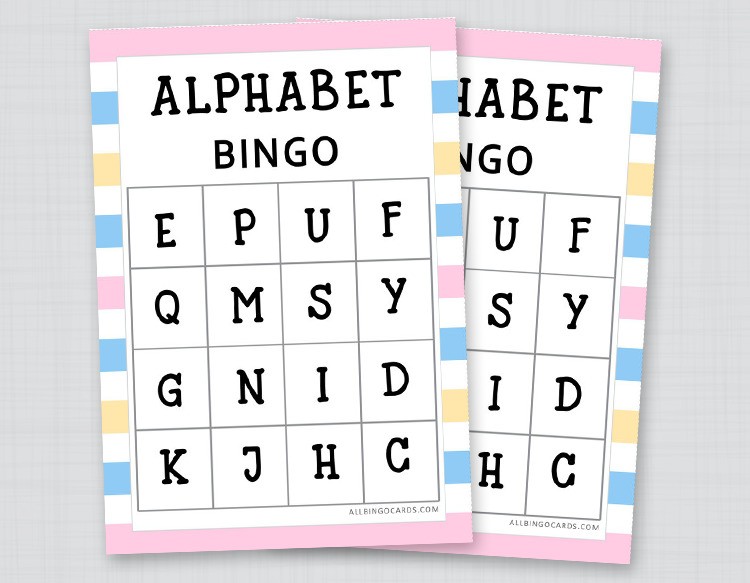 Supplies:
Printable Bingo Cards;
Pens, Pencils, or Bingo Markers;
Bowl or a Hat
To play:
Download and open the pdf files with Adobe Reader.
Print the bingo cards and calling sheet using thick card stock paper.
Distribute them among children.
Cut out the small squares from the calling sheet.
Place them in a hat or bowl.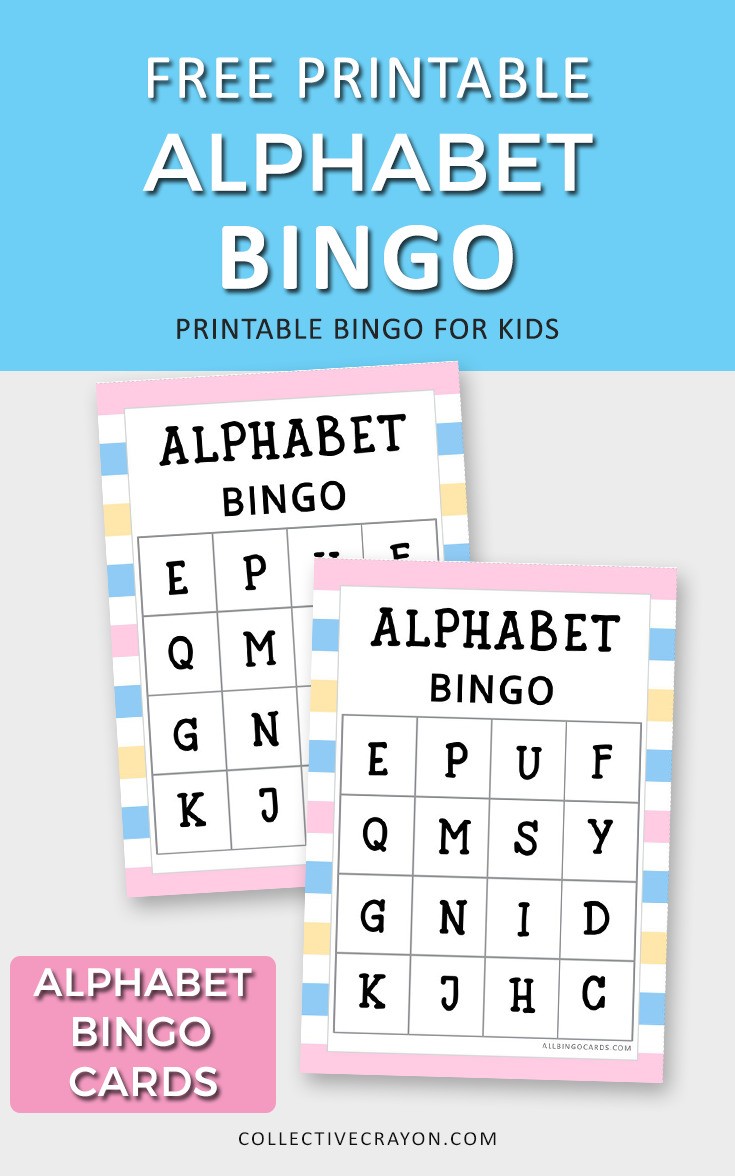 Have the host pull a card out of the pile. Call it out by saying the letter on the card.
Players look for that alphabet on their entire board. If they find the letter, they cover it with a small candy or mark it off with a marker.
Continue pulling out the cards from the bowl or hat one at a time.
The first player to cross off five in a row, shout out BINGO and win.
To play the alphabet bingo game over and over, try laminating the printed bingo boards. You can use a laminator or dry erase pockets.
Have the kids use dry erase markers while playing. When they're finished playing this bingo game, erase the marks and you're ready to play again.
Laminated cards are also great for traveling, as they won't get damaged in your bag. Plus, they're easy to wipe off if they get dirty.
Make your own Bingo Cards
If you'd rather make your own bingo cards, you can do that. Click on the image below to edit the text and make your own bingo.
Lowercase ABC Bingo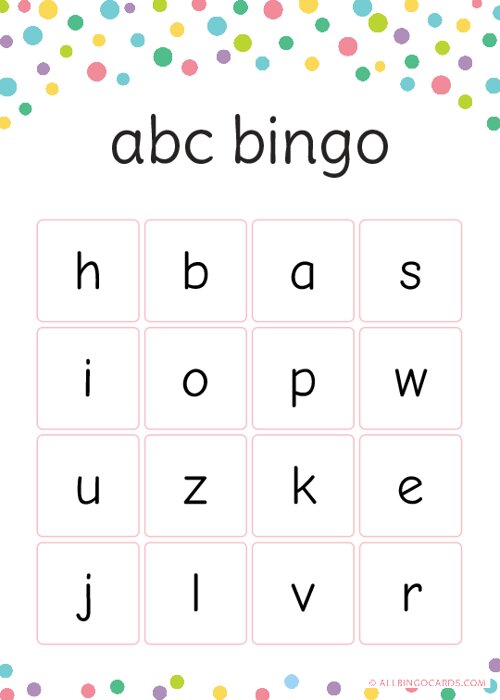 Uppercase ABC Bingo
You will be able to edit the heading and word list on these bingo cards. There are options to change the template grid size to 3×3, 4×4, and 5×5.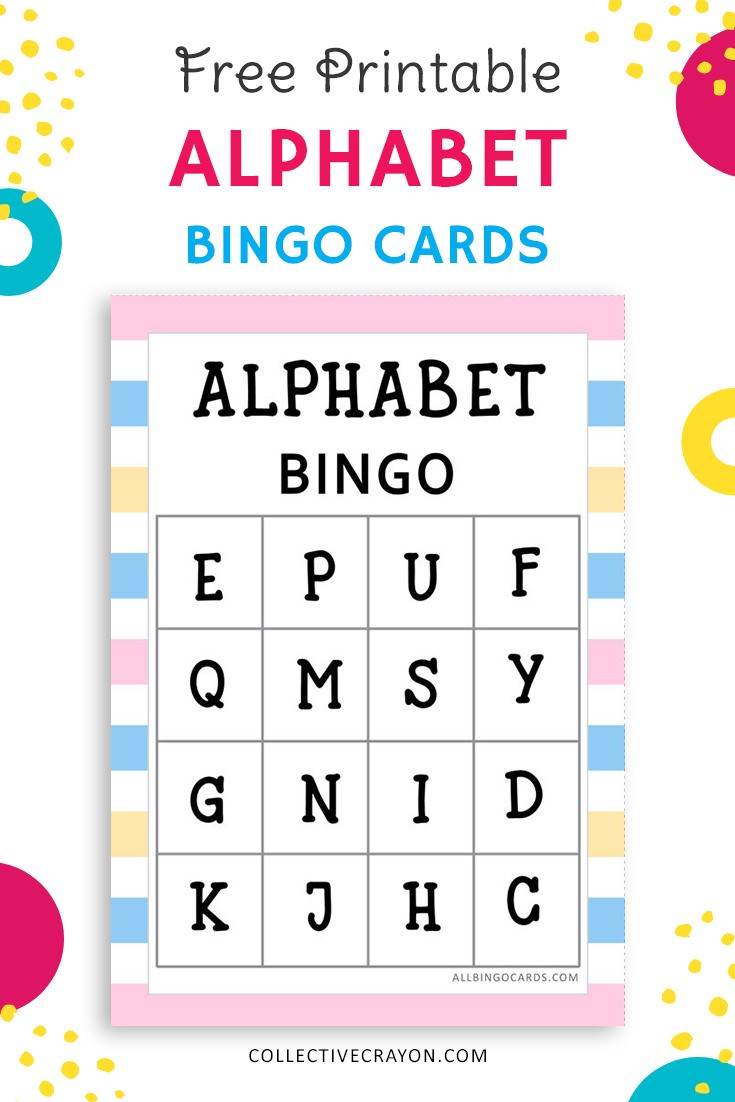 Download Alphabet Bingo Game Cards
Playing Alphabet Bingo is a great way for kids to practice their alphabet letters in a fun and engaging way.