The kindergarten sight word bingo game printable is perfect for students learning common sight words. Your kids will have a blast playing this game, and they will be able to improve their reading skills simultaneously!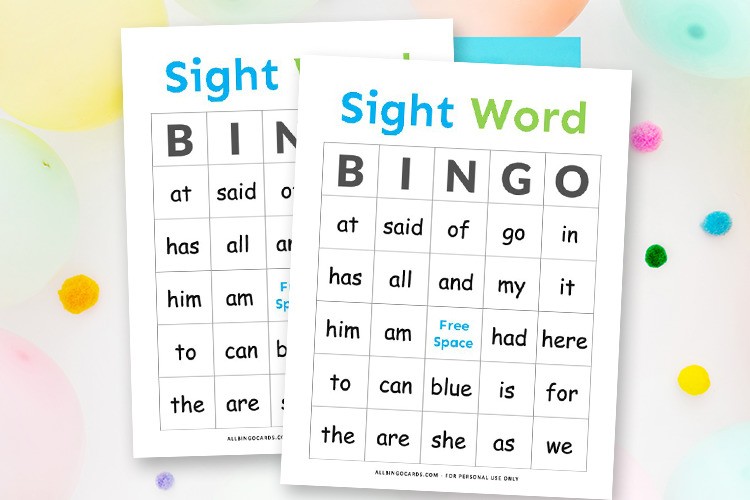 This post contains affiliate links and we will earn commission if you buy the products through those links. For more information, please read our disclosures here
They will have so much fun playing this game that they won't even realize they are learning!
Learn Common Words with Sight Words Bingo
Dolch Sight words are critical to reading fluency; the earlier students learn them, the better. However, memorizing sight words can be challenging, especially for young learners.
That's where the bingo game printable comes in! This fun way to learn common sight words is ideal for small groups or independent work in first grade.
It provides a lot of fun and engaging ways to learn, but it also helps to develop fine motor skills.
How to play Kindergarten Sight Word Bingo?
Help your child learn their sight words with this Sight Word Bingo Game. This no-prep game is easy to put together and play.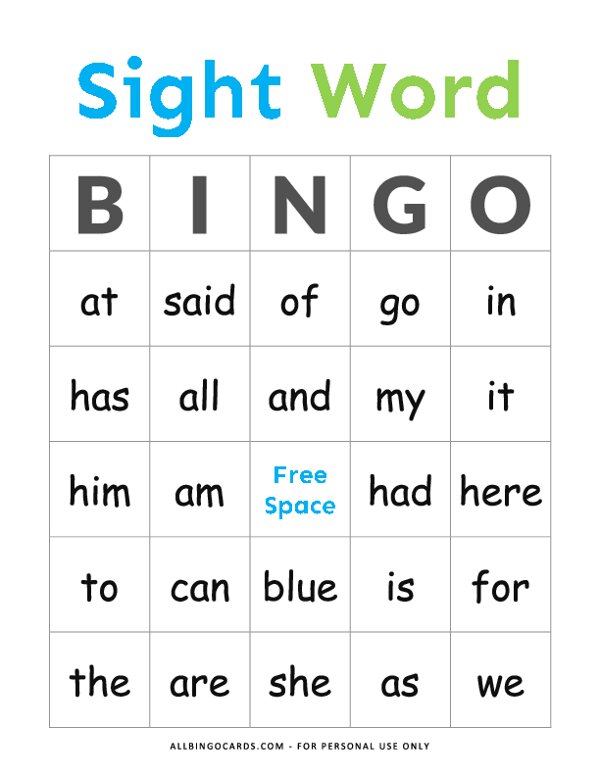 You will need:
Sight Word Bingo Printable;
Dolch Sight Word List;
Bingo Markers;
A Bowl or a Hat;
Scissors;
Printer.
To play,
Download and print the bingo boards and calling card. Print on thick card stock paper for best results.
Cut out the small squares from the calling sheet.
Shuffle and put them in the bowl.
Distribute the sight word bingo cards among players.
Pick one square out of the bag and read the word aloud.
Once you have read the word, players can find the matching word on their bingo board and mark it off with a marker.
The first child to get five in a row wins the game!
You can laminate the game boards for durability. This way, you will be able to use them over and over. Just use the dry erase markers.
Playing Sight Word Bingo is a fun and easy way to help your child build their reading skills.
Kindergarten Sight Word List:
a
all
am
and
are
as
at
be
blue
can
for
go
had
has
here
him
in
is
it
my
of
on
said
she
the
this
to
was
we
you
Benefits of playing Kindergarten Sight Words Bingo.
Playing Sight Words Bingo is a great way for kindergarten students to learn new words.
It is a fun way to help them improve their vocabulary and reading and writing skills.
It helps them become familiar with the shapes and sounds of letters, which is essential for learning how to read.
Using games like Sight Words Bingo or alphabet flash cards regularly, kindergarten students can gain a valuable head start on their education.
Sight Word Bingo for Teachers and Educators.
Sight Word Bingo Game is a great way for teachers and educators to help their students learn to read. It can be played with any number of players, making it perfect for large or small groups.
Teachers can make Sight Word Bingo part of their lesson plans. It can be an excellent instructional tool that helps students in learning and reading sight words.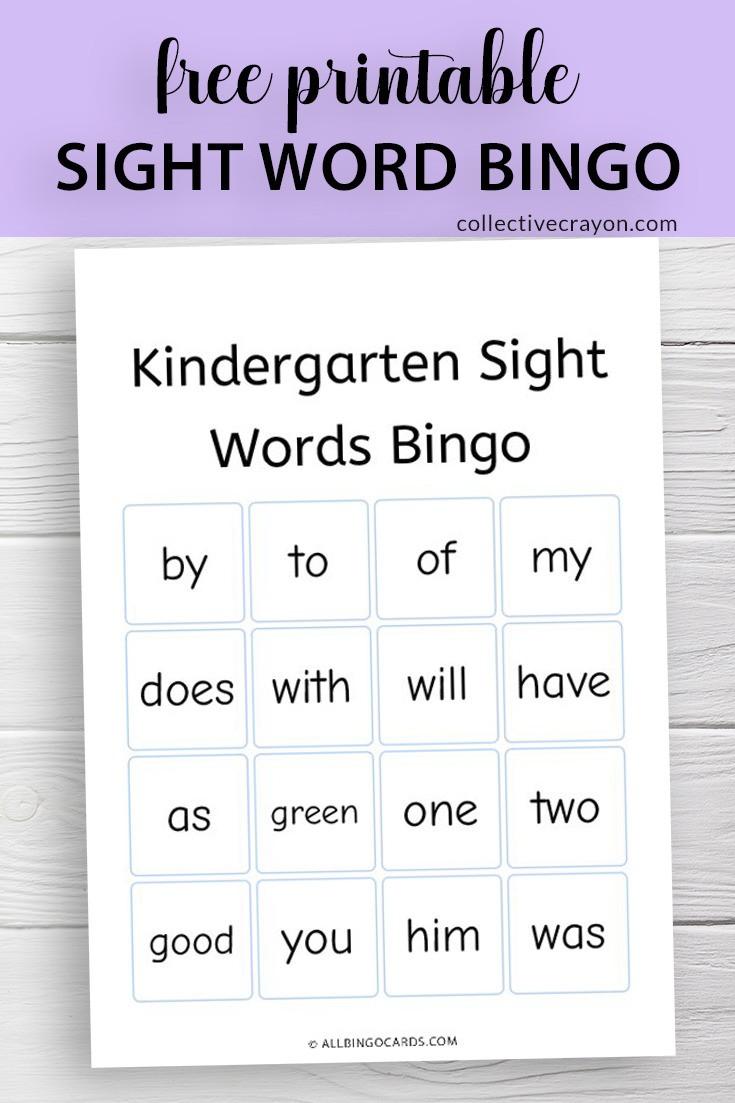 This fun sight word activity can be used in whole-class or small-group instruction.
In addition, Sight Word Bingo can be differentiated to meet the needs of all learners. For example, teachers can create bingo cards with different numbers of words or with different sight words.
Differentiated bingo cards provide scaffolding for struggling students and challenges for advanced students.
By using Kindergarten Sight Word Bingo as part of their lesson plans, teachers can engage all students in learning sight words.
The Sight Word Bingo Game: How to Make the Most of It.
Sight word bingo is a fun and effective way to help kids learn to recognize high-frequency words. Here are some ways to get the most out of the game:
Before starting, explain the rules of the game and model how to play.
Encourage kids to say the word as they find it on their cards. This will help them make the connection between the printed word and its meaning.
Call out words slowly at first, and then increase the speed as kids become more confident.
Give everyone a chance to win by allowing multiple winners per round.
Make it more challenging by asking kids to find words in a particular order (e.g., from left to right, top to bottom).
Following these tips can create an engaging and educational activity to help kids develop important reading skills.
How to make your own bingo cards printable?
Want to make your own sight word bingo? Visit the Kindergarten Sight Word Bingo and click the Edit/Customize button.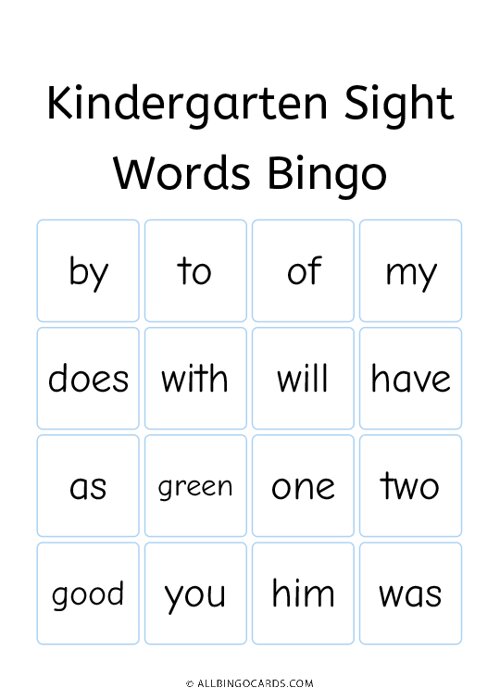 Make your own Sight Word Bingo
You can edit the text and sight word lists and change the font style, size, and color. There are many other options that give you the ability to customize the bingo as per your needs.
More Sight Word Games and Activities
Besides sight word bingo, several fun games can help kids to learn sight words.
I Spy: One popular game is called "I Spy." To play, one player chooses a sight word and then clues the other players about what the word is.
For example, the player might say, "I spy with my little eye something that starts with the letter M." If the other players guess correctly, they get the point.
Hangman. To play this fun game, one player thinks of a sight word and then draws a row of dashes on a piece of paper for each letter in the word.
The other players take turns guessing letters; if they guess correctly, the letter is written in the right position. If they guess wrong, another body part is added to the stick figure being drawn.
The first person to guess the word correctly wins the game.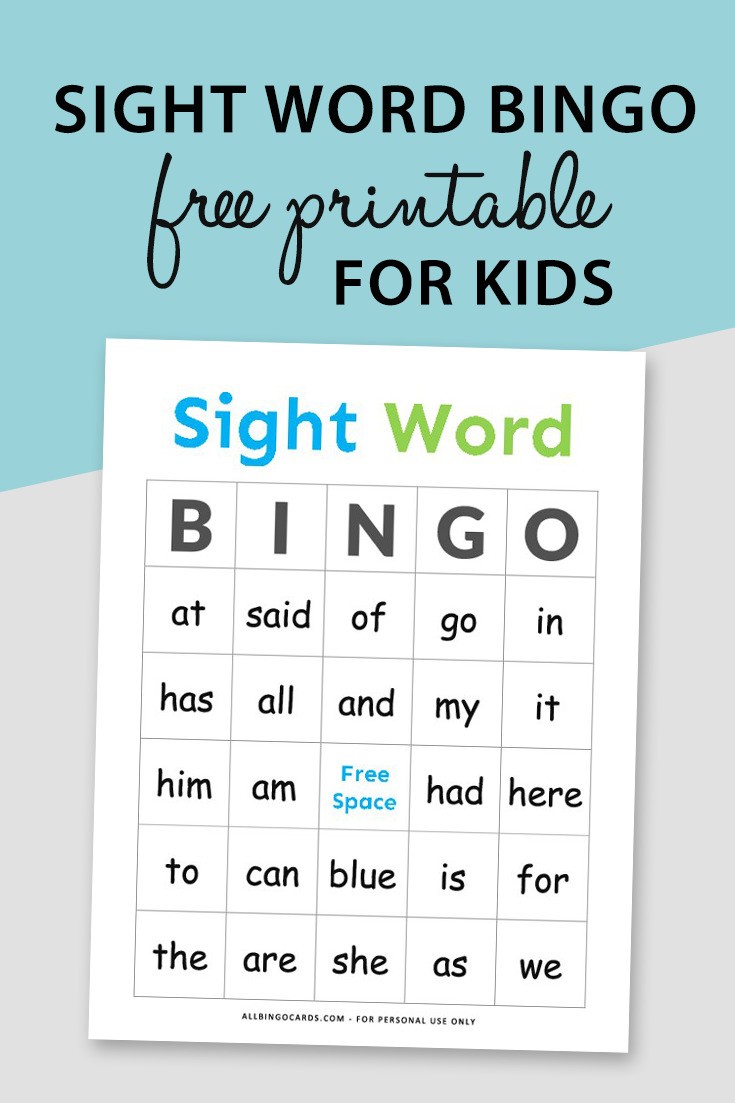 Download Kindergarten Sight Word Bingo
Sight Word Scavenger Hunt. For this activity, hide sight words around the house or classroom and have kids search for them.
As they find each word, they can read it out loud and cross it off their list. The first player to find all of the words wins the game.