The Christmas word search puzzle is perfect for kids of all ages and will help them get into the holiday spirit while honing their problem-solving and vocabulary skills.
This post contains affiliate links and we will earn commission if you buy the products through those links. For more information, please read our disclosures here
This fun and educational activity is a great way to get into the holiday spirit. Make sure to download the pdf files, print and see how quickly your family can solve it. The answer key is included in the puzzle.
This printable Christmas word search includes 16 Christmas-related words hidden in a grid of letters. Words like "ornament," "reindeer," "holiday," and more.
To complete this fun activity, your child must scan the letter grid carefully and look for the hidden words. When they find a word, they can circle it with a pencil or pen.
Once all the words have been found, challenge your child to see how fast they can complete the word search! What a fun way to develop a child's vocabulary and problem solving skills.
Tips for Completing the Word Search:
These simple tips may help your child complete the word search successfully:
Start by scanning the entire list of words. This will give your child a good idea of which words they should look for.
Next, scan the grid of letters carefully. Start with the edges of the grid and look for words that start or end there. Then, look for words that run horizontally, vertically, or diagonally through the middle of the grid.
If your child gets stuck, try looking for smaller words within larger words. For example, if they're having trouble finding the word "Christmas," see if they can find the smaller words "Chris" or "mas." Once they find those smaller words, it will be easier to spot the entire word.
Find different levels of difficulty for these holiday word searches. Little children can solve Christmas word searches with fewer words, while older kids can do the ones with challenging difficulty level.
Encourage your child to take time and focus on finding all the words rather than rushing to finish as quickly as possible. Taking their time will help them develop patience and concentration skills.
Make your own Christmas Word Search.
You can make your own fun Christmas word search! All you have to do is visit this Word Search Generator.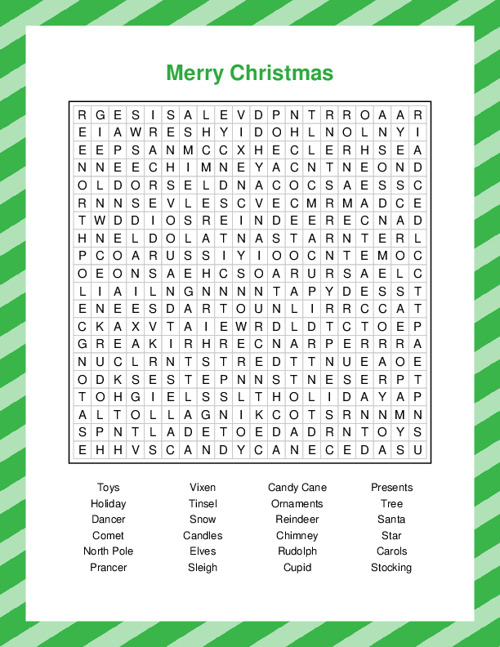 Make your Own Word Search Puzzles
You can customize the puzzle by editing or adding your own title, word list, grid size, and level of difficulty. You can also remove or add the border to these word puzzles.
More Christmas Activities and Worksheet Printables
Looking for more Christmas printable activities and worksheets for kids? Check out these fun ideas:
Printable Christmas Bingo.
Christmas Bingo is a fun activity perfect for family game nights or holiday party. Just print out the bingo cards, and cut them out! Someone calls out the words or images from the calling card.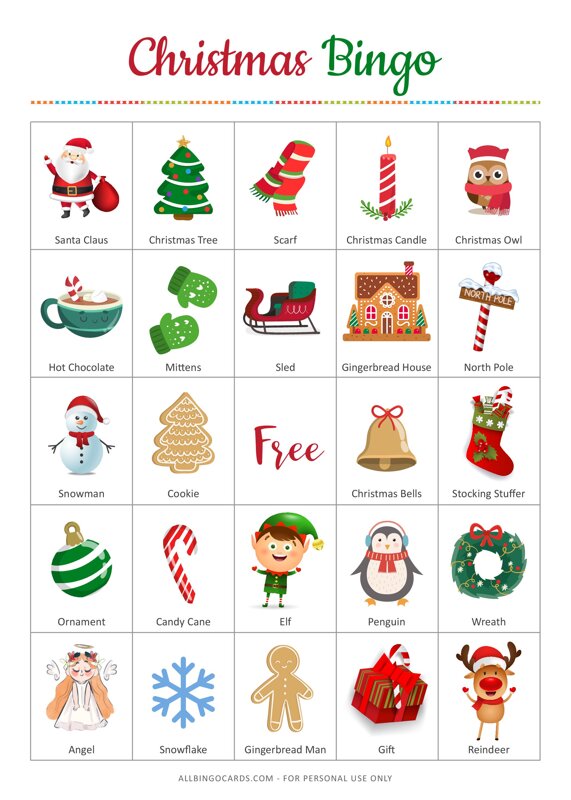 Players try to match as many images as they can. The first player to match five in a row wins the game.
Christmas Coloring Page.
Christmas coloring pages are a great way to get into the Christmas spirit. Just download, print it out, and let your child's creativity flow.
Christmas Maze.
This activity is perfect for kids who like a challenge. Print out the Christmas Maze and help your child guide Santa through it.
Christmas Word Scramble.
Help your child learn new Christmas words and develop spelling skills with Christmas Word Scramble. Download and print out this fun activity and see how many words your child can unscramble. Answers are included with the puzzle.
These Christmas Word Search Puzzles are perfect for a Christmas break, birthday party, winter break, or Christmas party. Keep kids busy and entertained while also giving them a chance to work on their problem-solving skills.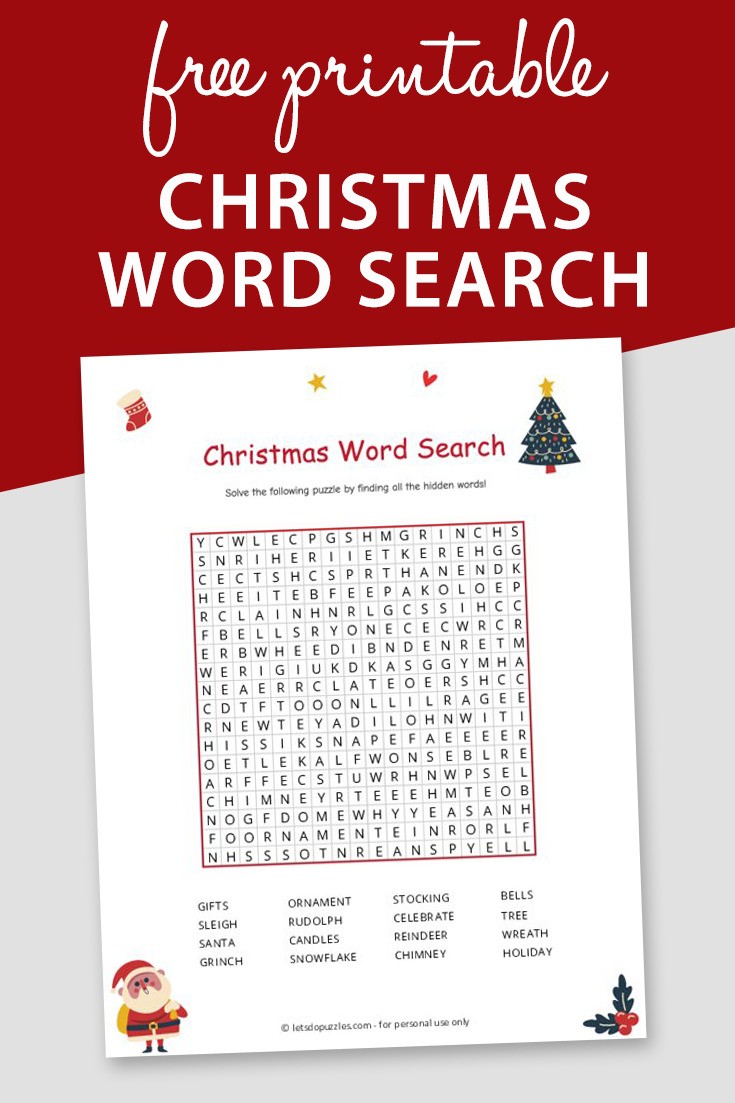 Download Christmas Word Search Printables
The best part? Laminate them and use them over and over again. So whether you're looking for something to keep the kids busy for an afternoon or you're hoping to help them sharpen their problem-solving skills, the Christmas Word Search Puzzles for Kids are a great option.
We hope you enjoy this free word search puzzle with your child! Remember to take your time and have fun during this most wonderful time of the year!