Teacher appreciation thank you notes free printables are perfect for teacher appreciation week, teacher's day, or just to say thanks at the end of the school year. Help your kids show gratitude to their teacher with these cute free printable notes.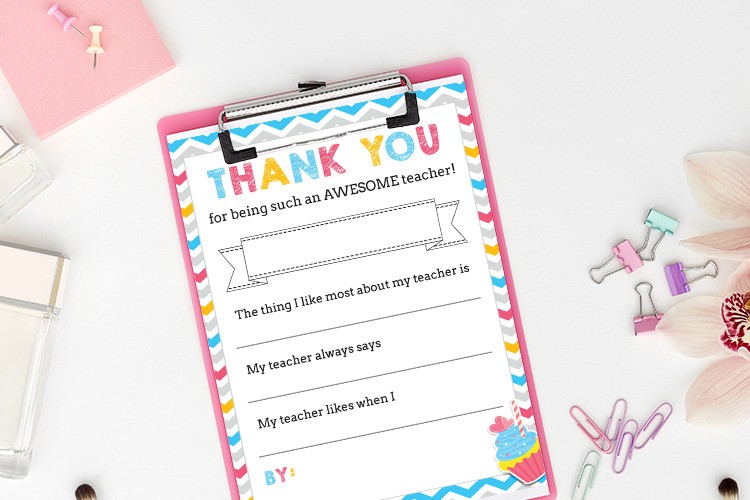 This post contains affiliate links and we will earn commission if you buy the products through those links. For more information, please read our disclosures here
Do you need a thank you gift for your child's teacher? Someone who has made a difference or positive impact in your kids' lives?
If so, we have the perfect way for you to say thank you! Free printable Teacher Appreciation Thank You notes! Simply download and print. Have your child fill it out and give it to their teacher.
Free Printable Teacher Appreciation Thank You Note
Teacher Appreciation Week is usually held in the first full week of May in the United States.
These Teacher Appreciation Thank You Notes are one of the perfect ways to show your kids' teachers how much their students appreciate them. Kids will have fun putting these Thank You notes together.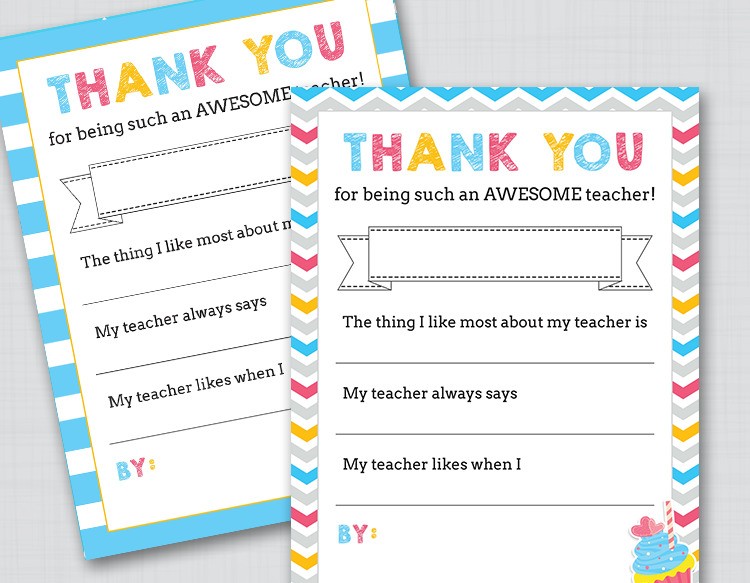 We know that teachers do a lot for our children, and it's important to show them how much we appreciate all they do.
Teachers have one of the most demanding and challenging jobs is that of a teacher.
They are real-life heroes that encourage and educate our children to become some of the most exemplary citizens of the next generation.
They deserve recognition for their work and should be celebrated in a unique way for they play the most important role in a kid's life.
Teacher Appreciation Thank You Notes: Three Versions
Children can write their teacher's name on the top section, then fill out the rest of the sections. They can also write their first name and their grade at the bottom of these printable notes.
When you download these free printable cards, you will find three versions of this thank you note printable.
One has a Chevron pattern, the second has blue and white stripes, and the third version is black and white.
Colorful Chevron Pattern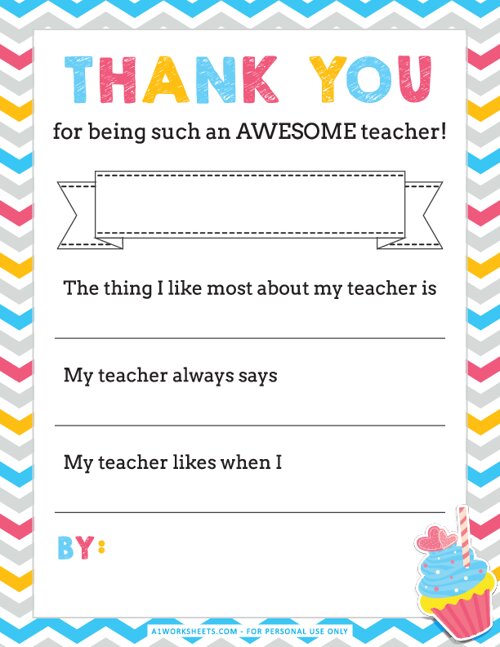 Blue and White Stripes Pattern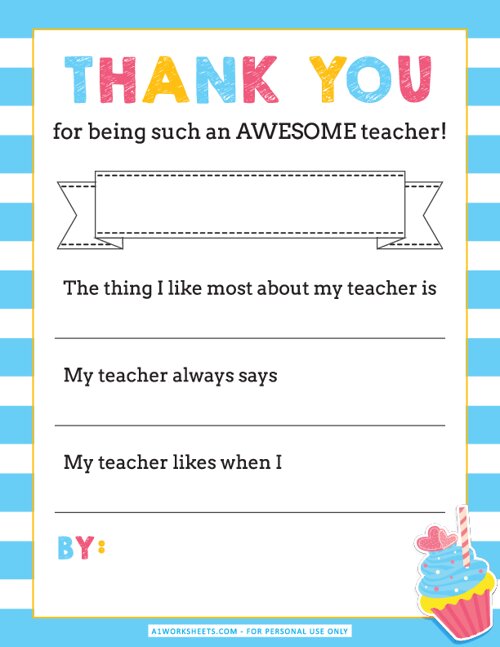 Minimalist Version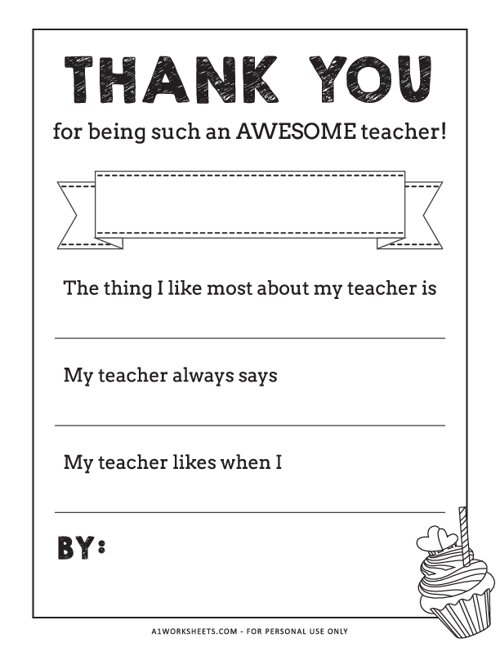 These printables are a great way for kids to show their gratitude to their teacher.
Thank you for Being an Awesome Teacher Printable
There may be so many ways for kids to show their gratitude towards their best teacher, but when you make a personalized and heartfelt note, that makes it very special.
Your little one will have so much fun filling out these "Thank you for being an Awesome Teacher". You will be amazed to see their thought process, what they like about their teacher, and what makes them so special for your little ones.
This is sure to be a fun activity that kids look forward to every year. These can be done in a classroom setting, where kids can fill out the answers to these questions.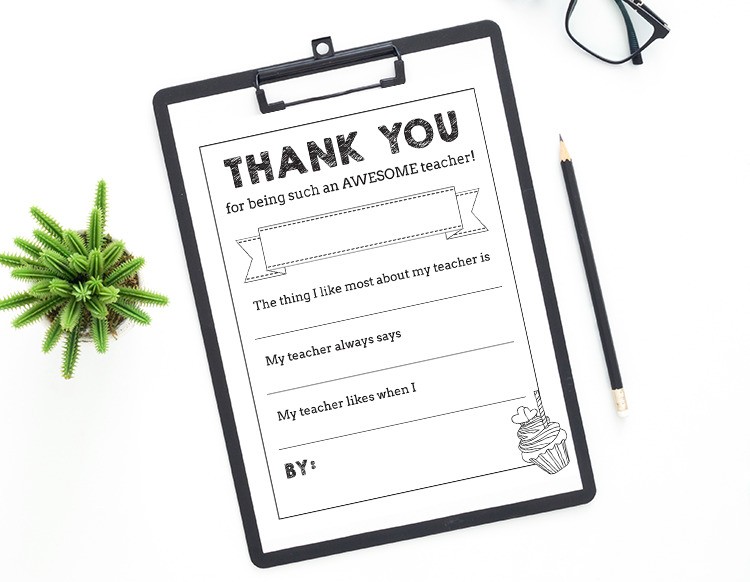 Make sure to download and print your copy. Hand it over to your kids a few days before Teacher Appreciation Week, so they have enough time to fill out the questions.
These can be printed on heavy card stock paper on a home printer or your local print shop. You can attach a gift card or diy teacher gifts with these Thank You Notes, fold them, and put them in an envelope. You can attach these printable gift tags as well.
Teacher Appreciation Gift Ideas
A special teacher can have a lasting impact on a student's life. That's why it's important to show them how much you appreciate their hard work.
While you can do it in so many ways, one easy way is to give a perfect gift that celebrates their favorite things.
For example, if your teacher is a music fan, you could give them a gift certificate to their favorite record store.
If they love to travel, you could create a care package of their favorite snacks and beverages worldwide.
A mug or a plant is another cute teacher appreciation gift idea.
In case you have no idea, what your kids' teachers like, you can't go wrong with Amazon Gift Cards.
Whatever gift you choose for them, a meaningful gift will surely let your teacher know just how much they mean to you.
Here are some more thoughtful gift ideas for a great teacher:
A gift card to their favorite restaurant or coffee shop.
Tickets to a show or a concert.
A basket filled with their favorite things (books, movies, candy bars, etc.)
A personalized mug or piece of jewelry.
Simple DIY gifts like homemade cookies or a cake decorated with a special message.
Remember, there are no big or small gifts, it's the thought that counts. Just make sure it goes a long way to make favorite memories for everyone for a long time.
Teacher Appreciation Week is a perfect time to show your favorite teacher how much you appreciate them. Thanks for all they do!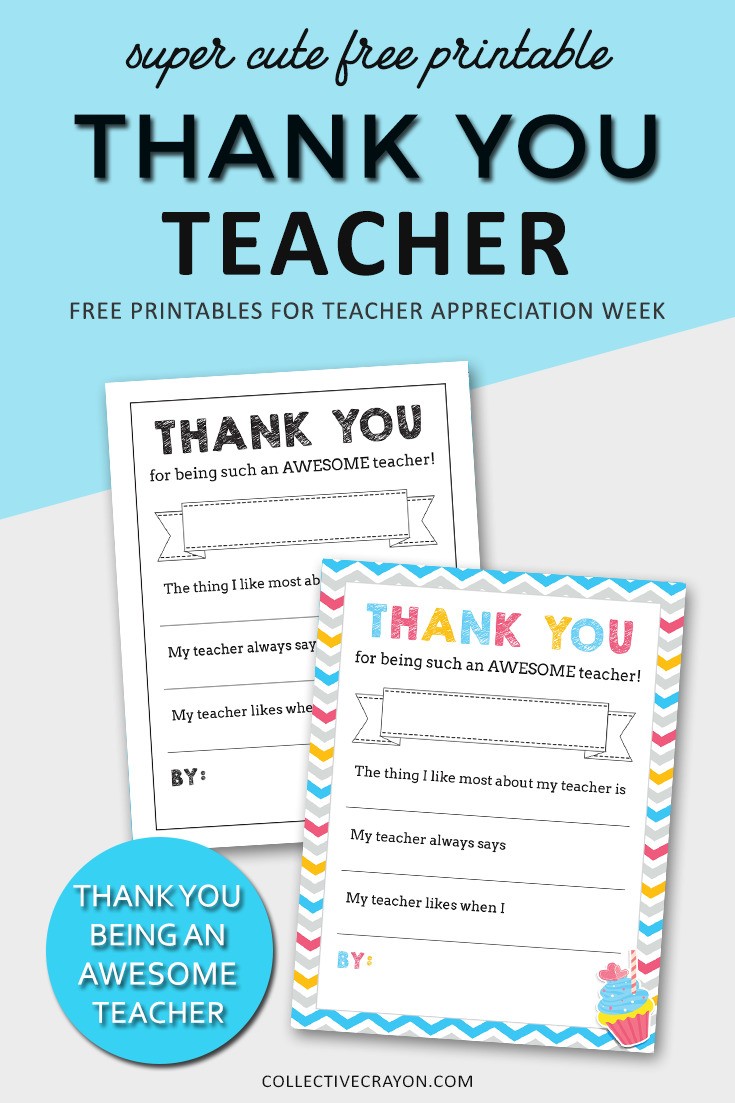 Download free teacher appreciation printables pdf files
We hope these printable teacher appreciation cards will add a personal touch to your end of year gift.