This free printable 30-day LEGO building challenge is a fun way to keep kids busy. Such challenges help improve fine motor skills and creativity.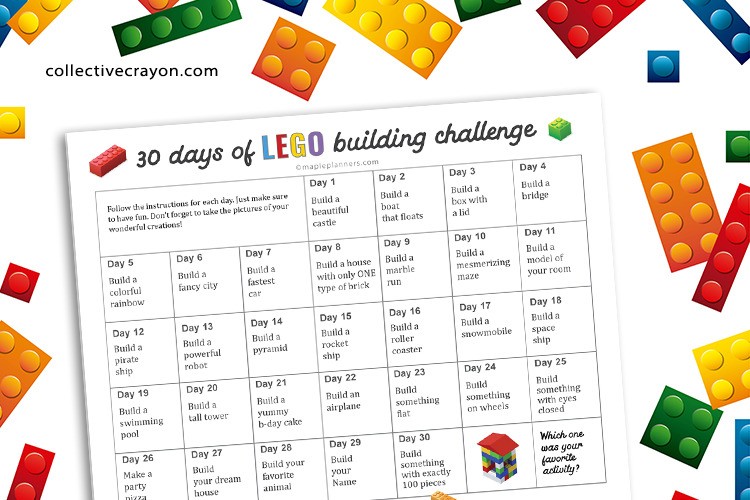 This post contains affiliate links and we will earn commission if you buy the products through those links. For more information, please read our disclosures here
The challenge includes a variety of ideas that will keep the kids entertained for hours. Your kids will have a blast trying to complete all 30 challenges!
Free Printable Calendar: 30-day LEGO challenge
The lego challenge is a great way to keep your kids busy during the Summer break. Download and print out the free printable lego challenge calendar at the bottom of the post.
Then, build something from the lego challenge cards using the lego pieces. Take a picture of each day and post it on social media using the hashtag #legochallenge.
Don't forget to tag @collectivecrayon so we can see your unique creations!
What is the 30-day LEGO building challenge?
The 30-day LEGO building challenge is a fun way to encourage kids to be creative with their lego bricks. Each day, they have to build something new, using lego bricks in ways they may never have thought of.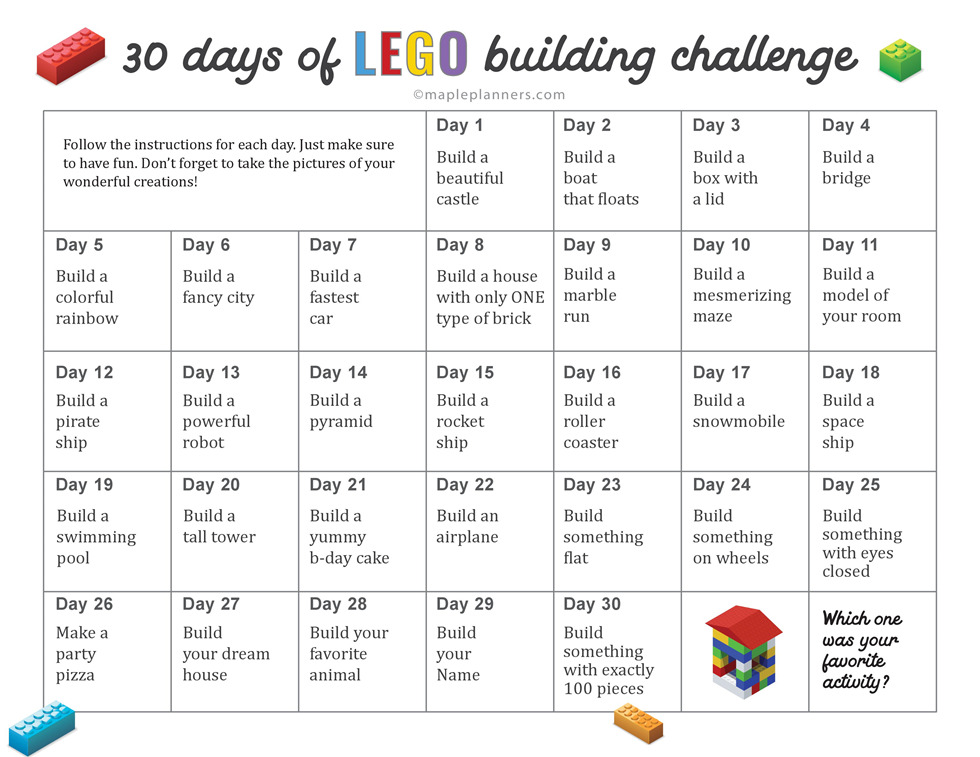 This is a great way to promote STEM education and develop engineering skills, encouraging kids to think outside the box.
They get to use their bricks in new ways that are innovative and fun. This challenge is a great way to get your little lego fan learning and having fun simultaneously.
Why is a 30-day LEGO challenge beneficial for kids?
A 30-day challenge is beneficial for kids of all ages because it;
Provides lego activities that are both fun and educational.
Helps develop engineering skills.
Is an excellent way for little lego lovers to learn about the world around them while using their imagination in a creative way.
Helps develop fine motor skills, problem-solving skills, and spatial awareness.
Promotes social interaction and teamwork.
Great way to bond with your child.
Offers new challenges every day.
Most of all, these lego stem challenges are so much fun.
How to get started with a 30-day LEGO building challenge?
Building with LEGOs is a fun and creative way to spend your time. It's a great way to bond with younger children, whereas you can challenge older kids to build something new each day using their lego set!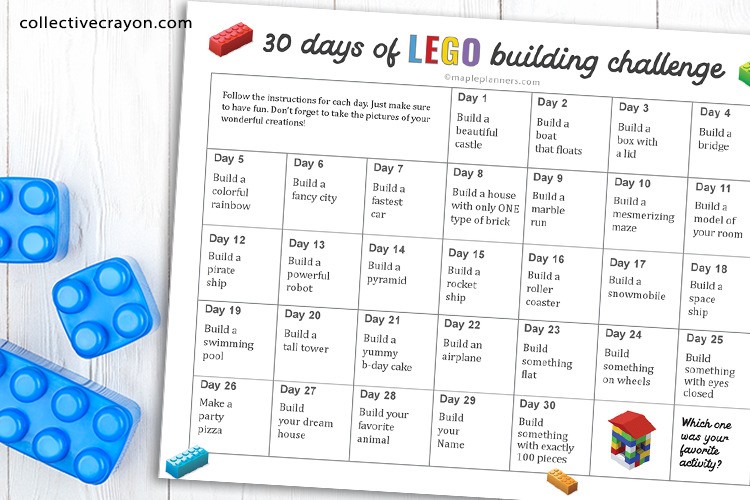 They can use building blocks to create different models daily and play with these bricks for hours. They can experiment and come up with new ideas on what to build.
But sometimes, kids may run out of ideas on what to build. That's where these Summer LEGO challenges come in handy. This printable comes with prompts for 30 days. Sometimes this is all they need to get creative and build upon a tiny idea.
Make sure to grab your copy and have the kids pick which item they want to build. You can even laminate the printable and hang it on the wall. It will be easier for them to go through each item and decide on what model they want to build on a particular day.
How to use this 30-Day LEGO Building Challenge?
Kids can use these challenge calendars as they want. This printable comes with prompts for each day of the month. They can build on that simple idea, develop a story, and build around it.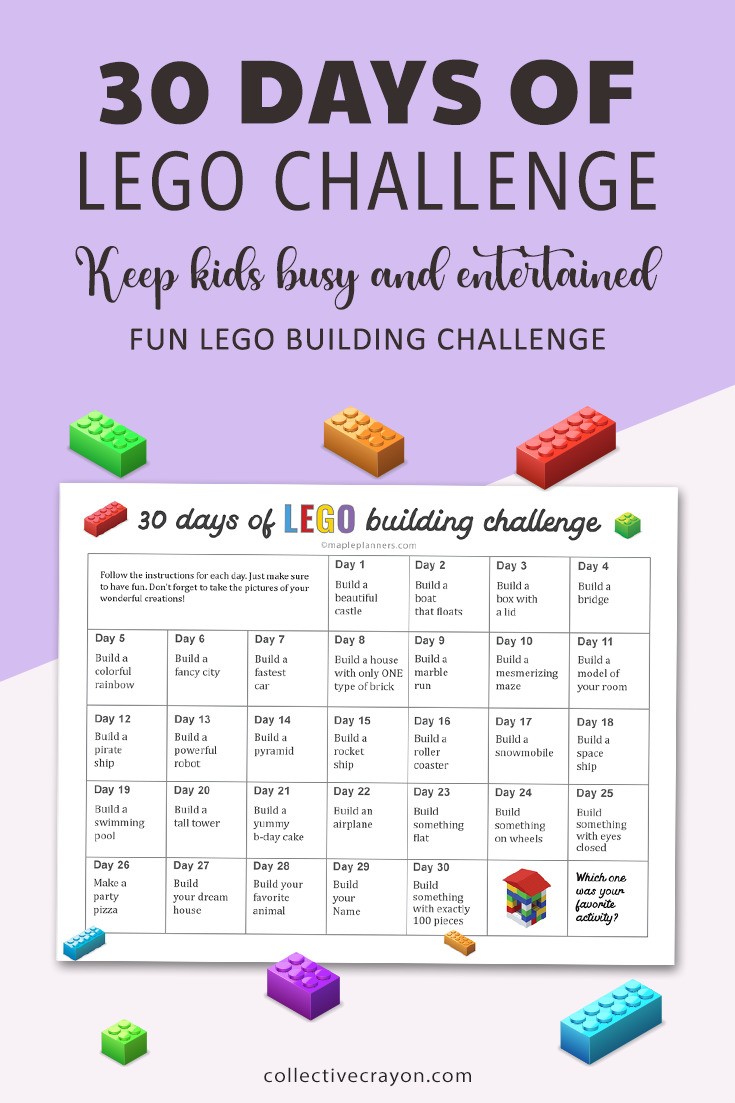 The challenge is suitable for first and 2nd grade, but younger kids can also participate with the help of an adult.
The challenge is building one structure daily, using the brick building ideas in the printable. The first few days may sound challenging, but it quickly becomes easier as they work through daily stem activities.
By the end of the challenge, kids will have created 30 different shapes and have a lot of fun doing it.
How to make this challenge more exciting?
Set a routine, so kids look forward to using this challenge daily. It will be perfect to use it during their summer break or winter break and start right after morning family time. You can also set a specific time of day to start the fun.
Take the pictures once they have built something new. Put the date and time. Create a slideshow of all of their creations once they complete the challenge.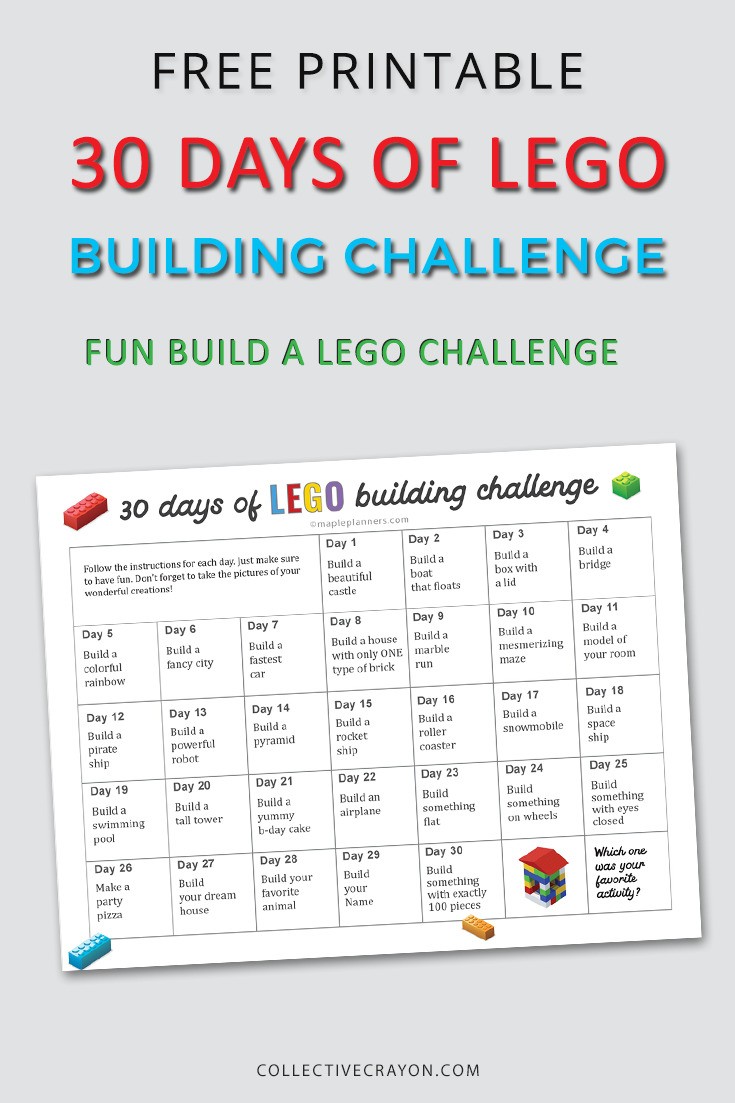 Download 30-day Lego Building Challenge
Parents can make good use of these printable games when trying to keep kids occupied and entertained. Make sure to download your copy of the pdf file today!
It will be fun to see what they come up with every time they play with these fun building blocks!