Farm Animals Word Search Puzzle for Kids is a printable worksheet. It is perfect for helping kids learn new vocabulary words and have some fun at the same time.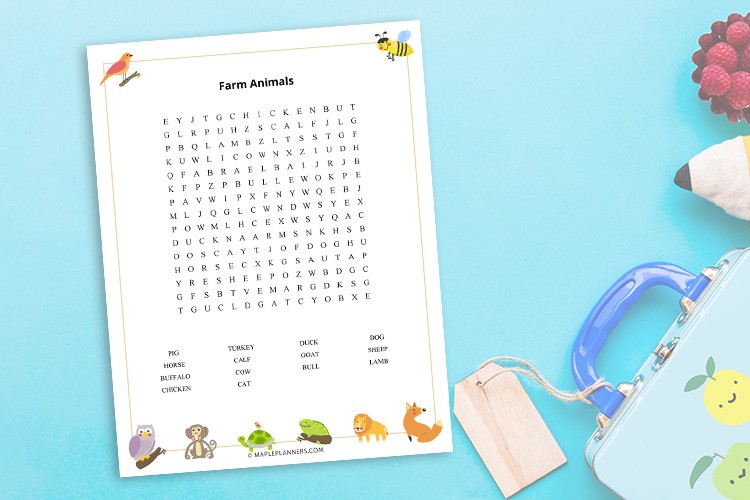 This post contains affiliate links and we will earn commission if you buy the products through those links. For more information, please read our disclosures here
This fun activity will help your kids learn about farm animals while looking for all the words hidden in the grid.
The vocabulary words included in this puzzle are a pig, horse, buffalo, chicken, turkey, calf, cow, cat, duck, goat, bull, dog, sheep, and lamb.
Print out this worksheet today and see how quickly your kids can find all the hidden words. Each puzzle has an answer key so you can easily check the answers when they're done.
Kids will have fun copying animals' sounds or learning what they do while recognizing how to spell their names.
Printable Farm Animals Word Search Puzzle for Kids
Word search puzzles are a fun way to help kids learn about animals. These word search worksheets feature common animals that kids will be familiar with.
This is a great way to help them learn new vocabulary and develop their problem-solving skills. They'll also get to know the animals better as they scan the grid for the hidden words.
These animal word searches are perfect for a rainy day activity or a lesson on farm animals.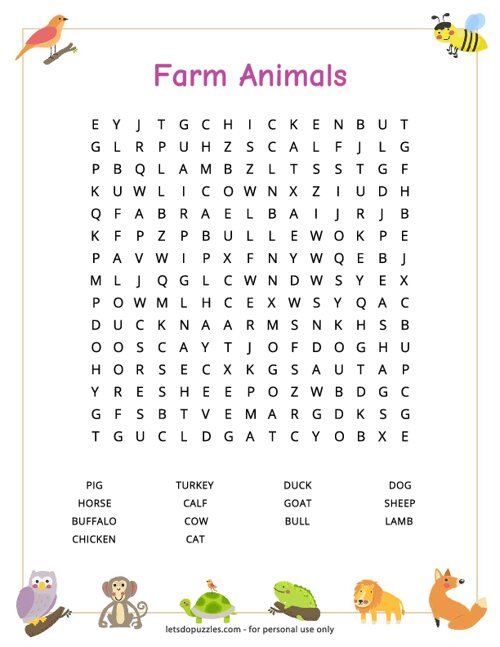 Printable Farm Animals Word Search Puzzles for Kids are a great way to keep them entertained and learning at the same time.
They're an excellent tool for teaching children vocabulary, spelling, phonics, and more. Plus, they're easy enough that even young children can do them independently!
Teachers can use this word search puzzle to use in their classrooms. If field trips are planned on a farm or countryside, kids will remember the animal names from these kinds of puzzles.
Kids might even surprise themselves by how much they already know about farm animals after completing them all!
So print out our word search puzzle and enjoy quality time with your little one.
Benefits of doing a Word Search Puzzle
Word Search puzzles are not only fun but offer a number of benefits for kids as well as adults. Word Search Puzzles:
These are a great way for kids to learn new vocabulary words and improve word skills.
Help kids to learn new words and improve their spelling skills.
Help to build concentration and problem-solving skills.
Provide a word bank that you can use to learn new words. They also force you to think creatively to find the words hidden within the puzzle.
Provide an awesome mental workout for everyone who attempts such puzzles.
How to print Farm Animals Word Search Puzzle?
Since these are printable pdf files, you will need Adobe Reader to open the files.
To start,
Click on "Download Farm Animal Word Search Puzzle".
Download and save on your computer.
Using Adobe Reader, open the pdf files.
Print on letter-size paper.
You can use these sheets as is, or laminate them for durability. You can use these over and over if you decide to laminate them.
Kids can use dry erase markers or washable markers that can be erased once done.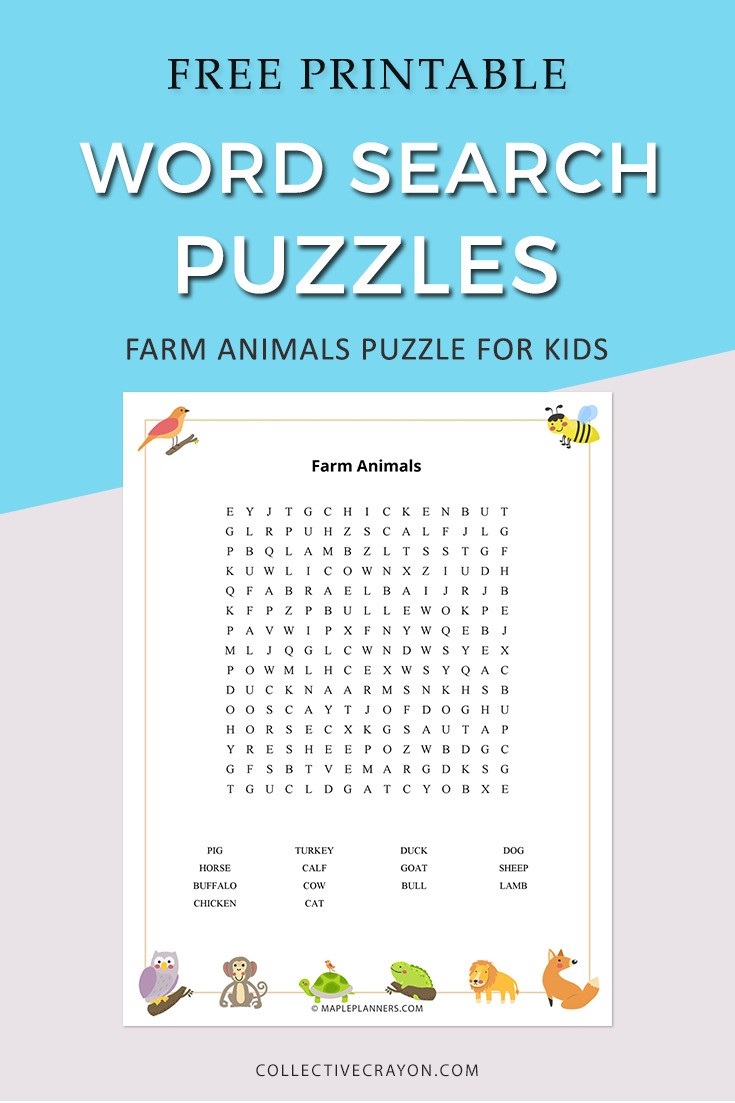 Download Farm Animal Word Search Puzzle
Want more Word Puzzles?
Make sure to download these Word Scramble and Crossword Puzzles. These are easy to download and print. If your children love a good challenge, they will be looking forward to completing as many as possible.
Word Search Puzzles for Kids help parents give their children an educational head start with activities they love doing. Your child is sure to have hours of fun learning while solving one of these printable activity.
We hope you enjoyed our printable farm animals word search. This printable activity is a great way to learn and practice common English phrasal verbs. For more word activities, check out our other word packets.