Apple Crisp with Oats is made with granny smith apples and a crispy oat topping. It is perfect for a Thanksgiving dessert or early fall evening. Serve them warm with a scoop of vanilla ice cream or whipped cream, and your taste buds will thank you!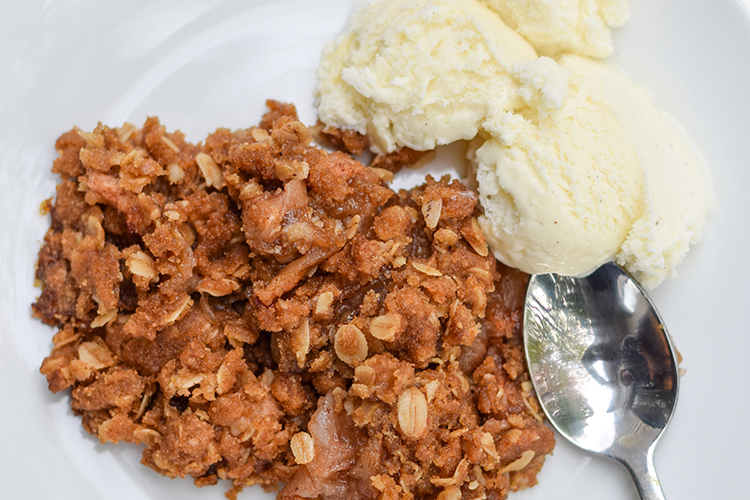 This post contains affiliate links and we will earn commission if you buy the products through those links. For more information, please read our disclosures here
We love the Apple Crisp in the Fall season. This year, we decided to try something different and add oats to the topping. The result was amazing! The oats added a nice crispy texture that we loved.
Fall is a season of delicious comfort food, and this apple crisp with oats recipe is no exception! It is a perfect way to celebrate the arrival of autumn.
A Perfect Fall Dessert: Apple Crisp with Oats
It's officially Fall, so it's time to get cozy with warm comfort food. This apple crisp with oats recipe is the perfect fall dessert. This dish is traditionally made with apples, brown sugar, butter, and flour, but this recipe kicks it up a notch by adding crunchy oat to the mix.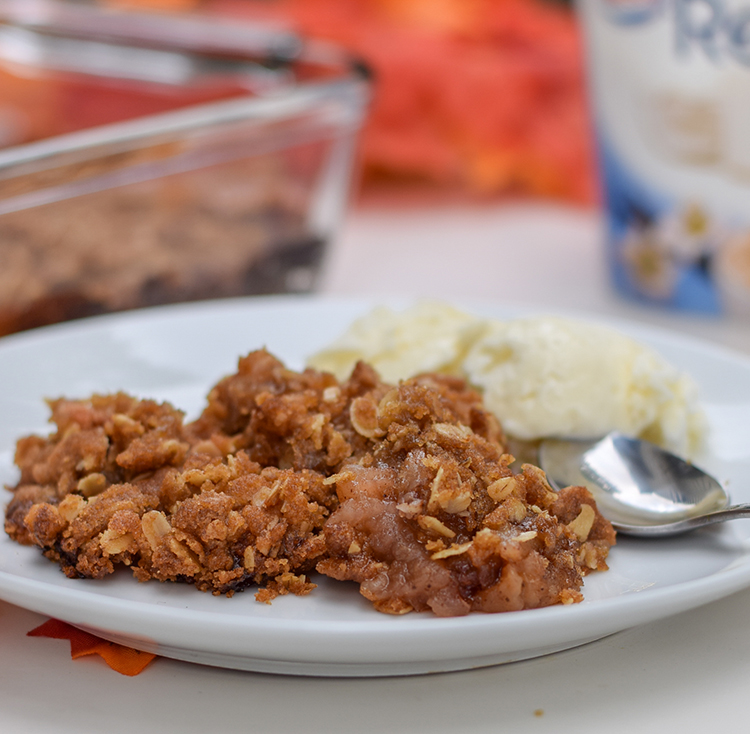 The oats give the crisp a delicious crunchy topping and help soak up all the juicy goodness of the apples. To serve, simply scoop the crisp into bowls and enjoy with a dollop of whipped cream or ice cream. Top with caramel sauce for an extra special treat. Delicious!
What kind of Apple should I use for this Recipe?
Granny Smith Apples are our choice for this recipe. With Fall comes the apple season. We try to go for apple picking every year and get to pick up some nice juicy ones of our choice. Taking home a bounty of fresh apples is always fun and on our Fall to-do list.
Why Granny Smith Apples?
Although there are many different types of apples that you can use, we prefer using the Granny Smith apples. The granny smith apples are tart and flavorful, while the brown sugar and cinnamon crisp oat topping add a touch of sweetness.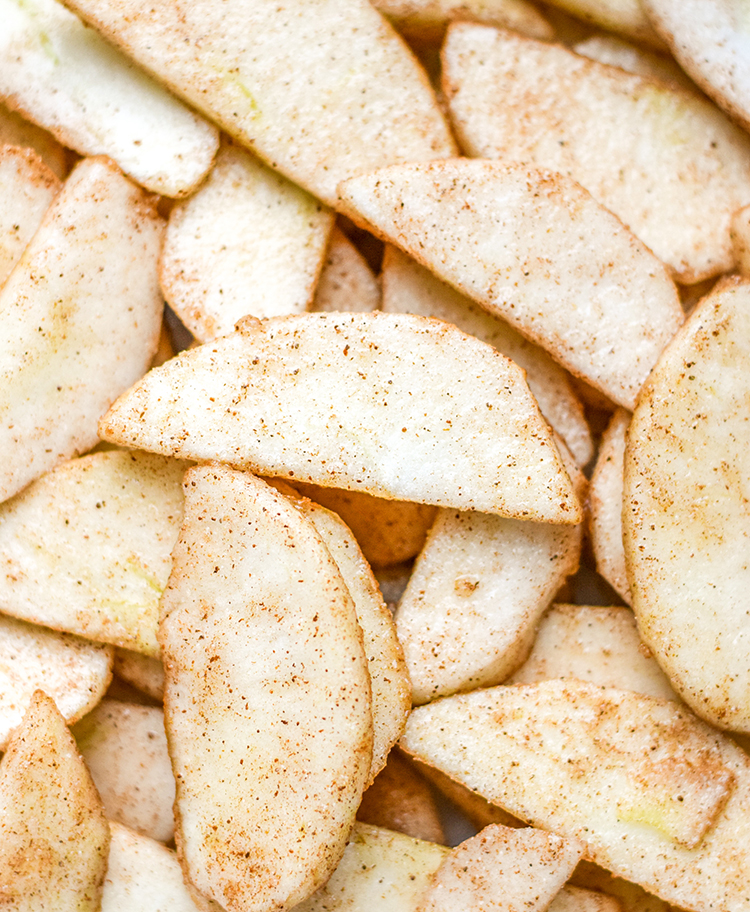 These tender apples hold up well during baking. Their nice tart flavor pairs well with the sweet topping, giving you a nice tart apple crisp.
Try Golden Delicious, Honey crisp apples, or Pink Lady for a sweeter dish. These varieties are nice and juicy, and they will give your crisp a lovely sweetness.
You will also want to avoid using any apples that are overly soft or have a lot of water content. Otherwise, your crisp topping will be soggy and lack flavor.
How Should I Cut the Apples?
Apple Crisp with Oats is quite simple to prepare. How you cut the apples is an important step in this recipe. Make sure to cut the tart apples into thin slices for this recipe.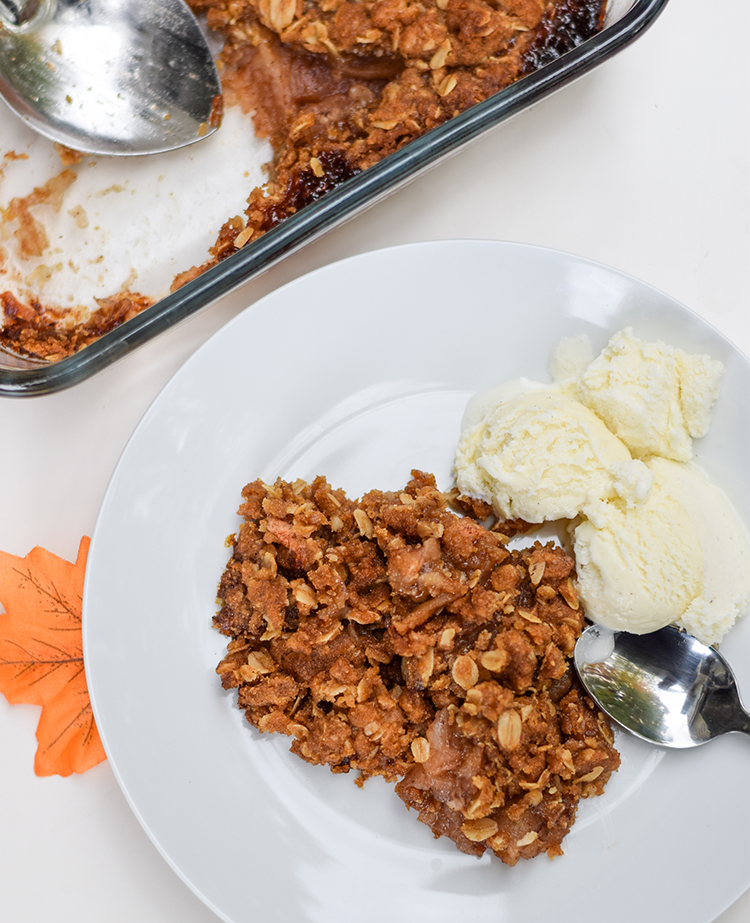 Remove the core and seeds from each apple before slicing. Add the apple slices with warm spices to a bowl with the remaining ingredients and mix well.
Then, simply spread the apple mixture into a baking dish and bake until golden brown.
Can you make Apple Crisp with Oats more Healthy?
While the oats are packed with nutrients and fiber, adding sugar, butter, and flour can quickly turn this breakfast dish into a calorie-laden indulgence.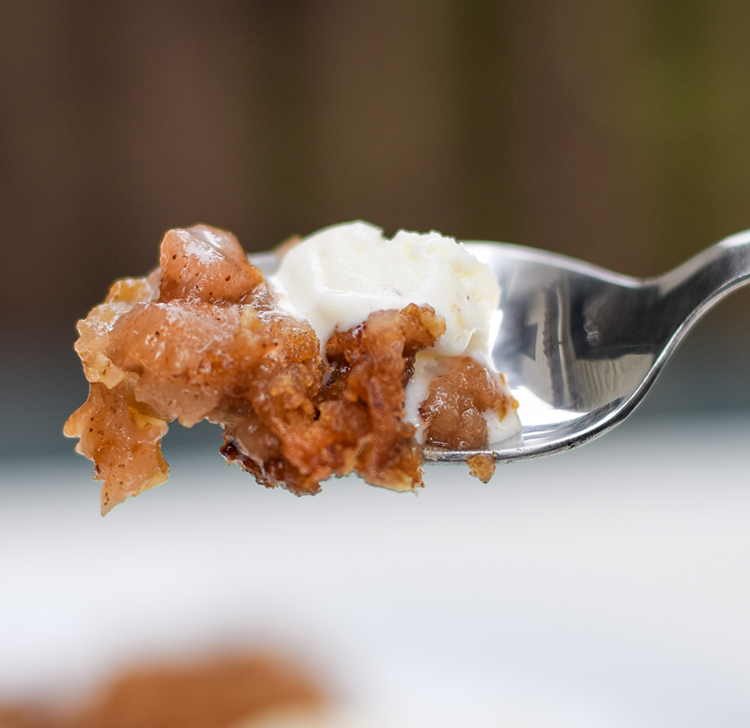 Fortunately, simple substitutions can help make Apple Crisp with Oats more healthful.
By replacing white sugar with honey or maple syrup, you can reduce the amount of refined sugar in the recipe.
Using applesauce instead of butter for lower fat and calorie crisp.
Swapping out all-purpose flour for whole wheat flour will add extra fiber and nutrients.
You can enjoy a delicious and healthy breakfast that will start your day off right.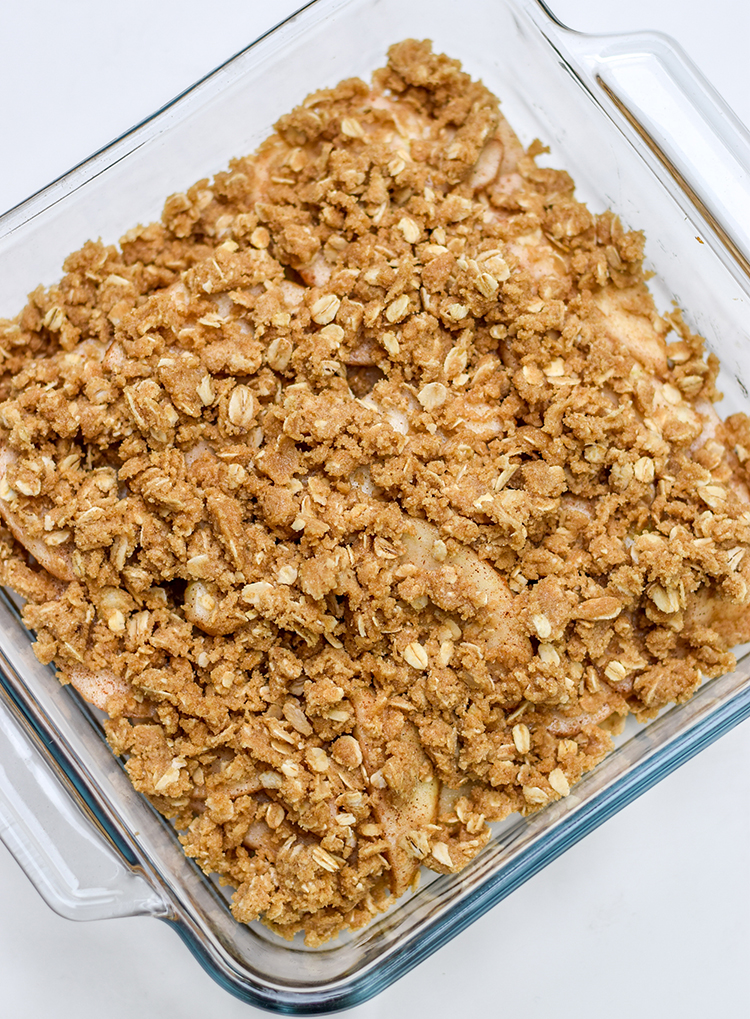 This Apple Crisp with Oats makes for the perfect Thanksgiving dessert or any early fall meal. It also makes a great breakfast or dessert.
How to store leftover Apple Crisp with Oats?
We often end up with leftover Apple Crisp. To store these, ensure the crisp is cooled completely. Otherwise, condensation can build up and make the topping soggy.
Once cooled, the crisp can be stored in an airtight container at room temperature for up to four days.
For longer storage, wrap the container tightly in plastic wrap and place it in the freezer.
When ready to enjoy again, thaw the crisp overnight in the refrigerator and reheat it in a 350-degree oven until warm.
This easy apple crisp with oats is the perfect classic dessert. The apples are sweet and juicy, and the crisp topping is full of flavor.
Whether you're looking for a simple apple dessert or a challenging baking project, this apple crisp with oats is sure to please.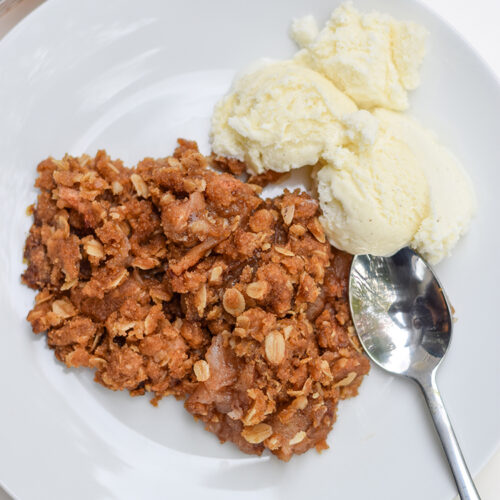 Delicious Apple Crisp with Oats
Delicious Apple Crisp with Oats is the perfect comfort food for Fall. You only need a few ingredients to make this recipe.
Ingredients
For Topping
1/3

cup

All-Purpose Flour

1/2

cup

Packed Brown Sugar

1/2

cup

Oats

4

tbsp

Melted Butter

1/8

tsp

Salt

3

Granny Smith Apples

peeled, cored, sliced
For Apple Filling
3

tbsp

Granulated Sugar

3

teaspoon

Ground Cinnamon

1/8

tsp

Salt
Instructions
Preheat the oven to 350F degrees. Lightly grease an 8x8 inch baking dish with non-stick cooking spray.

Prepare apple crumble topping: In a large bowl, combine brown sugar, rolled oats, flour, and salt. Mix evenly until combined.

Place the apple mixture in the prepared baking pan.

Prepare apple filling mixture: In another bowl, combine apples, granulated sugar, cinnamon, and salt. Toss to coat apples evenly.

Sprinkle the prepared crumb topping on top of the apples. Bake for about 45 - 50 minutes or until the streusel is crispy.

Transfer to a cooling rack and let cool for about 20 -25 minutes. Serve with Vanilla ice cream or whipped cream.