This free printable chore chart for kids will make it a breeze for them to do their chores. This chart is designed for kids of all ages and features fun and easy ways to help them get started helping out around the house. So just download, print, and get them started with the chores!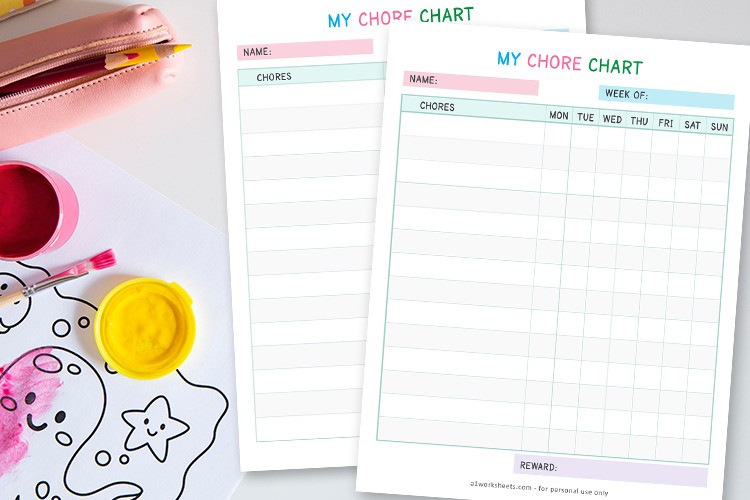 This post contains affiliate links and we will earn commission if you buy the products through those links. For more information, please read our disclosures here
Chores. Nobody likes them, but they have to be done. And when it comes to kids, getting them to help out around the house can sometimes feel like an impossible task. But it doesn't have to be!
Download our free printable chore chart for kids and see how easy it is to get them to start pitching in. This blank chore chart includes each day of the week.
You can add a variety of fun and easy household chores that your kids will love completing. By giving them simple tasks to do each week, you can help reduce the amount of chaos in your home!
Chore System to Help Kids Learn Time Management.
Chores are necessary, but getting kids to help around the house can be challenging. A great way to start is to use a chore chart to help them learn time management.
Many free printables are available online, or you can create your own chore chart.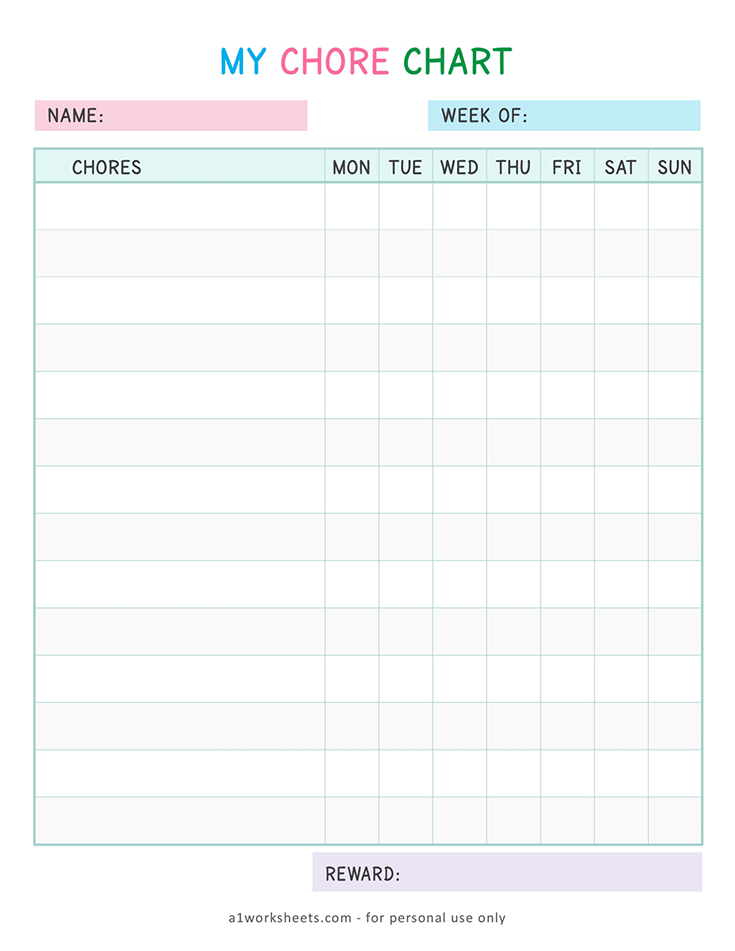 Sit together as a family and write down household tasks. Once you have a list of daily chores, assign each member of the family a few weekly chores.
As kids complete their specific chores, they can mark them off on the chart. Not only does this help to keep everyone on track, but it also helps to teach kids responsibility.
Completing basic chores is essential for keeping the household running smoothly, and involving kids from an early age can help to make it less daunting.
Free Printable Chore Chart for Kids
A family chore chart is a great way to get kids involved in helping around the house. Making it a family effort takes the pressure off and makes it fun for everyone.
A system like this chore chart reinforces and encourages positive behavior among family members.
You can print these for each child and write the tasks that need to be completed. They can check off the box corresponding to each task as they complete their assigned task each week.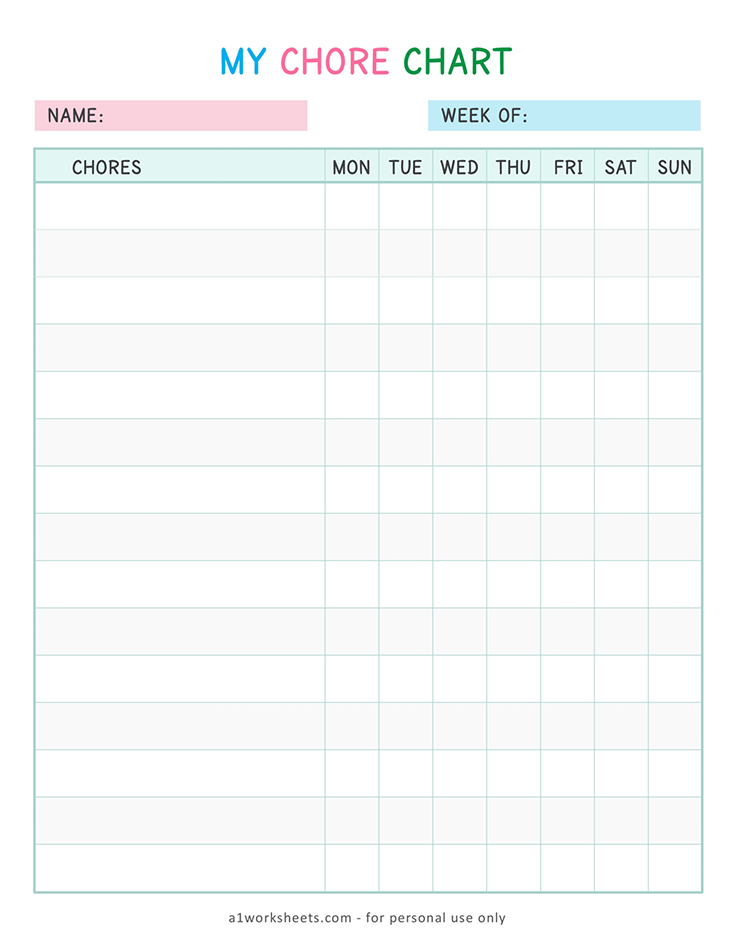 This family chore chart system is designed to be simple and effective. First, create a chore list and write it on this printable.
Then each family member picks a chore according to their age and household responsibilities.
Then, each day, they check off the tasks they completed. If everyone completes their tasks for the day, everyone gets a sticker.
At the week's end, everyone gets a reward for their hard work. Young kids can get their favorite treat like an ice cream or a brownie. Older children can get something they wish for.
With different chores, kids will learn responsibility; the whole family will develop a positive daily routine and enjoy helping out around the house!
Download, print and hang it up, and start assigning tasks. Use a page protector or laminate for durability and use dry erase markers over and over.
Tips to Get Started with this Fun Chore Chart for Kids.
Start by assigning one or two chores to each child per week. As they complete their assigned tasks, they can check them on the chart.
Consider using stickers or other rewards for younger kids to encourage them to complete their chores.
Older kids can choose their own chores from the chart each week since they can be given a bit more responsibility.
With this free chore chart template, getting your kids to help around the house has never been easier!
Benefits of using a Chore Chart System
A chore chart system can be a helpful way to instill good habits in children and teach them essential life skills.
Value of Money and Sense of Responsibility. A chore chart can be an extremely helpful tool for teaching children the value of money and responsibility.
Budget their Time and Money. By assigning chores and giving them a monetary value, kids can learn how to budget their time and money.
Instill Good Habits. A chore chart can help instill good habits in children, such as tidying up their room or taking the dog for a walk.
Work Independently. They also learn to work independently and take care of their belongings.
Limit Screen Time. Chore charts can help to limit screen time by offering a structured activity that children can do offline.
A chore chart is a versatile tool that can benefit kids and parents alike. By teaching children how to cook, clean, and take care of the house, chore charts provide a valuable service that can help them develop into well-rounded adults.
Reward System for Kids
Along with the chore chart, you can also use this reward chart to keep children encouraged to complete their tasks on time. There is a printable sheet with gold stars that you can use with these sheets.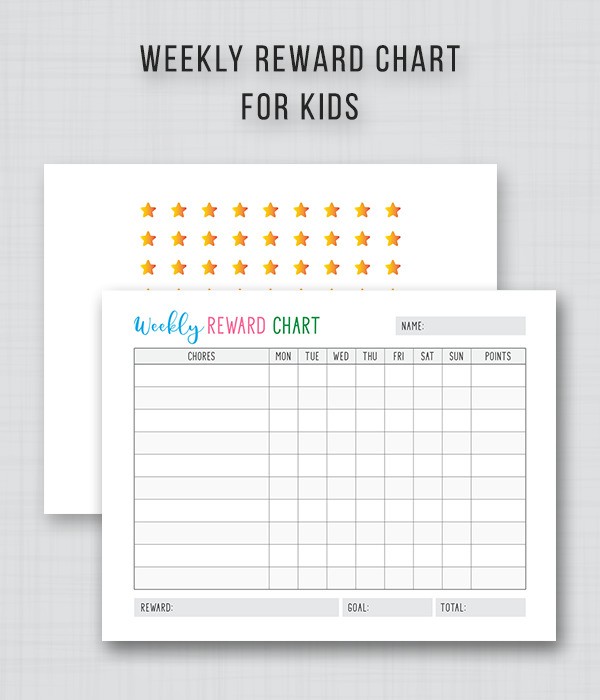 Download Reward Chart for Kids
Looking for some fun activities for kids? Check these out to keep them engaged and busy!
FUN ACTIVITIES FOR KIDS
Memory games for kids. These are some of the great activities that they will love to play either indoors or outdoors. Such games help develop their problem-solving and memory, and concentration skills.
30 Days of Summer STEM Challenges. Keep your kids challenged and engaged during their summer break with these STEM challenges. They will enjoy building these projects and learning many new concepts.
Thirty days of LEGO Building Challenge. Got a Lego lover at home? Download and print this 30-day of LEGO building challenge template. Ask them to do these challenges one (or two) days at a time.