This super moist, fluffy, healthy whole wheat banana bread is made with mashed bananas, whole wheat flour, olive oil, and other basic ingredients. This bread is moist, delicious, and nutritious, making it the perfect breakfast or afternoon snack.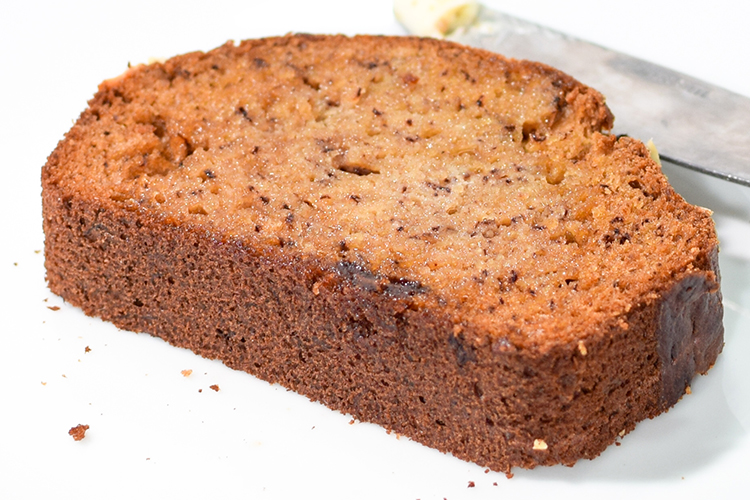 This post contains affiliate links and we will earn commission if you buy the products through those links. For more information, please read our disclosures here
Delicious, Nutritious Whole Wheat Banana Bread Recipe
Whole wheat banana bread is a delicious, nutritious, and easy to make recipe that anyone can enjoy. It is made with whole wheat flour, overripe bananas, and less sugar.
The whole wheat flour provides a nutty flavor and whole grain goodness, while the overripe bananas add sweetness and moistness.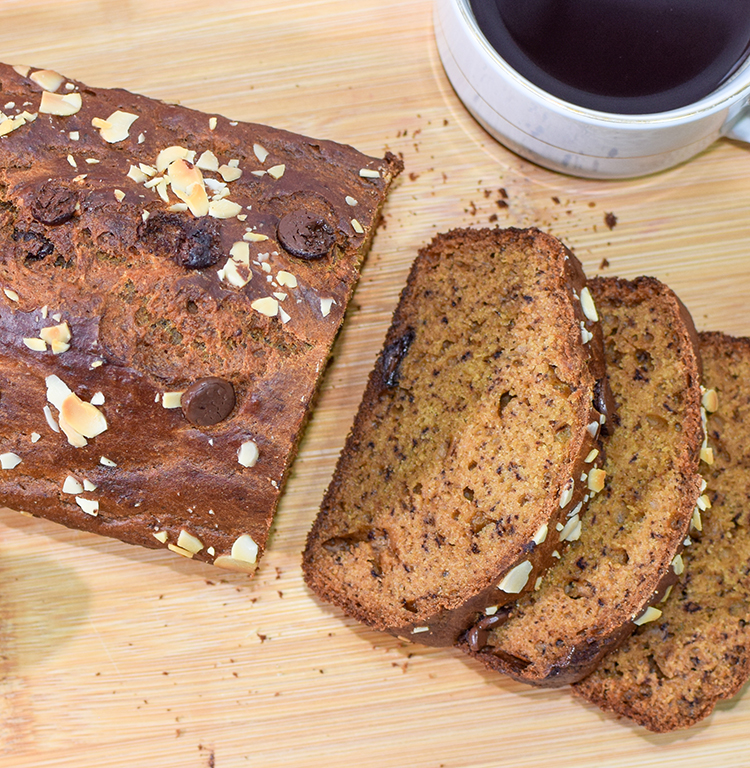 The less sugar makes this banana bread a healthier option for those looking for an alternative to traditional banana bread recipes.
Overall, whole wheat banana bread is a delicious, nutritious, and easy to make recipe that is perfect for any occasion.
What makes this Banana Bread a Healthier Option?
What could be better than a warm slice of banana bread fresh out of the oven? This delicious treat is often loaded with unhealthy ingredients, but it doesn't have to be that way.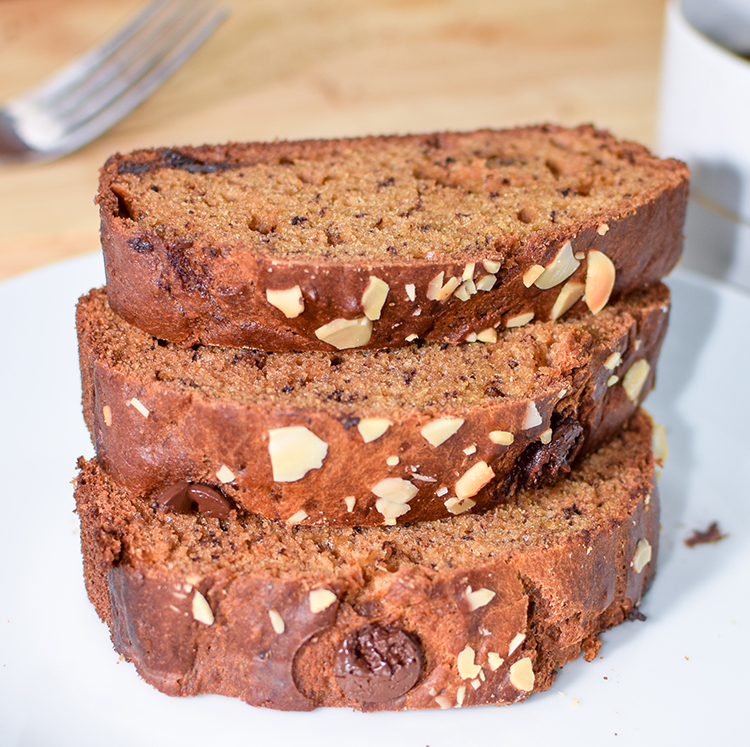 Using whole wheat flour, brown sugar, olive oil, and flax seed, you can create a healthy banana bread that is as delicious as the original.
Bananas are a great source of potassium and vitamin C, and they help to sweeten the bread naturally.
Whole wheat flour is an excellent alternative to white or all purpose flour.
Brown sugar is also a healthier choice than refined sugar, as it contains molasses which provides a number of essential vitamins and minerals.
Olive oil is a healthy fat that can help to lower cholesterol levels, and flax seed is an excellent source of fiber.
Try the vegan version of this banana bread by replacing Greek Yogurt with almond milk, honey with maple syrup, and flour with almond flour.
Combined, these ingredients make for a delicious, healthy, and easy banana bread recipe. So next time your sweet tooth is begging for something sweet, enjoy the guilt-free indulgence. These substitutions make the bread lower in saturated fat. As a result, this recipe is a healthier option than most banana bread.
How to make Moist and Fluffy Whole Wheat Banana Bread?
When baking banana bread, a few key ingredients will help ensure your bread turns out moist and fluffy.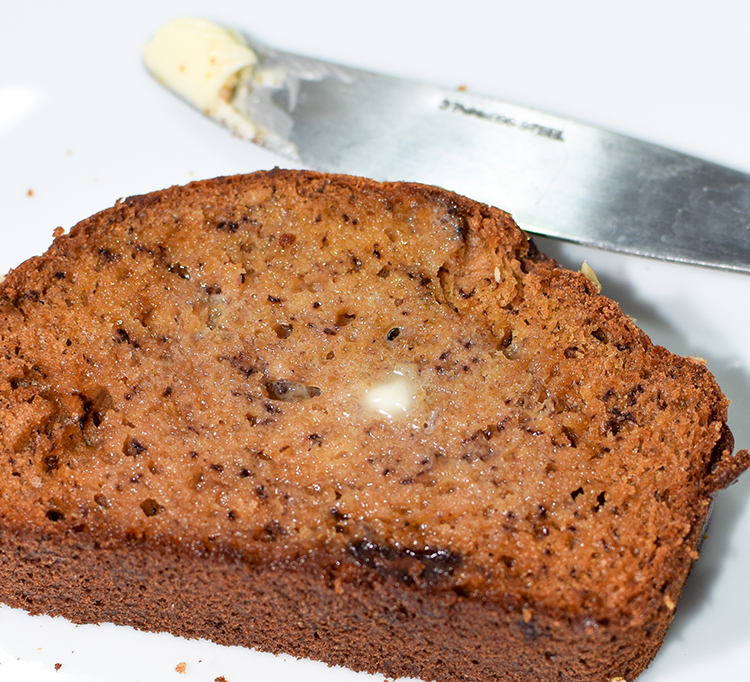 Be sure to use ripe bananas stored at room temperature. The natural sugars in ripe bananas will help sweeten the bread and add flavor.
Add some fat. This can be Olive Oil or Greek yogurt. The fat will help to keep the bread moist and tender.
Use baking soda. Baking soda will lift the bread, making it moist.
Don't overmix the batter. Over mixing can result in a tough loaf of bread. Instead, mix just until the ingredients are combined.
Aerate the mix. Be sure to aerate the flour before adding it to the wet ingredients. This will help to prevent a dense loaf of bread.
Bake at the proper temperature. Baking at a too high temperature can lead to a dry, crumbly loaf of bread.
By following these simple tips, you'll be on your way to baking moist and fluffy banana bread that everyone will love.
Perfect Breakfast or Afternoon Snack
This is the perfect healthy banana bread recipe for breakfast or snack time. It's packed with nutrients, low in sugar, and provides lasting energy.
Mix mash bananas, Greek yogurt, and Olive Oil in a large mixing bowl. Mix well with an electric mixer. In another medium bowl, combine cinnamon, baking soda, and salt.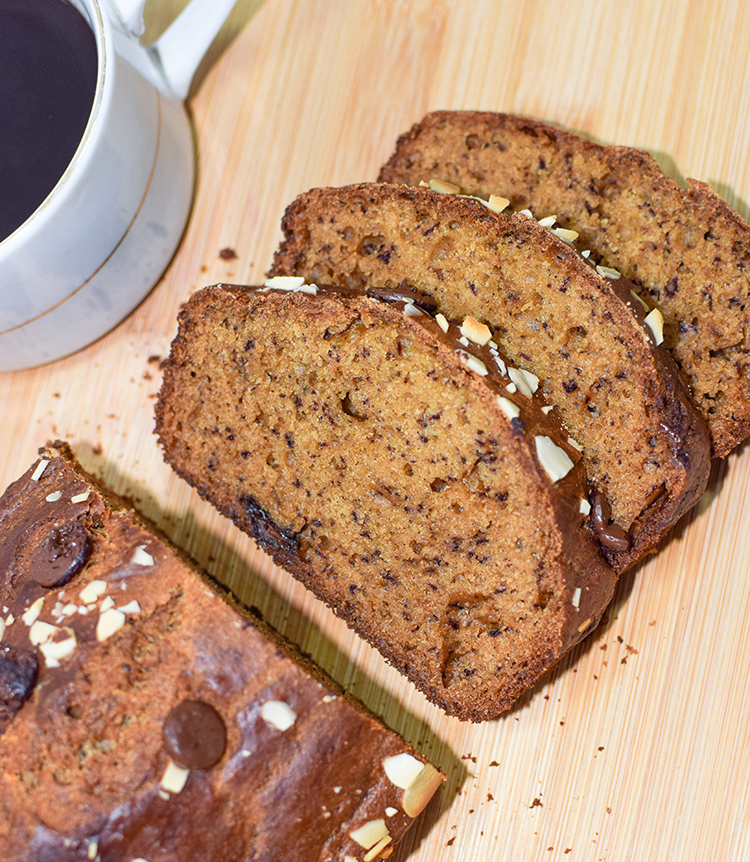 Add brown sugar, vanilla extract, and whole wheat flour. Combine dry ingredients with wet ingredients.
Pour the mixed batter into the greased loaf pan. Tap gently so that the batter settles into the dish completely. Bake for 40 minutes or until the inserted toothpick comes out clean.
Simply combine all the ingredients in a blender, pour into a loaf pan, and bake. You'll have delicious banana bread in less than an hour that keeps you satisfied all morning.
Although it's better to consume when it's still fresh, if you wish to store the leftover bread, you can put it in plastic wrap or an airtight container. You can store it for 5-7 days.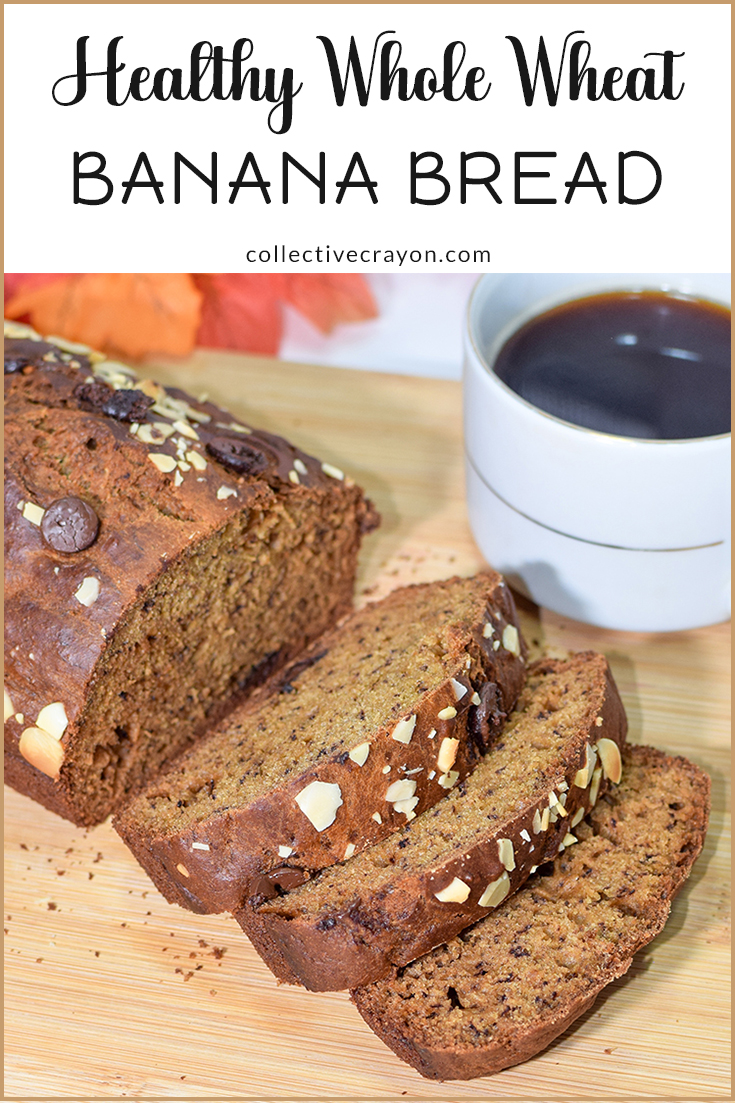 You can add walnuts or pecans if you like nuts in your bread. Or perhaps some dark chocolate chips or blueberries. Add in your favorite toppings or nothing at all.
You will still like it, and who knows, it may become one of the best healthy banana bread recipe for you.
Cut out the individual slices and serve warm with tea or coffee.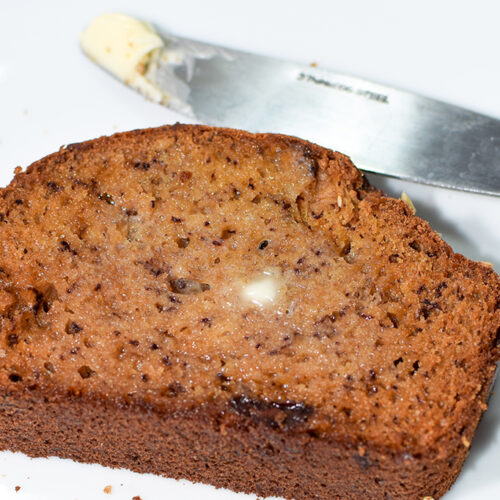 Healthy Banana Bread Recipe
This whole wheat banana bread is a perfect morning or afternoon snack. Made with simple ingredients like bananas, whole wheat flour, olive oil and brown sugar, you won't feel guilty about eating a few slices of this delicious treat.
Ingredients
2

Bananas

over-ripe

1/2

cup

Greek Yogurt

2

tbsp

Olive Oil

2/3

cup

Brown Sugar

1

tsp

Vanilla Extract

1

tsp

Baking Soda

1/4

tsp

Ground Cinnamon

1/8

tsp

Kosher Salt

1

cup

White Whole Wheat Flour
Instructions
Preheat oven to 350F degree. Grease an 8x4 inch baking dish with cooking spray.

In a large bowl, mash 2 bananas with a fork. Add yogurt and oil. Mix well with electric mixer.

Add brown sugar and vanilla. Combine well.

Add cinnamon, baking soda and salt. Combine using plastic spatula.

Add some flour. Stir until combined. Add rest of the flour and stir again. Mix until combined.

Fold in the chopped almonds (optional)

Grease the baking dish with nonstick cooking spray or place the parchment paper

Pour the banana bread batter into the greased baking dish. Tap gently so that the batter settles into the dish completely.

Top with slivered almonds, raisins, chocolate chips or your favorite toppings.

Bake for 40 minutes or until the inserted toothpick comes out clean.

Once done, remove from the oven, let it cool for 15 - 20 minutes. Remove the loaf from the baking dish.

Transfer the entire loaf to cooling wire rack. Slice and enjoy with coffee. Store in the fridge in the airtight container for up to 5-7 days, or in the freezer for even longer.