Hello Fall Bingo
Download free printable Hello Fall Bingo. For more similar Bingo templates, browse our free printable library. Simply download and print them at home or office.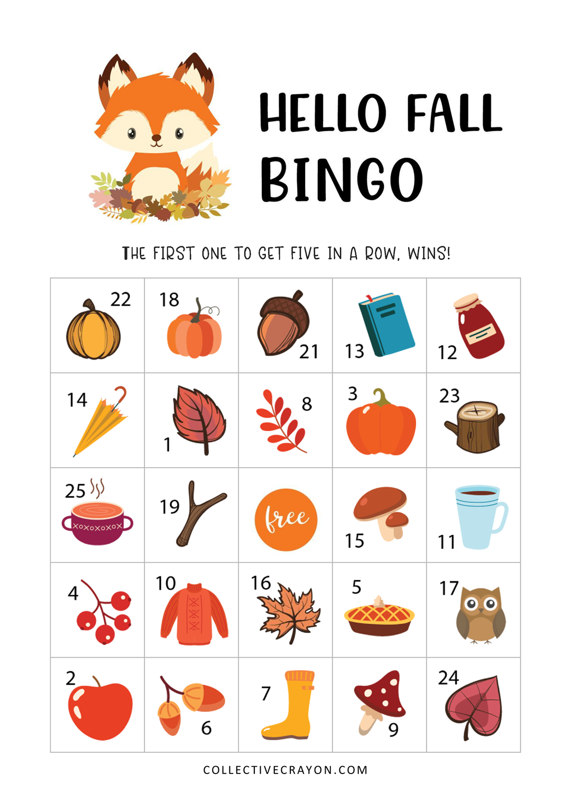 Scroll down for print and download options
Autumn is a delightful time of year, and our "Hello Fall" Bingo Game Cards Printable is a perfect way to enjoy the season's joys indoors by keeping your children entertained and engaged.
It's an ideal activity to play with your family or friends and an excellent tool for teachers and homeschoolers to keep kids engaged during classroom activities.
Printable Hello Fall Bingo Cards
These picture bingo cards are perfect for children aged 4-10 years and come in a PDF format comprising eight different autumn themed bingo cards and a calling mat.
The game cards are filled with vibrant and engaging images related to the fun autumnal activities kids can relate to, including apple, pumpkin pie, acorn etc.
Benefits of playing Picture Bingo
Playing this game brings excitement and entertainment and helps improve cognitive, social, and emotional skills.
Bingo promotes logical thinking and concentration, helps develop memory, and teaches children to work together as a team toward achieving a common goal.
It's a fantastic way to keep your kids engaged and away from mundane activities like TV and video games.
How to play Bingo?
The game is simple to play, and the rules are easy to understand.
Download and print the bingo cards.
Distribute the cards among the players.
One person is selected to call out the images while the other players mark off the images on their cards.
The objective is to get five squares in a row, diagonally, horizontally, or vertically, and shout out "Bingo" to win the game!
So, download and print our "Hello Fall" Bingo Game Cards Printable today, and let's have some autumn fun!
Have more than 8 players?
Make sure to download these 30 printable Hello Fall Bingo cards.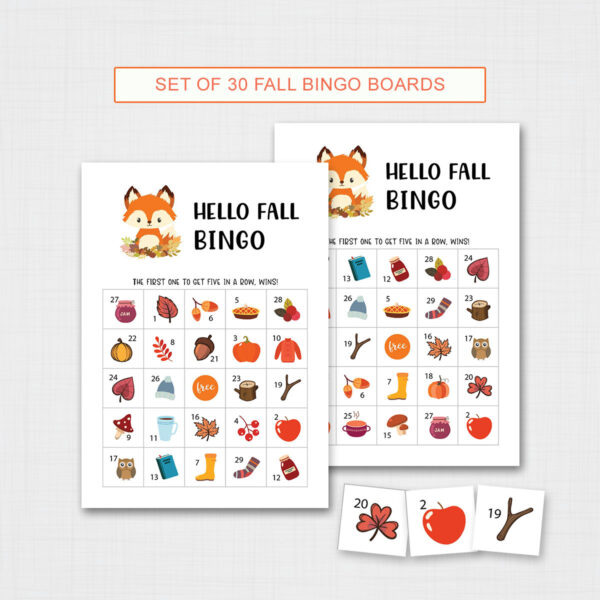 Make your own Bingo
You can also make your own bingo. Customize, download and print with your own word list. Click here to make your own Fall Bingo cards.