This delicious pumpkin pancakes recipe is the perfect way to start your day during the fall season. These delightful fall pancakes are easy to make and taste amazing with a drizzle of maple syrup or honey.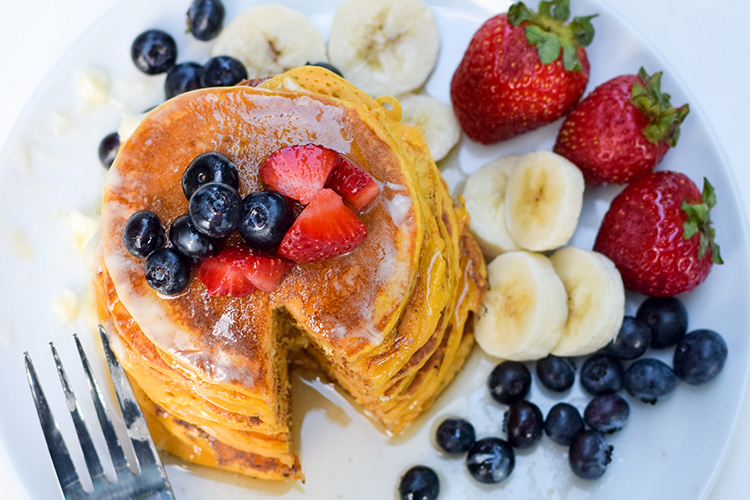 This post contains affiliate links and we will earn commission if you buy the products through those links. For more information, please read our disclosures here
Fall is my favorite time of year. There's something about the cozy weather and the changing leaves. One of my favorite things is to take walks in the park and breathe in the fresh, crisp air.
And of course, I can't resist a trip to the apple orchard to pick up some fresh fruit or visit a pumpkin patch. Fall is also the perfect time to curl up with a good book or watch a scary movie.
No matter what you enjoy doing, there's no doubt that fall is the best time of year. Fall also means it's time for all things pumpkin, especially pumpkin recipes!
These pumpkin spice pancakes are a must-try for your fall breakfast!
Healthy Pumpkin Pancakes Recipe
Pancakes are our family favorite. They are a great way to start our day, especially on weekends!
In the fall, there's nothing better than the smell of pumpkin pancakes wafting through the kitchen. They are not only delicious but they're also packed with nutrients.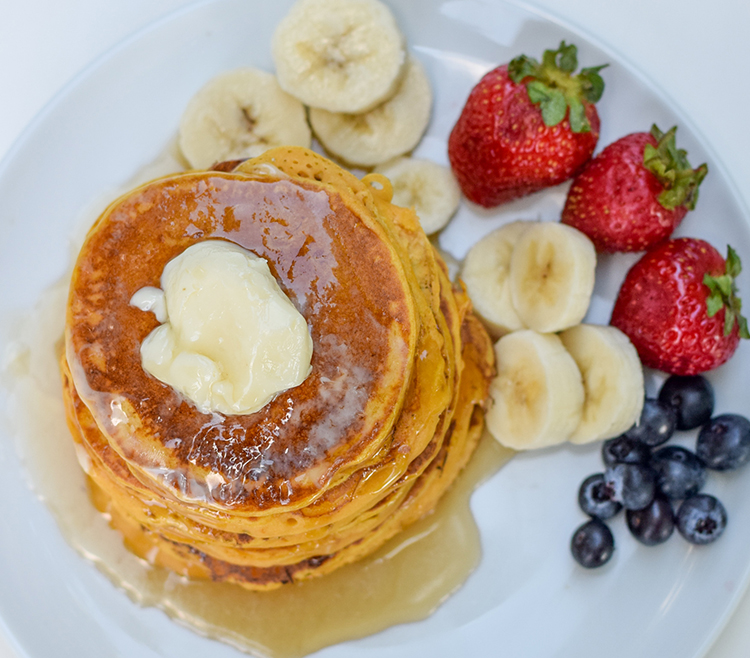 Pumpkin is a good source of fiber, which can help regulate digestion. It's also rich in Vitamin A, an essential nutrient for healthy skin and eyesight.
In addition, pumpkin pancakes are a great way to use leftover canned pumpkin puree. It makes moist and fluffy pancakes that are oh so delicious!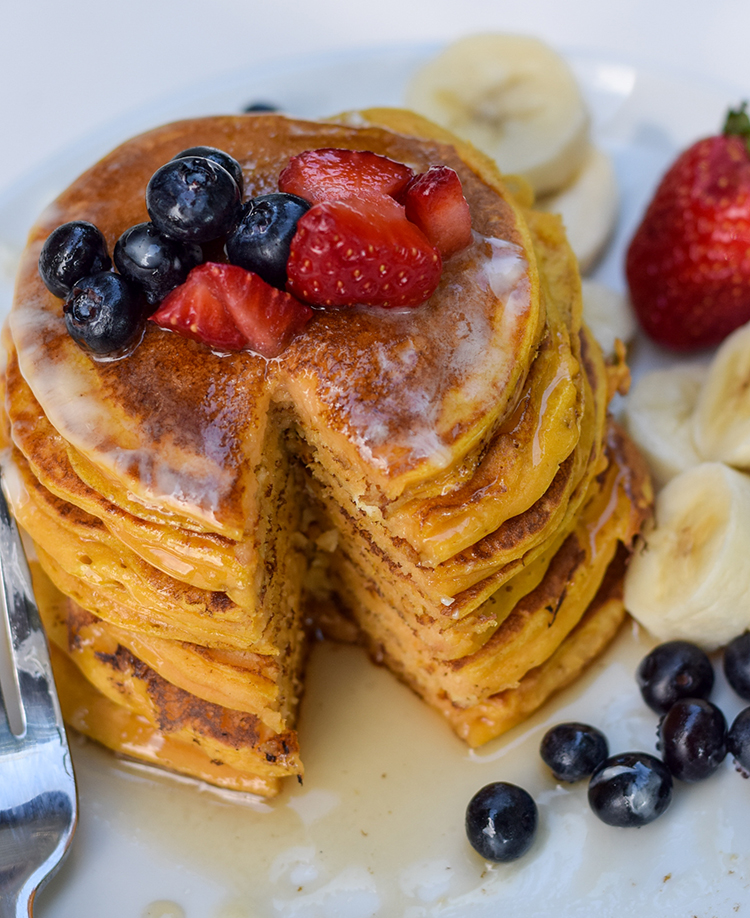 The spices give the pancakes a warm flavor that is perfect for a cold morning. Serve the pancakes with honey or a drizzle of maple syrup, butter, and a dusting of powdered sugar.
I'm sure once you try this pumpkin pancakes recipe, you are going to want it again and again!
How to store leftover pancakes?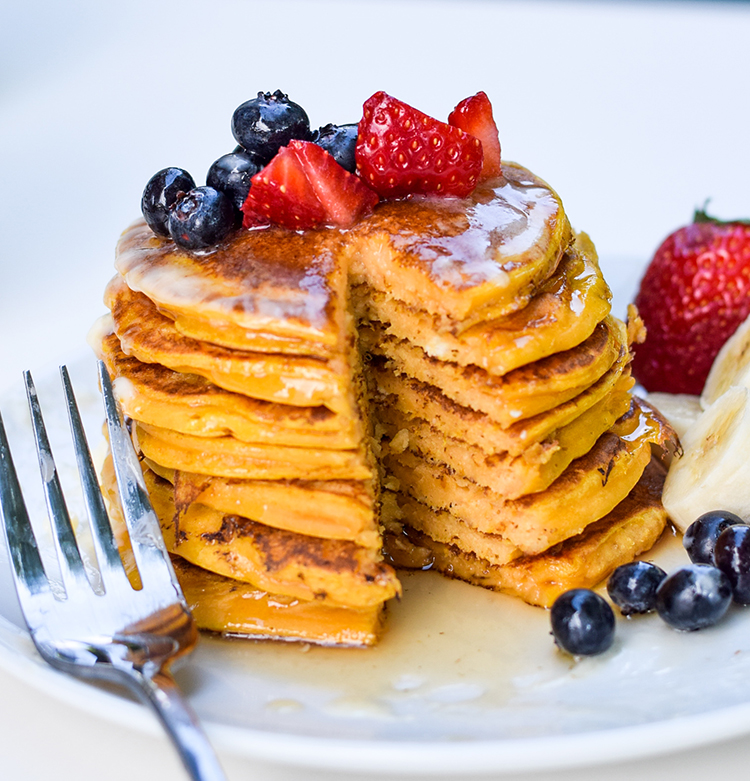 If you've made a lot of pumpkin pancakes, there are some simple steps you can take to ensure they stay fresh and delicious.
Let the pancakes cool completely.
Store them in an airtight container to prevent them from getting soggy.
Add a pinch of pumpkin pie spice to the container. This will help to keep the pancakes flavorful.
Make sure to eat the pancakes within a few days. If you see them drying out, you can always add a little bit of syrup before reheating them.
How to make pumpkin pancakes?
These pumpkin-flavored pancakes with just the right amount of sweetness and perfect seasonings of cinnamon, ginger powder, and nutmeg make flavorful pancakes.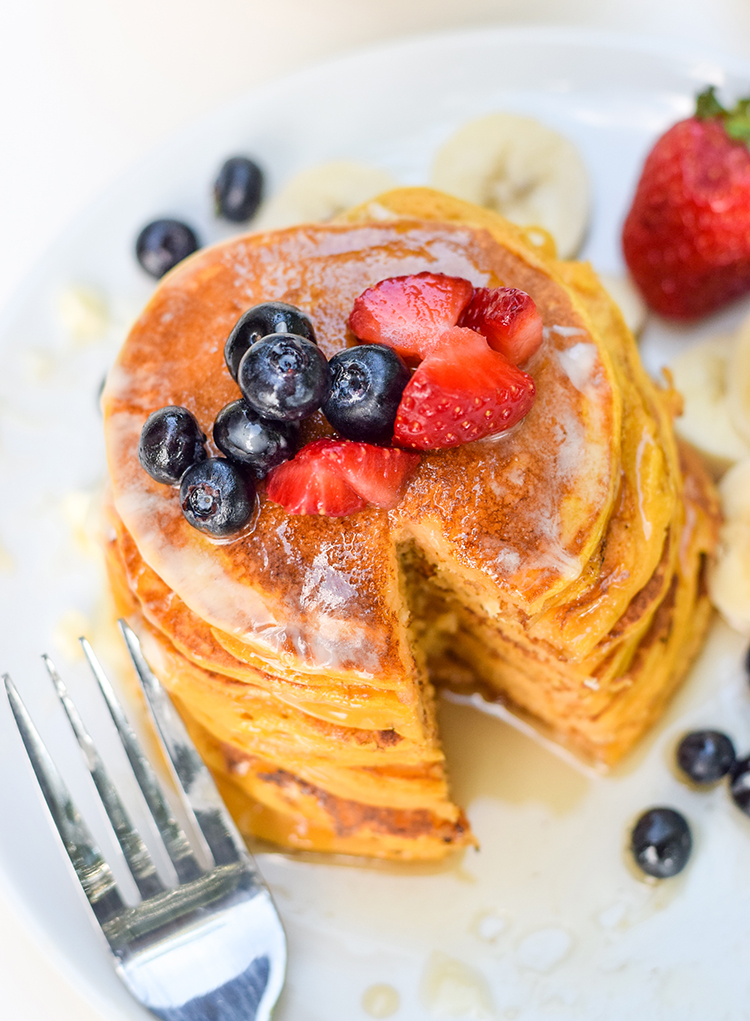 Because of the pumpkin flavor, you don't even have to use maple syrup to make them sweet(er). That doesn't mean you shouldn't.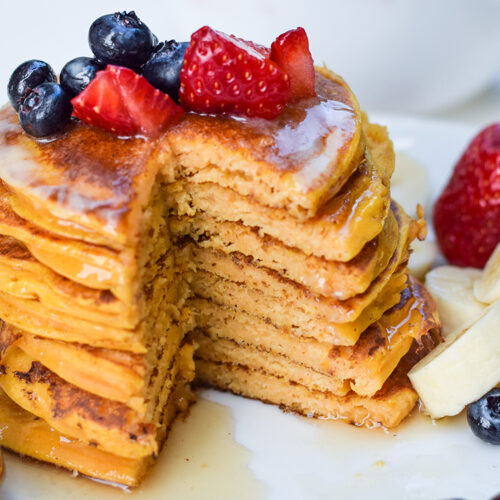 Pumpkin Pancakes
Pumpkin pancakes make for a delicious fall breakfast. They are easy to make and taste amazing.
Ingredients
1

cup

Pumpkin Puree

canned

1 1/2

cup

Milk

3

tbsp

Butter

melted, at room temperature

1

Egg

3

tbsp

Brown Sugar

2

cups

All-Purpose Flour

2

tsp

Baking Powder

1/8

tsp

Nutmeg

1/2

tsp

Ginger

ground
Instructions
Combine pumpkin puree, milk, and egg in a large bowl. Using an electric blender, whisk until the mixture is of even consistency.

In a medium bowl, combine all-purpose flour, baking powder, brown sugar, cinnamon, and ginger.

Combine wet ingredients with dry ingredients and whisk until combined evenly.

If you have a thick batter, you can add a little bit of milk. You can add chocolate chips to add to the sweetness.

Preheat a griddle or frying pan over medium heat.

Grease with butter or oil.

Pour batter (about ¼ cup batter) onto the griddle for each pancake.

Cook for about two minutes - until the bottoms are golden brown and bubbles appear on the surface.

Flip and cook to make sure another side is also golden brown, about one to two minutes.

When they are brown on both sides, take them off the griddle and serve them hot with syrup, buttered and powdered sugar.

Enjoy the fluffy pumpkin pancakes with a hot cup of coffee.