Chocolate crinkle cookies are perfect for any Christmas party, family movie night, cookie exchange party, or kids' birthday party! These chewy chocolatey cookies are super easy to make and delicious to taste.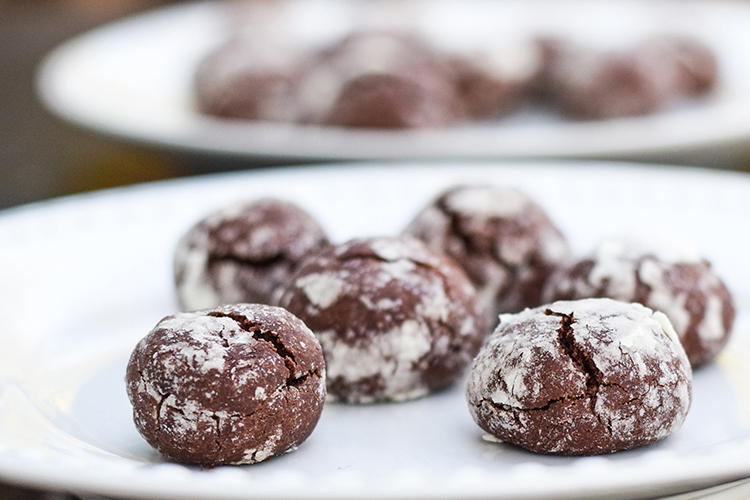 This post contains affiliate links and we will earn commission if you buy the products through those links. For more information, please read our disclosures here
Christmas is just around the corner? You know what that means? It's time to start baking! These chocolate crinkle cookies are one of our favorite recipes during the holiday season. They're chocolatey, delicious, and perfect for any Christmas party!
Chocolate Crinkle Cookies: Delicious Holiday Cookies
Looking for a delicious chocolate cookie recipe to make this holiday season? Make sure to check out the recipe for Chocolate Crinkle Cookies.
They are very simple to make and delicious to eat. These will quickly become one of your favorite Christmas cookies. Chocolate lovers in your life are sure to love these.
They are one of my favorite Christmas cookies and always disappear fast at parties. Be sure to make a batch for your next holiday party!
How to make this Classic Christmas Cookie?
For this chocolate crinkle cookie recipe, you will need a few ingredients like all-purpose flour, dark chocolate pieces, vegetable oil, egg, brown sugar, etc.
Once you have gathered all the ingredients, combine all the dry ingredients in a medium bowl. Set aside.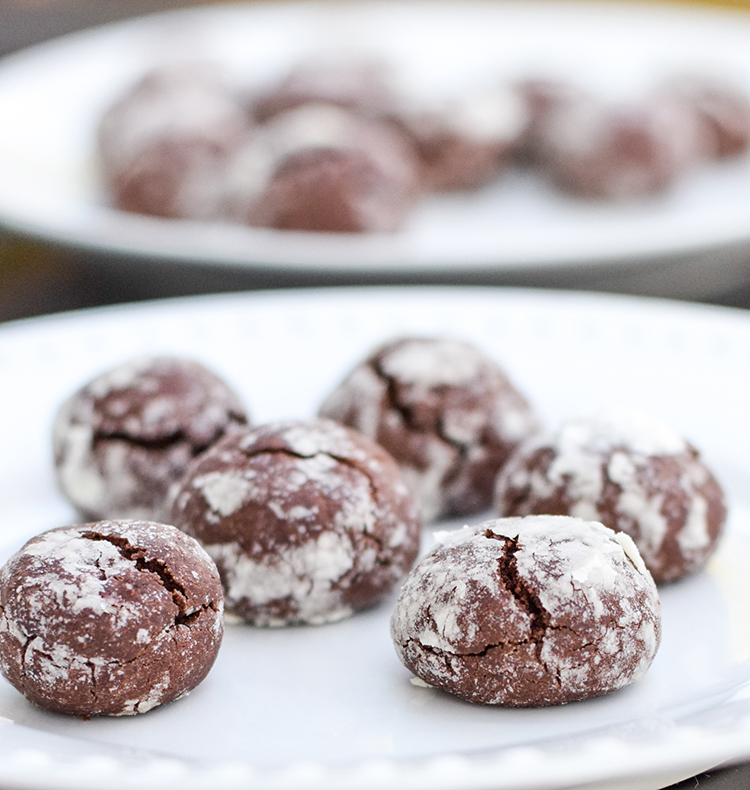 Next, melt the dark chocolate. Add the melted chocolate, sugar, and oil until combined in a large bowl. Add egg and vanilla extract.
With a hand mixer, mix well until fully combined. Now combine the flour mixture dry ingredients set aside earlier with the chocolate wet ingredients.
Refrigerate the mixture for 3 hours or so. You can even keep these overnight, so they become hard enough to easily form dough balls. Once the dough is hard enough, take these out.
With a cookie scoop, make small 1-inch cookie dough balls, and roll them in icing sugar, making a powdered sugar coating. Place on a prepared baking sheet and bake for 10 minutes.
Take them out of the oven and cool them on a wire rack. Enjoy the melt-in-your-mouth chewy crinkle cookies.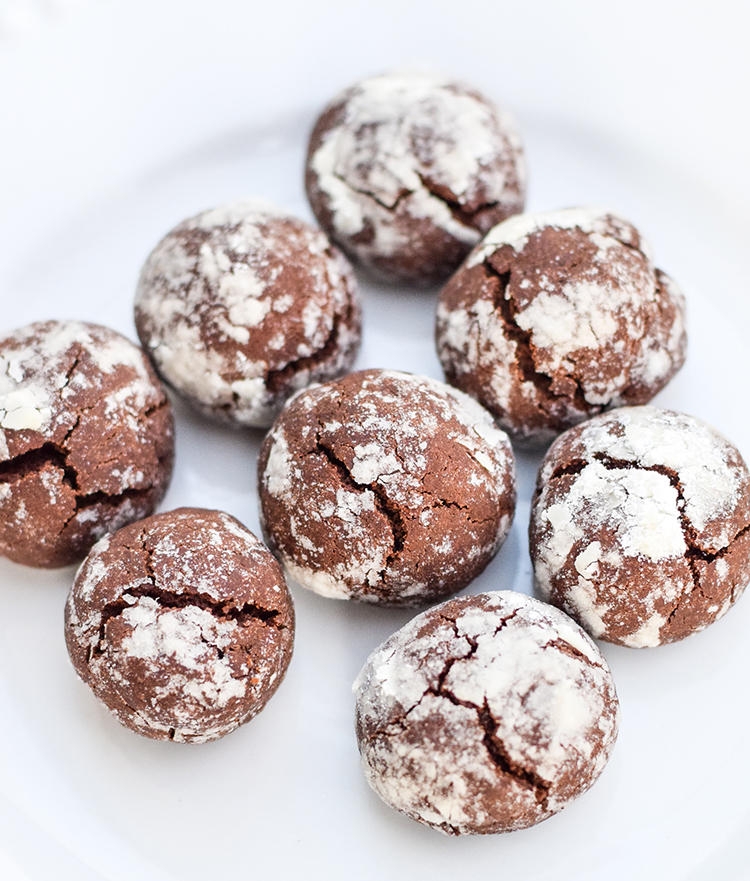 Variations of this recipe you could try!
Add 1/2 cup chopped nuts to the dough before baking for crunchy texture contrast.
Replace some flour with confectioners' sugar for a sweeter cookie.
Use peppermint extract instead of vanilla for a Christmasy flavor.
Melt white chocolate chips with a spoonful of shortening and drizzle over cooled cookies for a pretty finish.
Dip half of each cookie into melted semisweet chocolate chips after they've cooled for an extra-chocolatey treat!
Use milk chocolate chips instead of dark chocolate pieces.
Tips for storing Chocolate Crinkle Cookies
Chocolate crinkle cookies are a holiday favorite, but they can be tricky to store. If they are not stored properly, they can become dry and crumbly.
While trying to store them, the key to keep them airtight. An airtight container will protect them from the elements and prevent them from drying out.
You can also wrap them in plastic wrap or a freezer bag.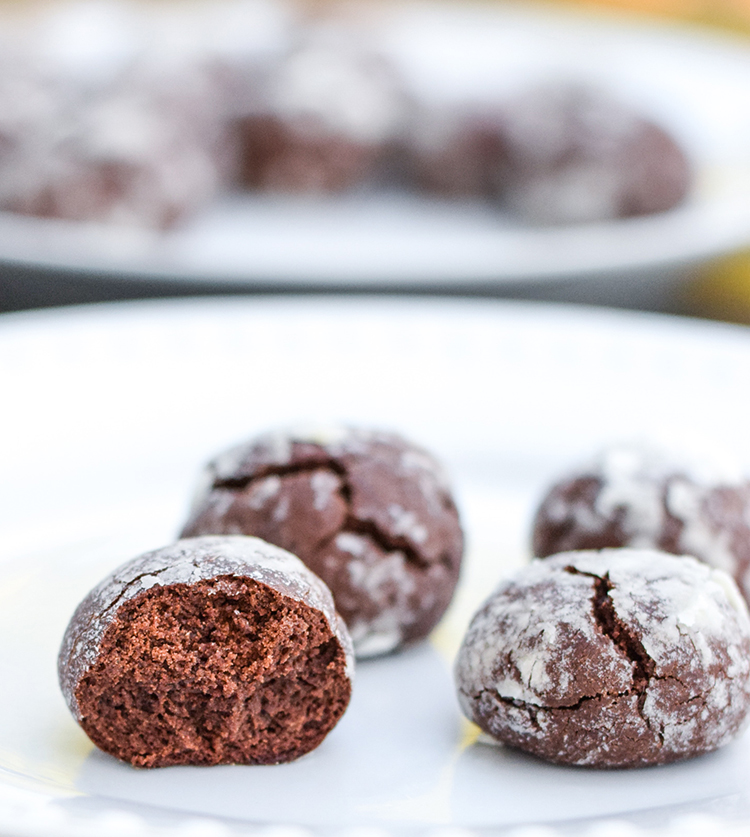 It's also important to ensure that the cookies are completely cooled before putting them in the container. If they are still warm before you store them, condensation can form inside the lid and cause the cookies to become soggy.
Chocolate crinkle cookies are just the perfect kind of cookies to get you into the holiday spirit. Kids love these cute, soft, and chewy bite-sized cookies that are perfect for making during Christmas and other holidays.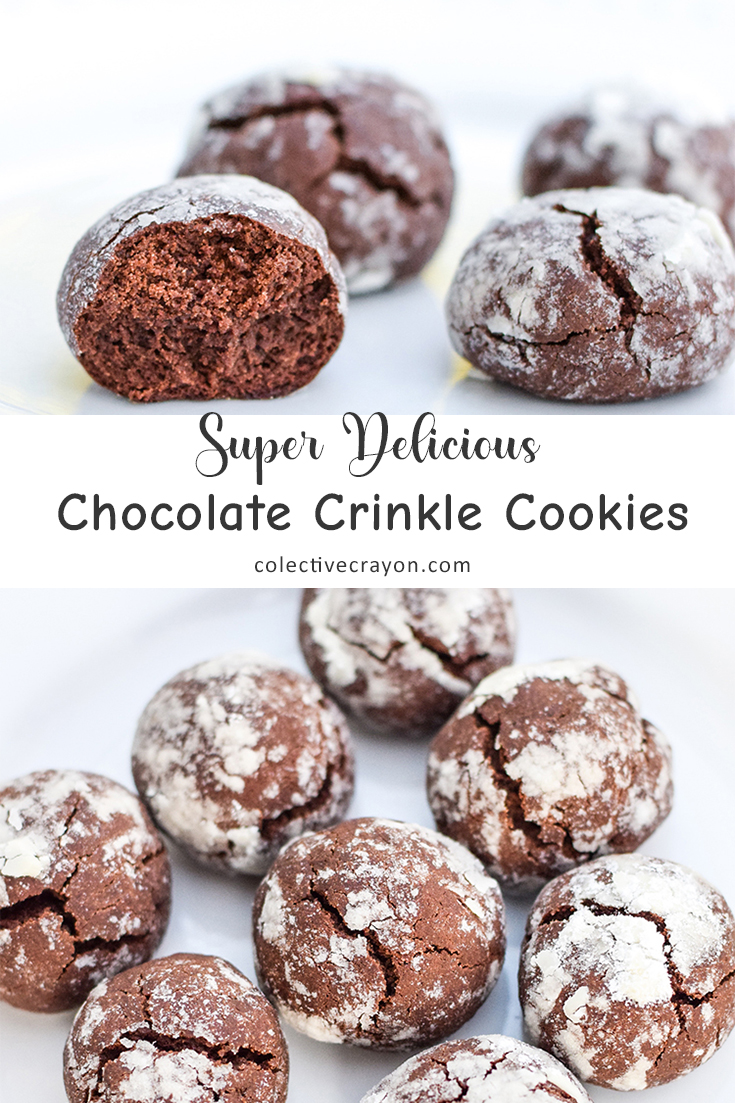 Take these for a cookie exchange, potluck, or kids' birthday party, and you will lots of compliments. And requests to bring them next year as well! Make sure to bake these with the entire family and make fond memories.
I think they are called crinkle cookies because of the icing sugar crinkles after these are baked. These are also called snow caps or black and whites. Whatever you prefer to call them, enjoy this nice little version of fudgy brownies and chocolate cake put together in these classic chocolate crinkle cookies.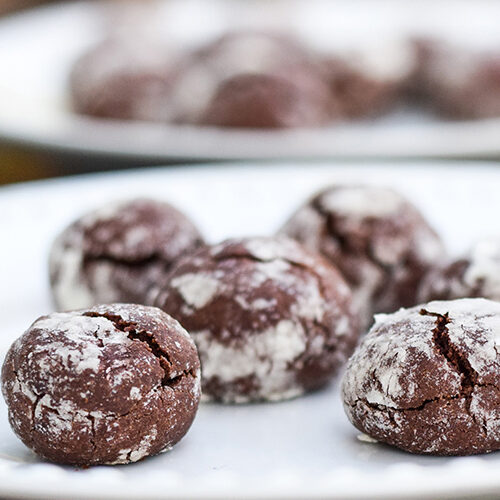 Chocolate Crinkle Cookies
These chewy chocolate crinkle cookies are perfect for baking during the holiday season, cookie exchange parties, or kids' birthday parties. Get ready to get lots of compliments and prepare a recipe card for those asking for a recipe.
Ingredients
1/2

cup

Dark Chocolate Chip Cookies

1/2

cup

Packed Brown Sugar

2 1/2

cup

Vegetable Oil

1

Egg

large

1/2

cup

Vanilla Extract

1/2

cup

All Purpose Flour

1/2

tsp

Baking Powder

1/8

cup

Icing Sugar

Pinch of Slat
Instructions
In a medium bowl, combine flour, salt, and baking powder. Set aside.

Melt chocolate pieces. Add sugar and oil until combined. Add egg and vanilla. Mix well until fully combined.

Add the flour mixture to the chocolate mixture. Mix with a hand mixer until a smooth batter forms. Cover the bowl with a lid.

Refrigerate for three or so hours. You can even keep it overnight. The batter should become hard to form small balls easily.

Take it out of the refrigerator when you feel the dough is hard enough.

Preheat the oven to 350F degrees. Line the baking sheet with parchment paper.

Form dough into 1-inch balls. Roll in icing sugar so that they are covered fully. Place on a baking sheet, about an inch apart.

Bake in the oven for 10 minutes.

Transfer to cooling rack for 10 minutes. Enjoy these chewy chocolate crinkles.