These homemade baked sweet potato fries are easy to make and taste great. They are a great source of fiber and vitamin A, a healthier option than traditional french fries.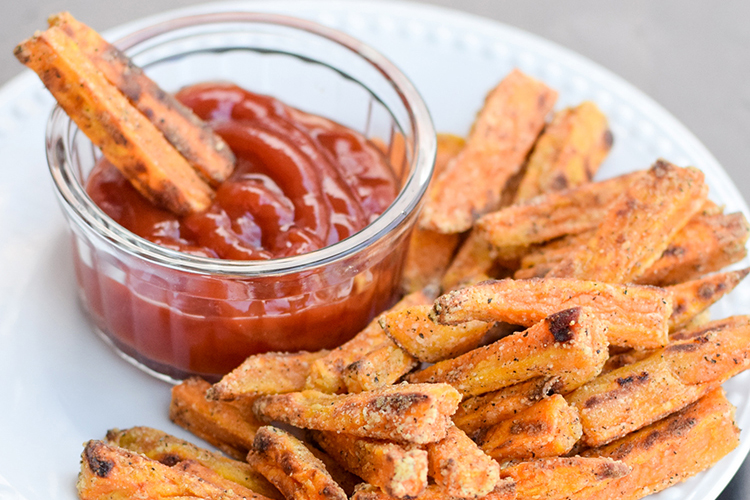 This post contains affiliate links and we will earn commission if you buy the products through those links. For more information, please read our disclosures here
This never-fail sweet potato recipe always comes in handy when we have to feed a large crowd or when we are expecting guests.
It is one of the healthiest side dishes that you can prepare in no time. The best thing about the sweet potatoes fries is that it is so versatile and you can easily adjust the spices to suit your taste.
Homemade Baked Sweet Potato Fries
There are many reasons to love homemade baked sweet potato fries.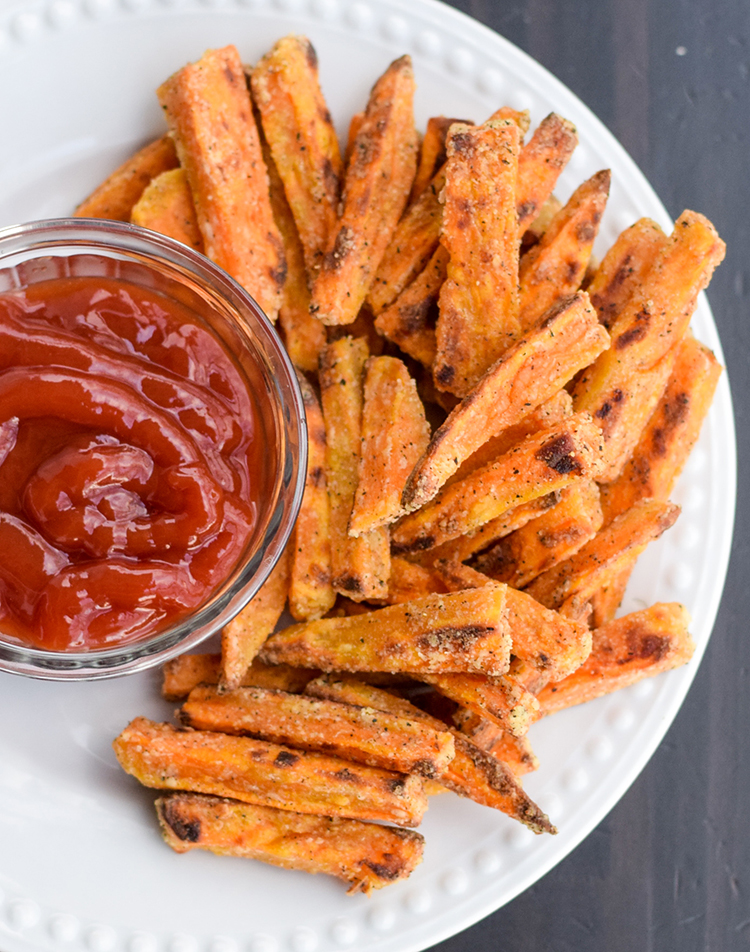 First of all, they are a healthier alternative to traditional french fries. They are also very easy to make, and the taste is unbeatable.
You can easily make sweet potato wedges in an air fryer with just a touch of olive oil. They're also tossed with black pepper and sea salt, which add flavor without additional calories.
And because sweet potatoes have natural sugars, you don't need to add any extra sugar. They are easily available in your local grocery store, so you can make them anytime.
Traditional regular fries on the other hand are white potatoes, deep-fried in oil, which can make them high in calories and unhealthy.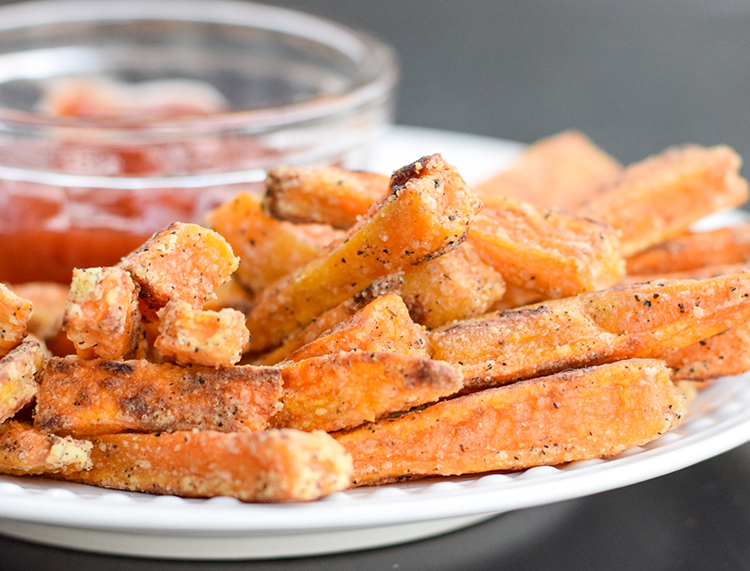 How to make Homemade Baked Sweet Potato Fries?
It does not take much to make these crispy fries. Wash the sweet potato thoroughly under cold water and pat dry with a paper towel.
Cut into wedges or small squares, however, you like. Toss them with olive oil. Sprinkle with your favorite spices for extra flavor and cornstarch.
Bake until golden brown on the outside. Cornstarch helps keep them crunchy, the way I like!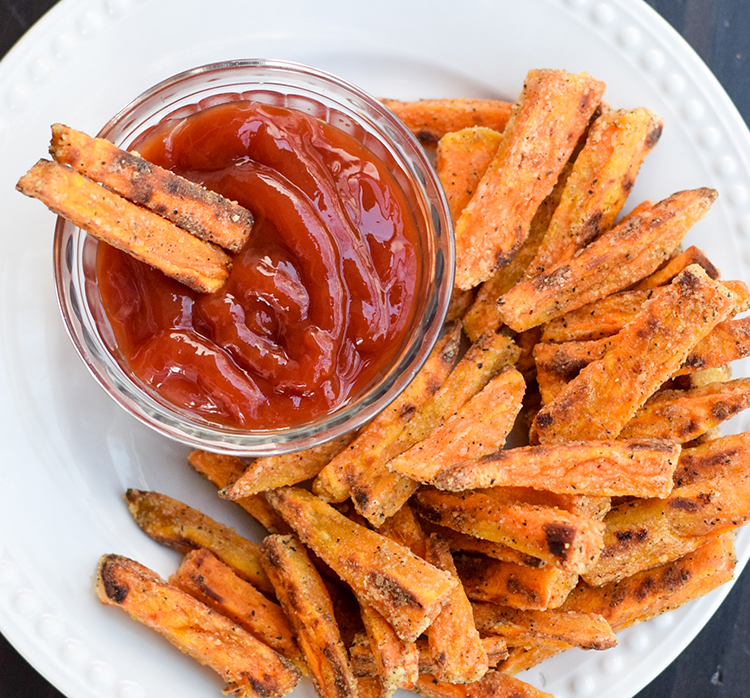 Crunchy on the outside, soft on the inside, mixed flavors of sweet and spicy, these baked sweet potatoes can be labeled as a perfect side dish.
The results are always delicious, and my family always enjoys them.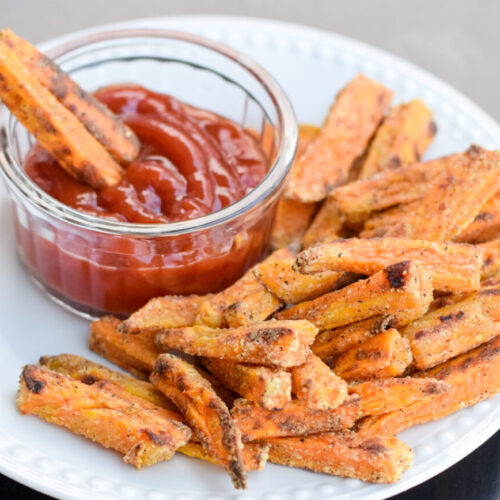 Crispy Oven Baked Sweet Potato Fries
Crispy oven baked sweet potato fries are a perfect side dish. These healthy treats are so easy to make and delicious to taste.
Ingredients
2

Sweet Potatoes

washed, peeled, dried

1/4

cup

Olive Oil

1/2

tbsp

Corn Starch

1/2

tbsp

Sea Salt

or as per taste

1

tbsp

Black Pepper

ground

1

tsp

Garlic Powder
Instructions
Preheat the oven to 425F degrees. 

Cut sweet potatoes into thin fry shapes. Make sure they are the same size so that they bake evenly.

Place them in a large bowl. Sprinkle corn starch and pour olive oil. Mix all the ingredients. 

Add black pepper, sea salt, and garlic powder.

Toss some more to make sure uncooked fries are evenly coated with olive oil and no white spots are left behind by cornstarch. 

Spread the fries on parchment paper or sheet pan in a single layer so that they are not touching each other or stacked up on each other.

If you have some left, set them aside and cook them after this batch is done. 

Bake for 15 minutes. Take out the baking sheet, flip the fries and bake for 10 - 15 more minutes.

Remove from oven. Enjoy with your favorite ketchup or dressing of your choice.
These baked sweet potato fries are best enjoyed fresh out of the oven. Store the leftover fries in an airtight container and reheat them in the oven before serving. They are so addictive. It's hard to resist these sweet salty, crispy treats that are so easy to make.