Thanksgiving Scavenger Hunt is a fun activity to keep the kids entertained for hours on Thanksgiving Day. Kids of all ages will love playing this game – indoors or outdoors. Simply download, print it out, and get started! Happy hunting!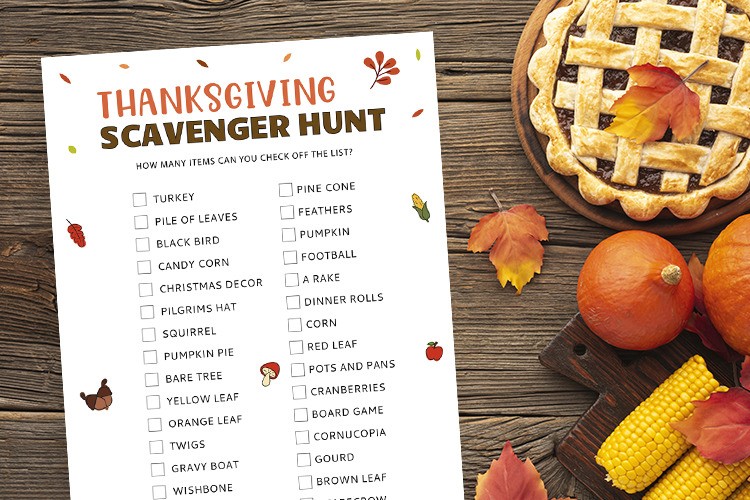 This post contains affiliate links and we will earn commission if you buy the products through those links. For more information, please read our disclosures here
Thanksgiving is just around the corner. It's a perfect time to celebrate family and friends, and of course, have fun! Get into the holiday spirit with this Thanksgiving Scavenger Hunt.
Older kids can have fun searching for specific items on the list, while younger kids can enjoy finding anything and everything on the list. A Thanksgiving scavenger hunt is also a great way to keep kids occupied while Thanksgiving dinner is being prepared.
Fun Thanksgiving Scavenger Hunt Game
Scavenger Hunt games are not only fun but educational. They can help kids excited as well as engaged for many hours while they enjoy hunting for things.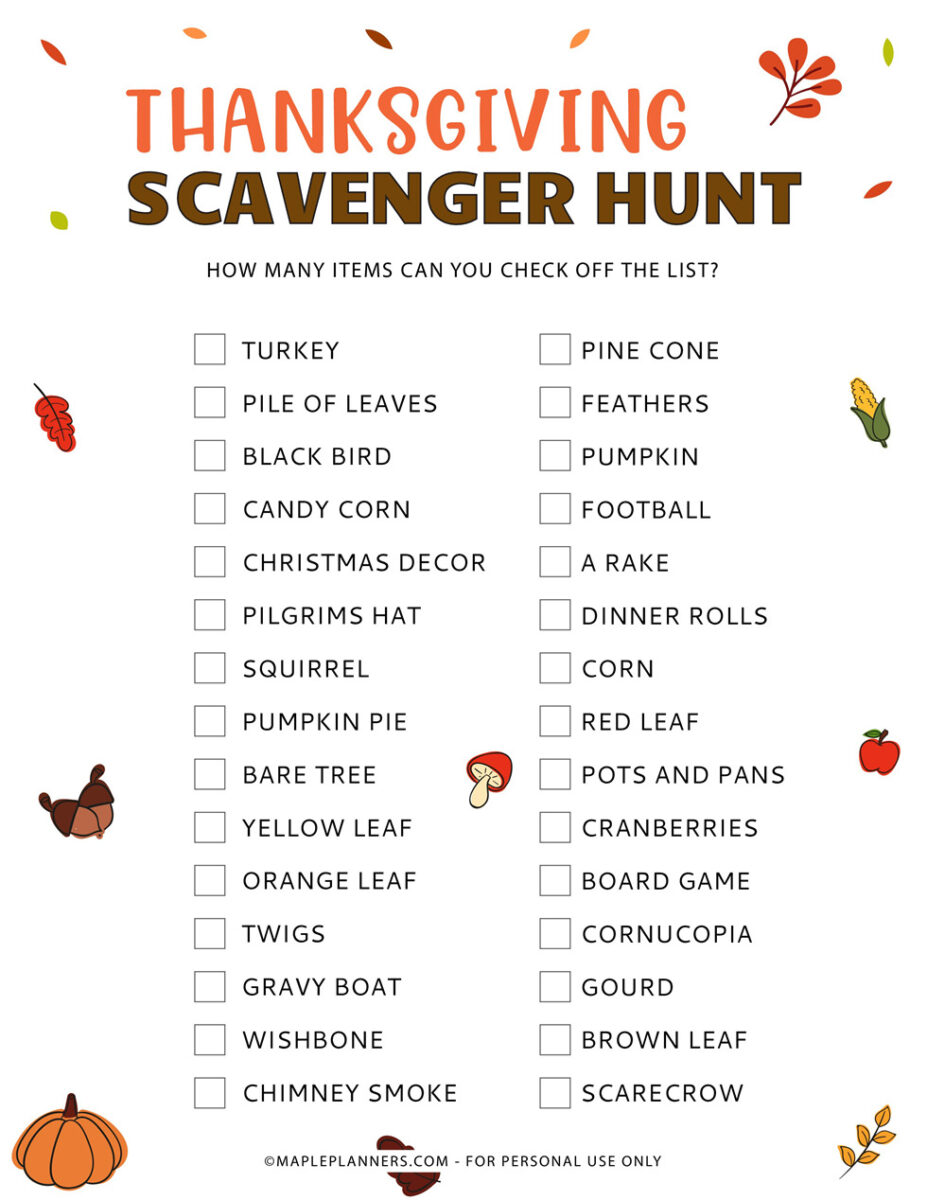 Simply download and print this free printable Thanksgiving Scavenger Hunt. Make as many copies as you want for personal use.
Hand the sheets to players with a pen, pencil, or marker. Kids can go searching for the items listed on this printable sheet.
How to play Scavenger Hunt?
Kids have to find as many Thanksgiving-themed items on the list as possible.
To set one up, you'll need a timer and a list of items to find. Set a time limit and let the players know they must find the items within a specific time.
To play, everyone should start at the same time and race to determine who can find all the items first. The first person to find all of the things wins!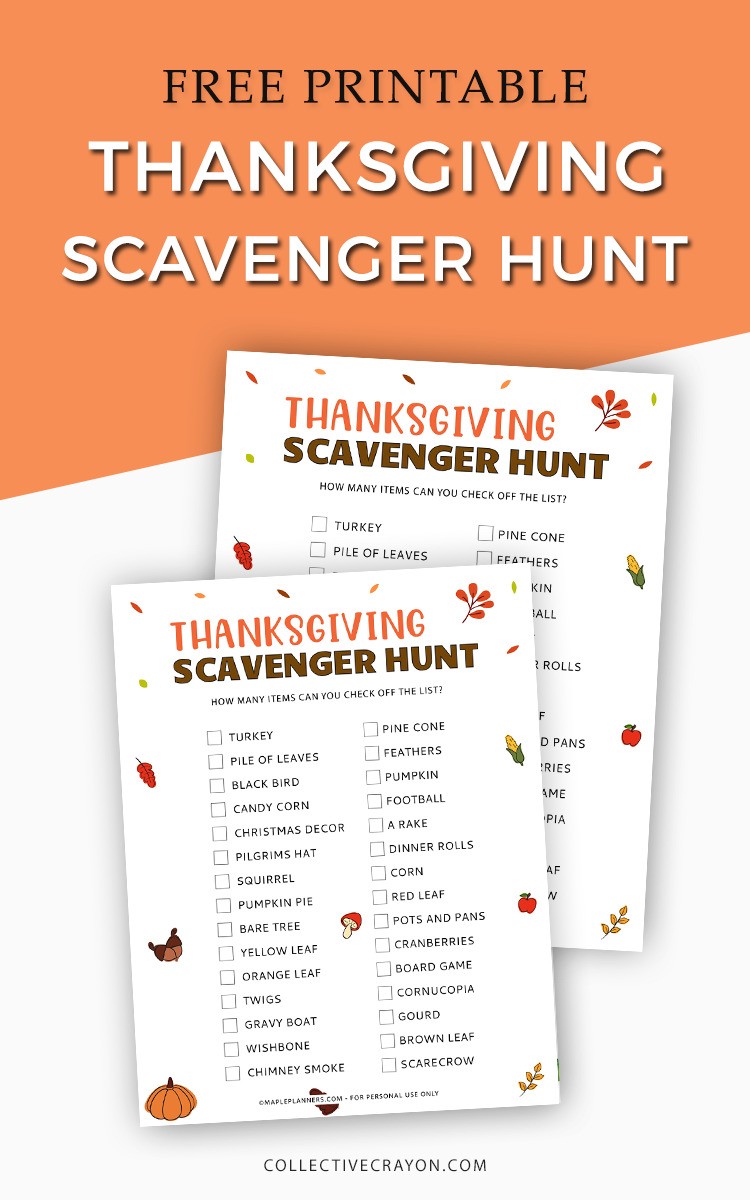 If you're playing with a group, you can divide into teams and see which team can find the most items. The team with the most finds wins!
Make it a little bit challenging by seeing who can find the unique item on the list. The team that finds the most unusual item gets small prizes!
No matter how you play, Thanksgiving Scavenger Hunt is a great way to get everyone in the holiday spirit!
How to download and print Thanksgiving Scavenger Hunt?
Download the Free Printables.
Save and open the PDF files using Adobe Reader.
Print on heavy card stock paper to look professionally done.
If you plan to use these over and over, laminate the cards for durability.
Use a dry erase marker to check off the items that kids have been able to locate.
What kind of things can be included in the scavenger hunt?
Thanksgiving is the perfect holiday for a scavenger hunt, as there are many objects and symbols associated with the season that can be used as clues.
Try hiding items like Thanksgiving decorations, recipe cards, or canned cranberry sauce for an indoor scavenger hunt. Outdoors, you can hide leaves, acorns, or pine cones. You can even hide printable games, thanksgiving riddles, or puzzles that need to be solved to find the next clue.
If using the riddles, start with a first clue, and lead them to the next one, finally to the last one – to win a grand prize.
Place riddles in different locations indoors or outdoors to make it challenging. No matter what you include in your scavenger hunt, it's sure to be a fun and festive way to celebrate the Thanksgiving holiday.
Thanksgiving Scavenger Hunt is an excellent way to get the kids moving and engaged with their surroundings. Get the entire family involved to add to the fun. Download and print this printable game.
Fun Thanksgiving Activities for Kids
The holiday season is almost here. It is a perfect time to get the entire family together for fun activities. Thanksgiving is particularly fun for kids, as they can enjoy many activities.
Enjoy your Thanksgiving day with these fun Thanksgiving bingo board games. This printable game is perfect for kids and adults to play while waiting for delicious food to cook.
Kids will have fun solving Thanksgiving Word Search puzzles to find the words listed at the bottom of the grid associated with Thanksgiving. Just download, print, and play.
Enjoy a game or two of mazes with these Thanksgiving Mazes. Perfect for keeping young kids occupied while they work on their fine motor skills.
Help develop little ones' problem-solving skills while they have fun with these Thanksgiving Sudoku puzzles. These will work great for young as well as older children.
One of the fun things while waiting for a holiday meal – is coloring! Thanksgiving coloring sheets are perfect for all age groups of children.
Check out our Halloween Scavenger Hunt and Christmas Scavenger Hunt if your kids love such printable games.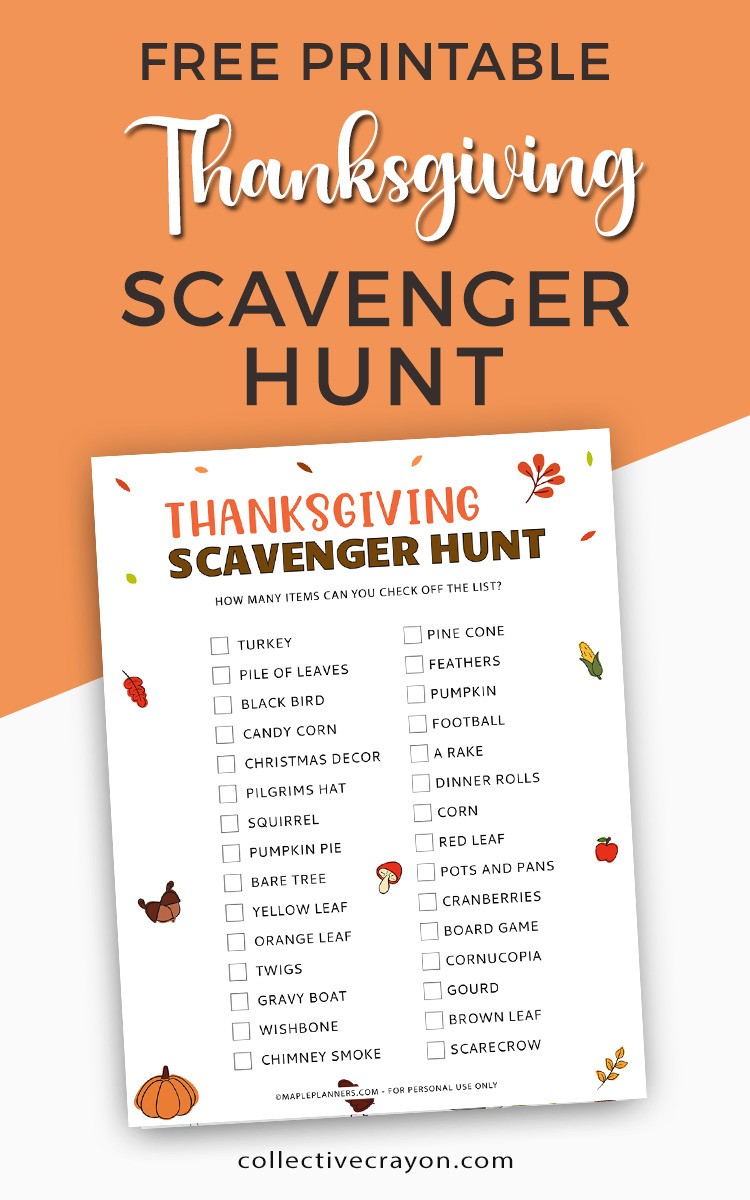 Download Thanksgiving Scavenger Hunt Printable
Kids work on observation and problem-solving skills with a party game like Scavenger Hunt. All this while they are having tons of fun.
Happy hunting and Happy Thanksgiving!